Christmas Caroling Party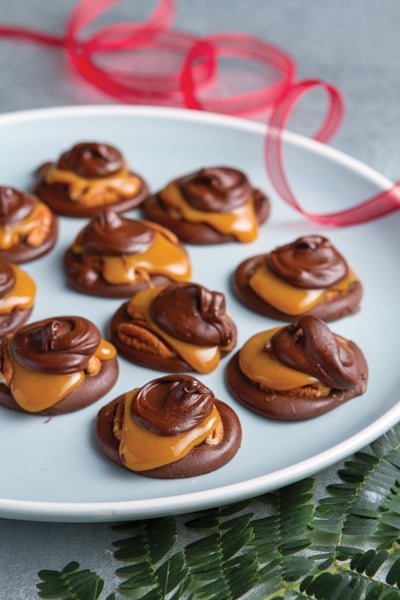 When I was a youngster, one of the highlights of the Christmas season was to go caroling around our small town. The nuns began training our young voices the week after Thanksgiving right up until caroling night, which was usually a few days before Christmas.
We would gather, in our navy blue pleated skirts and starched white blouses all but hidden under our woolen coats and scarves, at our school to begin our trek to several designated places within a few blocks of the church.
At the first stop, just a few yards from the school, was the Fournets', where we were always offered hot chocolate and cookies. Then it was onto the Bienvenus', who lived behind the pharmacy across the street from the church. Their offerings might include eggnog and tiny chicken salad finger sandwiches. After that it was a short walk to the Garys', who lived in a huge Victorian house, which was always gaily decorated with boughs of cedar tied with large velvet red ribbons.
The Garys were known for their fabulous voices and sang in the "big" church choir. While we stood on the large front steps and sang our hearts out, they usually joined us in singing from their wide porch, then we gathered in their parlor where the ladies served us small cups of hot coffee flavored with cinnamon and little plates of various homemade candies.
After a few more stops around the church square, it was on to the Presbytère where the local priests lived, right next door to the church. Ah, this was my favorite! The house had tall ceilings, a winding staircase in the hall, a great parlor with a piano and a Christmas tree adorned with small statures of the saints. The focal point, however, was a beautiful nativity scene set near the fireplace.
Since this was our last stop we lingered just a bit longer to enjoy the refreshments made by the housekeeper who was known for her Christmas tassies, cream cheese-filled finger sandwiches, spiced hot tea and eggnog. It was glorious!
Perhaps you will be inspired to host a caroling party or maybe a tree-decorating soiree. If so, here are some recipes to serve for those near and dear to you.
TURTLE CANDIES
Makes 16 candies
1 (12-ounce) package semisweet
chocolate morsels
1¼ cups pecan halves
28 caramels, unwrapped
2 tablespoons whipping cream
Microwave the chocolate morsels in a glass bowl at high for one-and-a-half minutes, stirring after one minute. Stir until smooth. Cool until slightly thickened.
Drop the chocolate by tablespoonfuls onto a wax paper-lined baking sheet, shaping into 16 small circles. Reserve the remaining chocolate. Arrange four pecans over each circle. Chill until firm.
Place the caramels and whipping cream in a glass bowl. Microwave at high for two minutes, or until the caramels melt. Stir after one minute. Let stand for about four minutes, or until the mixture slightly thickens.
Spoon the caramel mixture evenly over the pecans. Microwave the remaining chocolate at high for one minute, stirring after 30 seconds. Quickly spread the chocolate over the caramel. Refrigerate until firm.
I co-authored a book cookbook Eula Mae's Cajun Kitchen several years ago, and Eula Mae gave her recipe for these delightful finger sandwiches. Children love them!
CHEDDAR CHEESE FILLING
Makes about 2 cups (enough for 80 finger sandwiches)
½ pound mild cheddar
or American cheese, grated
½ cup mayonnaise
¼ cup chopped sweet pickles
1 tablespoon seeded and grated
red bell peppers
¼ cup finely chopped green onions
Dash of Tabasco brand pepper sauce
40 thin slices day-old bread of choice
Combine all the ingredients together and use immediately.
Spread a slice of bread with the filling, making sure to cover the entire surface. Top with another slice of bread. Trim the crusts and cut the sandwiches into "points" or "squares." Thus, each sandwich will make four finger sandwiches. As you work, arrange the finger sandwiches closely together on trays or sheet pans and cover with a lightly dampened, clean towel or plastic wrap to keep them from drying out.
SPICED TEA
Makes 1 gallon
6 large tea bags
1 tablespoon whole cloves
2 cinnamon sticks
3 quarts boiling water
1½ cups sugar
1 (6-ounce) can frozen concentrated
orange juice
1 (6-ounce) can frozen concentrated
lemon juice
Put the tea bags, cloves and cinnamon sticks in a large pitcher or bowl. Pour the boiling water over the tea bags, cloves and cinnamon sticks and let steep for 15 minutes. Remove the tea bags. Add the sugar and stir to dissolve. Add the orange juice and lemon juice concentrate and add enough water (room temperature) to make 1 gallon. The tea can be served cold, or heated and served with a wedge of lemon.
SUPER RICH EGGNOG
Makes 8 to 10 servings
10 large eggs
2¼ cups sugar
2 cups half-and-half
2 cups heavy cream
¼ teaspoon freshly grated nutmeg
plus some for garnish
1 teaspoon pure vanilla extract
¼ cup bourbon
¼ cup brandy
6 large egg whites
In a large, heavy-bottomed saucepan, beat together the eggs and sugar. Stir in the half-and-half. Cook over medium-low heat, stirring constantly, until the mixture is thick enough to coat a spoon with a thin film and reaches at least 160 degrees. Remove from the heat. Stir in the cream, nutmeg, vanilla, bourbon and brandy. Cool, then cover and refrigerate until ready to serve.
Just before serving, beat the egg whites in a large bowl with an electric mixer on high speed until stiff peaks form, then fold them into the eggnog. Serve cold (or warm) and garnish with grated nutmeg.
CHRISTMAS TASSIES
Makes 48 tartlets
Pastry:
1 (8-ounce) package cream cheese, softened
2 sticks margarine
2 cups all-purpose flour
Combine the cream cheese, margarine and flour and blend together. Divide into 6 equal portions, then divide each portion into 8. Press the dough into tart tins or small muffin tins.
Filling:
3 eggs, well beaten
2 cups brown sugar
4 cups chopped pecans
1 teaspoon vanilla extract
Combine the eggs, brown sugar, pecans and vanilla. Pour into the lined tart tins, fill only ¾ full. Bake at 350 degrees for 20 minutes.
After they are baked and cooled, they can be frozen.