Checking In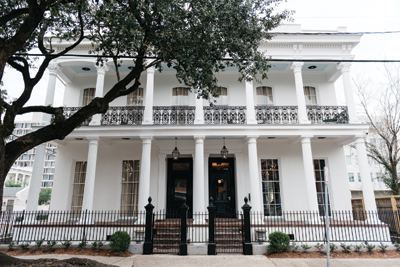 For people who live in New Orleans, it can be difficult to keep up with the inventory of accommodations available for those who come for short visits. It is particularly unlikely in an environment where local lodging is expanding rapidly.
The chances are, for instance, that few locals noticed when a stylish new boutique called the Henry Howard Hotel opened in the Garden District.
The hotel holds just 18 rooms in a renovated structure that retains features of the 1860s townhouse-style mansion built by 19th century New Orleans architect Henry Howard. Its Greek revival touches include Corinthian columns, a double gallery and walk-through windows, and its Prytania Street location puts guests in the midst of a historic district that features many similarly endowed buildings.
Several miles away, another new hotel is also making its debut. The MOXY New Orleans, opening on O'Keefe Avenue just off Canal Street, is one of the first U.S. locations of the hip European hotel line. Like a few other recent entrants on the scene, such as the new Ace Hotel New Orleans that stands nearby, the MOXY caters to young travelers, with inviting common areas, self-service features and free Wi-Fi.
Hotel analysts say some 5,000 hotel rooms are either under construction or on the drawing boards in and around New Orleans. Demand is driving the activity.
More than 9.5 million people visited New Orleans in 2014, according to figures compiled by the University of New Orleans Hospitality Research Center. It was a 2.6 percent rise over the previous year.
Total tourism spending also rose, jumping 5 percent to $6.8 billion, a local record.
Local hotel occupancies in 2014 surpassed all previous peaks and have held steady since then. A report from global hospitality consultant HVS indicates that local occupancies are well above U.S. averages.
Strength in the market has analysts predicting that New Orleans demand will hold up even as some other regions decline.
"Unlike many other markets, which are expected to experience occupancy declines as new supply opens over the next several years, occupancy in New Orleans is expected to stabilize through 2018, even with the introduction of new hotels," according to an article by hospitality publisher Hotel Management, which cited an HVS report.
New Orleans has rebounded smartly from the punch its hotels took from the hurricane and flood of 2005. After a period of wondering whether new development in the city would be feasible, the industry returned to New Orleans with a vengeance, producing a veritable renaissance in hotel development.
HVS indicates that greater New Orleans, with 252 hotel properties and more than 37,000 rooms, ended 2015 with as many hotel rooms as it had in early '05. And the activity won't slow anytime soon.
Interest in the New Orleans market among hotel investors remains high, which means hotel purchases continue to make market news. One of the largest deals in recent years was the sale of the DoubleTree by Hilton New Orleans for $83.5 million.
In a later transaction, Ashford Hospitality Trust bought the 226-room Le Pavilion Hotel for $62.5 million – or $277,000 per room.
HVS reported that, after a huge jump in hotel values of almost 50 percent in 2010 – as it became clear that the city's recovery was reigniting demand – values have continued to increase annually, though they could begin to level off during the next few years as new supply comes online.
Openings in 2015 included a 188-room Aloft Hotel by HRI Properties, and a $29 million conversion of a former W Hotel into a 410-room Le Meridien.
Al Copeland Investments completed a $16.4 million renovation of Copeland Tower in Metairie, which created a 250-room Best Western Plus Landmark Hotel & Suites.
And a partnership involving Provenance Hotels, GB Lodging and Woodbine Development renovated the former Ambassador Hotel into a 167-room boutique called the Old No. 77 Hotel & Chandlery.
Others under development include a New Castle Hotels & Resorts' $10 million conversion of an existing inn into a 100-unit Fairfield Inn & Suites.
As boutiques and mid-size inns come on line, tourism officials are anxious to see a few larger projects get under way.
A highlight is the planned redevelopment of the World Trade Center into a Four Seasons Hotel. Officials are hoping that the $380 million project, which will include condominiums on several floors, might spark local interest by other top-line hotels.
Meanwhile, another downtown project, a $30 million renovation of the former New Orleans Public Service Inc. building on Canal Street, is creating a new luxury hotel on Baronne Street.
Still another potentially big project could arise in plans for redevelopment of the area next to the Ernest N. Morial Convention Center. Discussions for the area have included plans for a major hotel, along with new meeting space and, some say, an extension of the Riverwalk outlet mall that opened a few years ago.
All of which should make locals feel comfortable that when out-of-towners call and ask for hotel recommendations, the city will have no shortage of options.
Keeping rooms full
Springtime events such as the New Orleans Jazz & Heritage Festival and French Quarter Festival generally pump up tourism numbers in the second quarter, according to the University of New Orleans Hospitality Research Center.
The center's 2015 tourism report showed that, of visitors surveyed:
• 77 percent visited New Orleans for vacation/pleasure
• 12 percent came for conventions/meetings
• 10 percent came on general business
• 58 percent of convention and business visitors extended their stay by two nights