Chasing the Cause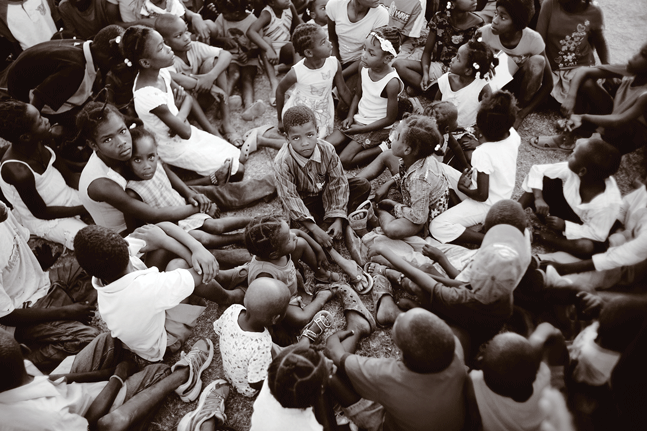 GRESSIER, HAITI – The girl who came here to change the world hasn't left her house.
A dusting of Clif Bar wrappers – it's all Megan Boudreaux has eaten for three days – litters the floor. Organic Frankenstein ingredients such as "soy protein isolate" and "evaporated cane juice" chase tears, offering hollow comfort that sustains only until the last bite.
In a land where she doesn't really know anyone or even speak the language, the former Lafayette High prom queen and Tulane cheerleader is a captive of self-doubt.
Boudreaux already misses her cute apartment and her awesome roommates and her fantastic old boss at Our Lady of the Lake who was so supportive – when he didn't have to be – of this stupid decision. Everyone back home warned about this. It was dumb, they said, to leave a comfortable yet trivial life in Louisiana behind in December 2010 to establish Respire Haiti, a 501(c)(3) nonprofit devoted to educating and empowering child slaves called restaveks in the desolate town of Gressier.
She steadfastly believes God called her here, curiously choosing someone so tiny to tackle a social epidemic so immense, but the only voices audible through her crying belong to those who begged her not to go.
Think about it. You'll be leaving this all behind. Your family. Your job. Your friends. Your home. All that's familiar and known and comfortable and safe. Just stay.
"I couldn't, and trust me, I fought against it," Boudreaux recalls. "I told myself over and over, 'No, I'm not going to Haiti, and I'm not leaving Louisiana.' But something called me here. But once I arrived, I was convinced I made a mistake. I honestly thought: 'OK, I did it. This is what God wanted me to do – to come. I've been obedient, and I followed it, and now I'm done. I'm going to go home. Everyone was right.' I had to get out."
As the roots of depression deepened, Boudreaux finally reached out. She phoned Bernard Joseph, a native Haitian and friend she made on a previous (and temporary) goodwill mission to Gressier in 2010. In retrospect, Boudreaux isn't quite sure why she decided to call Joseph. It might have simply been that after four days, she longed for human interaction. Or maybe Boudreaux wanted someone to beg her to stay – or reassure her it's OK to quit and leave. Or perhaps she wanted to give God a break and dump her problems and worries on someone else's ears. She doesn't remember.
Whatever the reason, they decided to meet atop Bellevue Mountain. It's home to a picturesque view that dares you not to get inspired, dares you to do more than wallow in your own self-pity and gobble energy bars. It's where Boudreaux fell in love with Gressier.
And on this dark day, it's where Boudreaux's world began to change.
Making a Difference
Atop the hill is a little Haitian girl. Her hair is kinked. Bumps and sores caused by bathing in and drinking contaminated water cover her arms, legs and face. She's wearing nothing more than an adult-size tank top and is completely consumed with throwing rocks at the circle of blackbirds hovering overhead.
"What are you doing?" a concerned Boudreaux asks the girl.
"I'm hungry," she responds in Creole.
"So why are you throwing rocks at those birds?"
To eat them, she says.
"Where's your mom?"
She's dead.
"Where's your dad?"
The girl doesn't know.
"Where do you live?"
Her tiny finger points to a meager tent on the other side of the mountain. She lives over there, she says. Inside the tent, she sits on a rock surrounded by a mound of dirty dishes. This is her world, one in desperate need of change.
Boudreaux keeps asking questions, soliciting a series of disturbing answers. The girl's name is Michaelle. She's 8 years old. Like 300,000 other Haitian children, she's considered a restavek, a long-standing disturbing yet accepted cultural norm in which unwanted young kids are housed and treated as servants until they reach the age of 15 (the age of emancipation in Haiti). The issue is somewhat muddled morally within the third-world country because poor families often willingly surrender or sell their children as restaveks in hopes someone else can provide them basic necessities and a better life. Sadly though, restaveks are rarely treated humanely. Most work tireless hours, live in unsanitary conditions, are deprived of educational opportunities and are subject to various forms of abuse.
"That moment convinced me to stay," Boudreaux says. "I came to fight this injustice, and all of a sudden, this injustice now had a face and was staring back at me with a look asking for love and compassion. So right then, forget my problems; forget my big plans. All I was worried about was, 'How do I help this child?'"
In just 18 months, Boudreaux's Respire Haiti charity has constructed a school for first through sixth grades where Michaelle and 350 restavek children of various ages attend class. The nonprofit also established a daily feeding program that offers food to nearly 700 Gressier residents. Future plans call for the construction of another school, a library and a medical clinic.
More amazing than the philanthropic accomplishments of this 26-year-old is the refreshing honesty she uses in telling her story. There's not a hint of romance or embellishment.
She admits that, like most kids, she was completely self-absorbed growing up – "naïve to the rest of world," as she puts it. In high school, she was one of the popular kids. At Tulane, she was a cheerleader blessed with a bevy of friends. In the spring of 2008, she was on pace to graduate with a dual major in political science and psychology.
"But I didn't have a plan," Boudreaux says. "My mother kept asking, 'So what are you going to do?' I'm pretty sure my answer was 'um' and a shrug of my shoulders."
Searching for ideas, Boudreaux asked her college friend Jordan Perry about her summer plans.
"She said she was going to Africa to work at a baby home," Boudreaux says. "She made the joke, 'Hey, want to come with me?' And me being completely lost, having no clue what's next and honestly needing someplace to go, I said, 'All right, I'm gonna come.'"
Perry froze, stunned by Boudreaux's reply.
"Are you serious?" Perry asked.
Boudreaux assured her she was.
"I didn't ask where it was or anything – it was a nonchalant thing, a spontaneous choice," Boudreaux says. "And it's just so weird because I'm such a huge planner – I write things on sticky notes, make lists. I've always been that way. … That trip, though, I was rocked to my core.
"Everything I viewed was unfiltered," Boudreaux continues. "I was just struck at how much these kids needed love. We cared for kids left in toilets, babies left outside abandoned buildings. It was my first hands-on raw experience with how a lot of people don't have a lot of regard for life."
But after the summer, Boudreaux returned to Louisiana and landed a job in marketing for a Baton Rouge industrial construction company before moving on to a similar position with Our Lady of the Lake hospital. Part of her duties there included humanitarian missions to Haiti in April 2010 and August 2010.
Boudreaux submitted paperwork to establish Respire Haiti three months later.
"I'm not sure what happened to me," Boudreaux says. "Like I said, it felt like a calling. After [Africa], I never got those children out of my mind, and after visiting Haiti and witnessing the poverty and need there, I knew I wasn't going to get Haiti out of my mind."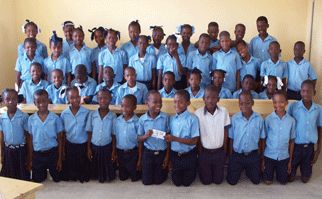 Motherhood
There's a faint knock at the door of Boudreaux's house in Gressier. She isn't expecting company.
On the porch is Michaelle. Ever since that day on Bellevue, Boudreaux has sort of been Michaelle's guardian angel in gym shorts. Boudreaux enrolls her in school, often lets her spend the night on weekends and takes the time to teach her such basic skills as how to eat at a table or use a toilet. They've become close, but they aren't scheduled to see each other today.
Boudreaux asks why Michaelle's here.
"She told me, with little expression on her face, that her [host] family didn't want her anymore," Boudreaux says.
Boudreaux welcomes Michaelle into her home but feels it's probably best that she ultimately reside with a family member. Through research, Boudreaux tracks down Michaelle's biological father but soon realizes he has no interest in rearing his own child. After the death of Michaelle's mother, the father started a new family with a new woman. He did offer his blessing, though, if Boudreaux wished to adopt Michaelle.
"I couldn't say no,'" Boudreaux says.
In order to officially adopt Michaelle, Boudreaux obtains the child's birth certificate and the mother's death certificate. On that last document, Boudreaux notices a string of words written in Creole that she can't distinguish. She types the phrase into Google Translate, hits the "enter" key and stares at the screen.
She glances at the death certificate again. She typed in the phrase correctly.
Michaelle has a sister.
Boudreaux is completely caught off guard. Michaelle – who was predictably reserved at first but has opened up more and more as the weeks of knowing Boudreaux turned into months – never mentioned having a sister.
"A lot of the details from Micha's past are spotty in her memory," Boudreaux says. "When I asked her father, he confirmed Micha had a younger sister. But he didn't know where she was. All I told him was, 'Micha needs her sister.'"
A search ensues. Boudreaux leans on the community she's helped educate and empower for leads in finding Michaelle's sister. Nothing develops. Undaunted, Boudreaux keeps looking, picking Michaelle's father's memory for clues on the sister's whereabouts.
Then, in June 2011, while walking home from visiting an orphanage, Michaelle turns to Boudreaux and out of the blue tells her that she suddenly remembers her sister's name: It's Jessica.
At the end of that same return trip from the orphanage, a little girl was sitting on Boudreaux's front porch. Michaelle raced to her. It was 4-year-old Jessica. Amazingly, the younger sister – who, from what Boudreaux has been able to piece together about their past, hadn't seen Michaelle in at least two years – spoke first, yelling out "MICHA!"
The joyous reunion spills into the night. Boudreaux, now an adoptive mother of two, plays with Michaelle as she calls out for Jessica to join them. But there's no response, so Boudreaux walks around the house.
She finds Jessica out back, mopping the floor – a haunting scene for the new mother as Jessica voluntarily offers a glimpse into the world of a restavek, the only world she's ever known.
Boudreaux gently grabs the mop.
"No, no, you don't have to do that anymore," she says.
Your world, Boudreaux tells Jessica, has changed.