Charlene Richard
A Big Step towards God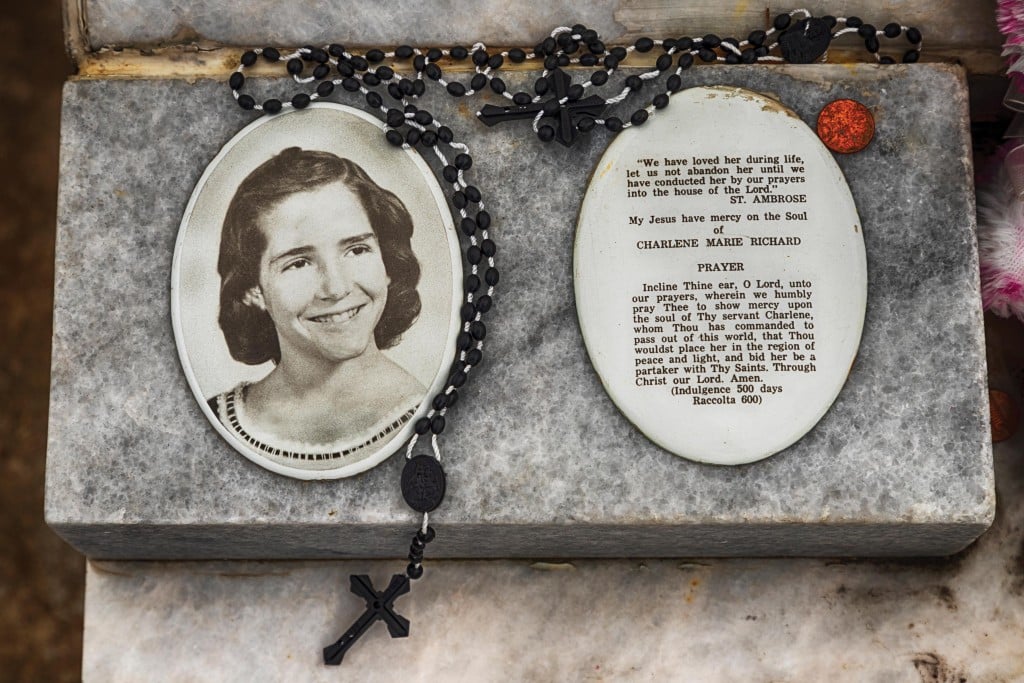 In the middle of southwest Louisiana's prairie, in the village of Richard, is a small cemetery on Charlene Street. Over the years, it has become a place of pilgrimage for those in search of divine intercession. Buried there is a young girl, who died at the age of twelve, whom many worshipers consider to be a saint. For the Catholic population of the region, the name Charlene Richard is synonymous with staunch faith and a source of Cajun pride. The stories of prodigious healings, her devotion to Sainte-Thérèse de Lisieux and her unwavering belief in the face of the diagnosis of a painful and fatal leukemia have been known locally since his death in 1959. According to the companions of her last days in the hospital, the patients she prayed for had unexplained recoveries. She only stayed there for two weeks, but this short stay sealed her reputation as a miraculous child. It was not until the 1970s and 1980s, with the publication of articles and two books, that her life began to gain more attention from believers. Thirty years after being placed in her final resting place, an open-air mass was celebrated in honor of the "Little Cajun Saint" which 4,000 people attended. This event was covered by the local press and television, and even CNN. From then on, her fame only grew well beyond the confines of Acadia Parish.
In common parlance, anyone who has an air of holiness is called a saint. For the Catholic Church, it is obviously not that simple. The process of canonization is long and arduous. It can take decades or even centuries. In January 2020, Bishop Deshotel formally opened the process of beatification, the first step, and canonization of Charlene. Member of the committee that prepared this dossier, Warren Perrin contributed to the cultural aspect of the project. "It was an honor to have been invited to participate in preparing the 300-page book concerning the history of the Richard family in general and Charlene's genealogy in particular. Since she has been known as the 'Cajun Saint', I had to prepare an extensive explanation for the Vatican of what it means to be a Cajun." At the end of 2021, a papal nuncio, Father Luis Escalante, visited an exhibition dedicated to Charlene at the Acadian Museum of Erath managed by Perrin.
Given that Charlene would be 75 today, this case is moving forward with celerity. Like Saint Thérèse of Lisieux — she also died young, canonized 28 years later, and named, after Joan of Arc, the second patron saint of France — she has become the symbol of the Catholic faith in our region. Even without the official designation, she is already considered our patron saint. By taking this big step towards God, Charlene can become, as stated by folklorist Marcia Gaudet, "the equivalent of a personalized angel for the Cajun culture".