Central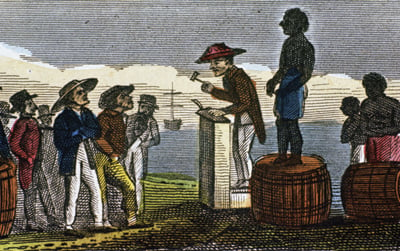 It has been written that, as a young man traveling on a flatboat from the Ohio River to the Mississippi, Abraham Lincoln was appalled at his first sight of the largest slave market in America once he reached New Orleans. This experience helped sear into him a lifelong hatred of the institution of slavery.
It was one of the most popular – and jarring –exhibits ever held at the Historic New Orleans Collection (HNOC), drawing national attention last summer. Due to a recent grant from National Endowment for the Humanities, the exhibit will now be on loan at the Alexandria Museum of Arts for the summer.
"Purchased Lives: New Orleans and the Domestic Slave Trade, 1808-1865," was not, according to exhibit curator Eric Greenwald, a lone indictment of the Crescent City.
"This is not a story about New Orleans or the South," states Greenwald. "This is a story about the United States, and the foundation of our economy."
In 1808, the international slave trade so vividly depicted in Alex Haley's novel, Roots, was abolished, ending human import from Africa to the Americas. But the domestic slave trade teemed with barter and profit when at least one million people who were forced into a migration as owners in Maryland; Washington, DC; North Carolina and Virginia sent surplus slaves to New Orleans to be sold. They later dispersed to the rest of Louisiana, Texas, Alabama and Mississippi.
The exhibit not only considers the role New Orleans played in the slave trade and American history, but presents paintings and first-person accounts from oral histories and slave narratives.
Purchased Lives: New Orleans and the Domestic Slave Trade, 1808-1865
Alexandria Museum of Art
933 2nd St.
Alexandria
(318) 443-3458
---
Alexandria
KING CAKE IN JULY
King cake: It isn't just for Mardi Gras anymore – especially when it's a boudin and cracklin' king cake, whipped up by Quebedeaux's Boudin and Cracklin's in Alexandria.
Initially soaring in popularity during the season traditionally associated with king cakes, Carnival, this delectable roi gateau is now requested for holidays all year-round, including the Fourth of July. The idea to produce this one-of-a-kind specialty cake was the result of a conversation between owner John Valenzuela and his sister, who owns a bakery in Lafayette. Both siblings had years of culinary training with the internationally known, late chef Paul Prudhomme who, during his classes, encouraged the pairing of different flavor combinations.
The sweet tender king cake dough is filled with the divine delicacy of Louisiana boudin. Added to this is the Valenzuela's own secret ingredient gravy that adds perfect connectivity between texture and flavors. As a finishing touch, a praline glaze is spooned over the king cake with a final sprinkling of cracklins tossed in as a flavorful crown fit for a king. Imagine biting into a king cake and piece of boudin separately; then imagine biting into the former stuffed with the latter, soaked with gravy and crusted with cracklins. Need I say more?
The popularity of this delicious, savory treat is beginning to take Louisiana by storm with boudin stops across southwest Louisiana producing their own versions.
Valenzuela freely admits it's a concoction of flavors that's not supposed to work, but does so completely. The eatery also makes the boudin and cracklin's they use in the king cake on site.
Quebedeaux's Boudin and Cracklin's
3710 S MacArthur Drive, Alexandria
(318) 528-8788