Carnival Fun and More
Round up of what's new in Acadiana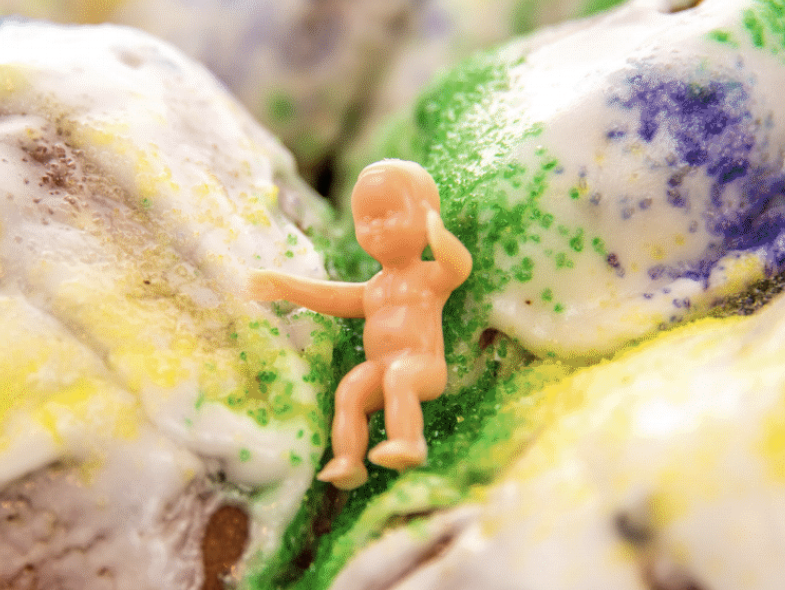 Thibodaux
New King Cake Festival
Sample a taste of Mardi Gras and watch the Krewe of King Cake Children's Parade at the inaugural Bayou King Cake Festival in downtown Thibodaux Feb. 4. Following the parade, Nonc Nu and Da Wild Matous perform as revelers sample an abundance of king cakes by popular local bakeries and bakers alike. Don't forget to vote for your favorites. VIP tickets available (lacajunbayou.com).
Design Your Own Mask
Celebrated Martinique artists, Jean-Luc Toussaint and Vanessa Guy, lead Carnival mask making workshops Feb. 10-13 at NUNU Arts and Culture Collective. Fees include meals and materials but students are encouraged to bring fabric or personal objects that can be added. Supported by a Louisiana Project Grant and administered by the Acadiana Center for the Arts. To register: eventbrite.com/e/mask-making-workshop-martinique-style-tickets-478308061287.
Holy Guacamole!
Carencro After five years of construction, El Paso Mexican Grill is open in Carencro, complete with whimsical artwork, a large interior bar surrounded by booths, roll-up floor-to-ceiling windows and outdoor seating areas. Locally owned and operated (facebook.com/elpasomexicangrillcarencrola). Also notable: Local business owner Charlotte Clavier was recently sworn in as Carencro's first female mayor.
Gotta Try It
Sulphur Derek Gaspard, the novel boudin award-winning owner of Insane Sausages in Vinton, recently introduced a second location in Sulphur featuring his vast selection of unique sausage combinations (popular with a growing band of foodie fans). New: healthier items and weekday plate lunches. Insane Sausage Crawfish Boil (crawfish tails, pork, corn and potatoes in a casing), Steen's Syrup Sausage and Cajun Poutine (with boudin crumbles and remoulade-style sauce) are among the more than 40 refrigerated and menu items available (facebook.com/insanesausages).
Eunice
For Crawfish Cravings
Celebrity judges gather in Eunice March 26 to decide who makes the best étouffées in three categories (professional, amateur and clubs/organizations) during the 36th annual World Championship Crawfish Etouffee Cookoff. The party starts Saturday night, March 25, with live music and dancing until midnight at the Barn, Lakeview Park & Beach. Sunday's headliners include Steve Riley & the Mamou Playboys. Great local crafts. Arrive hungry (etouffeecookoff.org).
Yummy in Youngsville
Mandez's Seafood Bar & Grill is expanding to a second location in Youngsville formerly occupied by Bourrée. Mandez's is renowned for such specials as duck wontons accented with bacon and cream cheese; grilled redfish topped with Rockefeller sauce; spicy Cajun burgers with beignet fries; shrimp tacos and creative paninis (mandezgrillcom).
Roll the Dice
Lake Charles Caesar Entertainment's new 60,000 square-foot, land-based Horseshoe hotel and casino recently opened in Lake Charles with 253 new hotel rooms and a diversity of restaurants (including Brew Brothers plus the Michelin-starred Chef Gordon Ramsay's Steak, slated to open this summer). The new resort replaces the Isle of Capri that closed in 2020 after damage from Hurricane Laura (caesars.com/horseshoe-lake-charles).
Dog Wash with Car Wash
Lafayette The new state-of-the-art Giles Subaru is now underway in Lafayette. Featuring 16 service bays plus a separate express building with three more bays for quick oil changes and a car wash. A new perk: includes a free dog wash for customers and a new public dog park complete with separate areas for large and small dogs. Expected completion date in late 2023 (gilessubaru.com).
Best Place to Travel
Lafayette Lafayette was recently named as the #1 best place to travel in the world in 2023 by Travel Lemming, a US-based online travel guide read by more than 6 million travelers. The annual list of 50 best places to travel encourages travelers to go "off the lemming path" (travellemming.com).