Burger Kings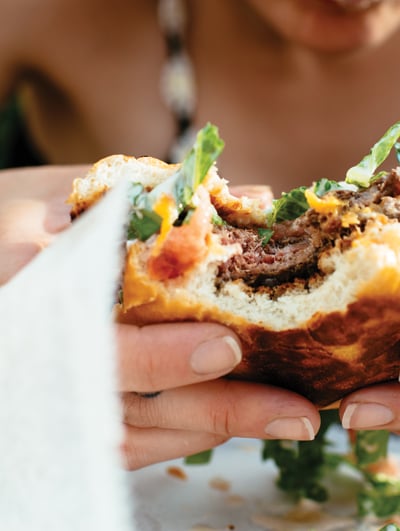 As satisfying as Cajun food may be sometimes cravings hit for simple, familiar pleasures, such as an outstanding burger, particularly in the summertime when a casual attitude prevails (necessitated by the unrelenting heat) and no one will cast a sidelong look your way if you roll up your sleeves, put your elbows on the table, and eat with your hands. Just take care to have a napkin at the ready to catch the juices as they run down your chin.
I am of solid belief that when it comes to burgers, good things tend to come from small, tightly-packed places where handmade is the rule and high turnover ensures freshness.
Moo-Noo's Grill, a hole in the wall in Erath, is just such a place and it gets the seal of approval from my friend Boo Macomber, High Priestess of the Bayou, and one of my go-to sources in Acadiana. The burger patties are made of high-quality beef, hand-formed into large, ragged slabs and cooked on a griddle before they are placed, juicy and dripping, between the layers of a fresh bun. Hearty eaters can order a double burger with two patties. Be forewarned: these burgers will not win a beauty contest. But for flavor Moo-Noo's burgers are tough to beat. If you're skipping bread consider a visit on a Thursday when the plate lunch special is a hamburger steak topped with grilled onions and served with mashed potatoes, gravy, corn on the cob and a garden salad.
| | |
| --- | --- |
| | |
| The Little Big Cup's all beef patty is served dressed between two cakes of macaroni and cheese coated in Panko bread crumbs and then deep fried. | Moo-Noo's double burger is hand-made, griddle cooked and juicy. Stock up on napkins. |
Bread & Circus Provisions also meets my litmus test for being a physically small space with foods that pack a wallop of flavor. Best known for his Neapolitan pizza, lovingly crafted charcuterie and wonderfully wacky condiments (cherry ketchup anyone?), Chef Manny Augello's burgers are every bit as exceptional as anyone would expect them to be and his Juicy Lucy is currently the talk of Acadiana. He's known for his farm-to-table approach and employs that here with two giant hand-made patties of locally-raised grass-fed beef formed around a block of sharp Cheddar cheese. The fat from the cheese helps the beef to retain moisture and the fats from both combine to volcanic effect. I advise cutting this burger in half before tucking into your meal. There is simply no way to get your mouth around the thing with anything resembling grace or dignity. How convenient for Augello that Poupart's Bakery is right across the street, the brioche buns are the perfect vehicles for the delivery of this meaty bomb.
Situated on the banks of Bayou Fuselier in Arnaudville, The Little Big Cup offers an extensive menu encompassing weekend brunch, as well as lunch and dinner, but the multi-level deck outside over the water is the ideal setting for a burger. While I go for the classic affair with the addition of bacon on a soft, fresh bun with a side of waffle fries, there's also an utterly crazy affair of an all-beef patty served dressed between two cakes of macaroni and cheese that have been coated in Panko bread crumbs and deep fried, then employed as a "bun."
---
BONUS BITE
Are you having a gathering where you will be griddling or grilling your own burgers? The Eunice Superette is supplied by its own slaughterhouse. While this is a fully-stocked grocery store, the focus here is definitely on the meat. The staff butchers are skilled in advising on custom orders and all of the beef here is grass-fed. Don't leave without some of their excellent boudin for the grill and cracklin to munch on while you cook.
---
Bread & Circus Provisions 258 Bendel Road, Lafayette, 337-408-3930, bandcprovisions.com
Moo-Noo's Grill 209 E Lastie St., Erath, 337-937-6971
The Eunice Superette 1230 West Laurel, Eunice, 337-546-6042, eunicesuperette.com
The Little Big Cup 149 Fuselier Road, Arnaudville, 337-754-7147, littlebigcup.com