Brunch Bunch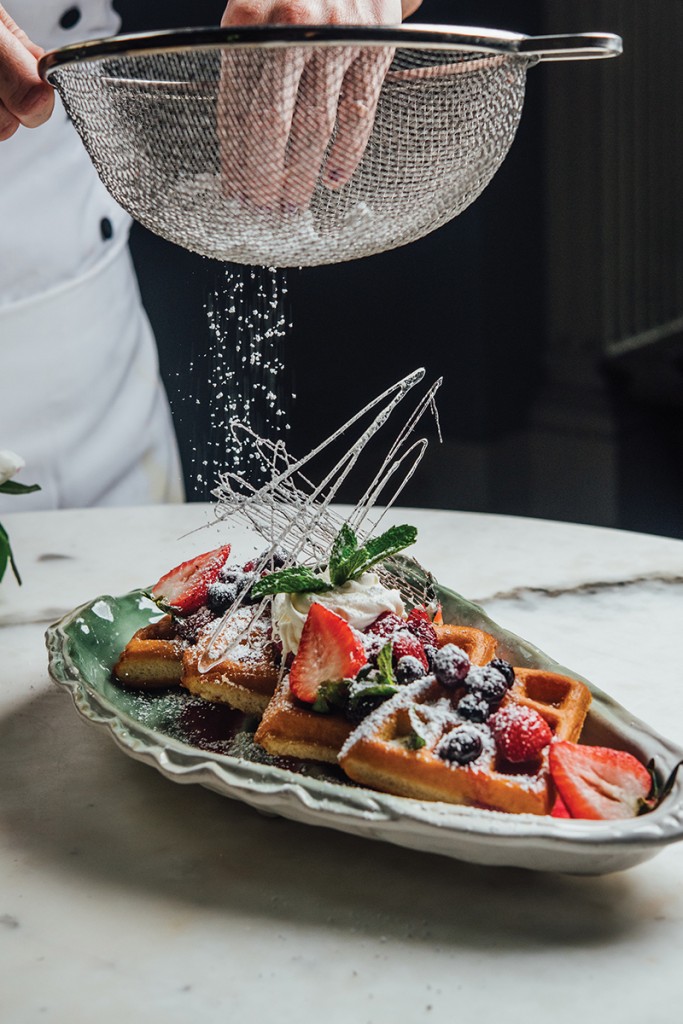 ---
Photos by Denny Culbert
---
Who does the best brunch?
It's like making a roux: everyone says their way is the best. Selecting the setting is more like making gumbo: a bubbling mélange of choices seasoned with a little bit of this, thickened by a bit of that. We've stirred up a fresh fricassée of places, with a pinch of news, to spice up your quest.
---
EARLY BIRD ROADSIDE CLASSIC
Suire's Cajun Restaurant and Grocery
Diners can play with checkers in plastic tubs atop checkerboards etched into crawfish-patterned vinyl tablecloths, and use salt-and-pepper held by sculpted frogs and miniature cross-legged deer wearing antlered hunting hats.
You never know when you'll be struck by lightning, and who would want to go without a morning cup of turtle sauce piquante from Suire's? The rush begins at dawn. A cheery alligator in a chef's toque marks the little building on a country road, in case you're lost. Those who want more than eggs upon awakening can enjoy their Mello Joy with crawfish pistolettes, triple decker BLTs, gumbos and etouffées, poor boys, plate lunches, sandwiches and homemade desserts wrapped to-geaux at the register (tip: fig cake, blueberry tart, sugar-free brownies). Celebrity photos and reviews (New York Times included) surround Formica tables. "Anthony Bourdain came in on Ash Wednesday, 2018, and ate crawfish etouffée, an oyster poor boy and pecan pie," says co-owner Lisa Frederick. Nonchalantly.
Suire's Cajun Restaurant and Grocery
13923 LA Hwy 35 S. Kaplan . 337-643-8911 . suires.yolasite.com
---
BEST CONTEMPORARY FUSION
Milano
The road to 31-year old Patrick Trahan's hire as executive chef of Milano in June 2018 was both propitious and perilous.
Prior to heading Houma's chic bistro known for its Italian-inspired fare, and introducing Sunday brunch, he ascended as a graduate of the Chef John Folse Culinary Institute at Nicholls, when selected among students from 22 countries to study for six months in Lyon under a French legend, Chef Paul Bocuse.
Later, the three-year protégé of acclaimed New Orleans Chef Michael Gulotta (2019 James Beard Award nominee for Best Chef: South) was serving as his executive sous chef at Mopho, when tapped to become second-in-command at Gulotta's new Asian-New Orleans fusion bistro.
"I was being groomed to open Maypop," Trahan says. "He taught me so much."
But the Thibodaux native's world came crashing down when he was arrested for a fourth DWI and sentenced to a year in the Louisiana penal system.
"After I got out, I didn't want to be a chef anymore," he says. "But it wasn't until I had an epiphany and took some ownership that I started over in Houma at Milano, where they gave me free reign."
Milano's latest menus offer a new dining experience that is far more dynamic, transcended by Trahan's Asian-French fusion creations.
The new Sunday brunch is served in an airy, art-filled dining room rimmed in mirrors as a pianist plays on a gleaming grand piano. Until the launch, Cristiano's Italian fare was the only upscale alternative for brunch.
Trahan's precise flavor fusions awaken the senses for an evolving, seasonal menu. Crisp soft-shell crabs with a poached egg get jazzed up by a bechamel nuanced with lemongrass and ginger, while a deboned quail's sweet-tart cane syrup gastrique is a palate-teaser.
Duck confit with sweet potato waffles gets a bounce from pickled blueberries glorified with bourbon-laced Chantilly cream. Kimchi-braised greens flavored with pork belly and ginger give pork chops a two-stepping push with a tangy mirliton hash.
"I wanted to create something unique and new for brunch, something no one else is doing in Houma," says Trahan.
Milano
314 Belanger St., Houma . 985-879-2426 . milanohouma.com
---
BEST LIVE CAJUN MUSIC
Tante Marie
A fiddler scratches out a piercing riff in the musician's circle, as chairs are being rearranged for the growing crowd of local amateur fiddlers showing up for the Saturday Cajun Jam session and brunch at Tante Marie in Breaux Bridge. The stage has been removed, so there's more room for dancing on that old wooden floor, which has just the right bounce.
Formerly Joie de Vivre, the new name came from owner Scott Schilling's new partner, Cornell Comeaux, to honor his late grandmother.
"My wife is from Quebec and her name is Marie-Claude, so the new name works well," Schilling says. "I've known Cornell for 20 years. You could put him in a closet with a toaster and he'd come out with a feast for 400. He's expanding our brunch menu, including assorted omelets, we're adding new kitchen equipment and extending the bar area.
"We've introduced nitrogen-infused cold brew and we're partnering with our neighbor, Cochon Cannery, for bacon jam and other products."
On Saturdays, old-timers often lapse into French before the jam session, which attracts at least a dozen fiddlers, several guitarists and a couple of local headliners.
"We speak only in French to our daughters, ages two and four," says Schilling. "I'm involved with organizing Cycle Zydeco, which draws international travelers to the area. We've grown to over 800 riders."
Tante Marie's offerings to date include biscuit and boudin patties (made in-house) with rich country gravy, pain perdu with a side of spicy chaurice, and the bountiful new boudin breakfast burrito cradling eggs and boudin, oozing pepper jack cheese and sweetened with rich Steen's cane syrup.
The superb cappuccinos and Bloody Marys fuel locals hitting the dance floor. Beer on tap is underway in the circa-1920s building that was originally a hardware store.
"Our renovation will include old tools to reflect the hardware store theme, along with screwdriver and Rusty Nail cocktails," says Schilling.
The jam session, which ends at 1 p.m., often trails off with ballads like "Jolie Blonde." But only the old-timers' poignant voices capture its beseeching, tender tale.
Tante Marie Restaurant
107 N. Main St., Breaux Bridge . 337-442-6354 . jamsandbiscuits.com
---
FOR YOUR HEALTH
Tribe Collective
Children on a gluten-free diet don't have to turn away in angst when looking into a case of gorgeous pastries, pass up pancakes or biscuits at Tribe Collective, a delightful place where folks with dietary restrictions can feel "normal."
Gluten-free, allergen-free, diabetic-friendly and vegan options are deliciously enticing for brunch. Tribe combines Mortar & Pestle's heathy, nurturing food by Chef Hannah Ellaham from Bibi's Patisserie (tip: butter pecan cookie bars, rosemary biscuits); Emerge, an artisan juicer with fresh, organic, bio-dynamic juices, smoothies, raw foods and smoothie bowls; Rêve Coffee Roasters offerings; the Tribe Store with products and literature, and space for artists, musicians and chef pop-ups. The slogan: Evolving, Transforming and Emerging, which explains the cool vibes. Great place to chill.
Tribe Collective
1011 E. University, Lafayette . 337-534-0173 . facebook.com/tribecollectivelaf
---
BEST BUFFET, BEST VIEW
Houmas House
The opulence of the Greek Revival, columned mansion and twin garconniere, massive bending oaks, fragrant magnolias and vibrant gardens have a breathtaking effect on those entering the gates of the 38-acre Houmas House plantation estate in Darrow.
Arrivals for Sunday Brunch at Café Burnside discover unparalleled interludes when strolling the storied estate.
It's easy to imagine Bette Davis on the balcony, filming "Hush Hush Sweet Charlotte," or the opaque, wandering spirits still seen roaming the grounds as time passes imperceptibly.
Cool river breezes lead diners through picturesque paths to the elaborate brunch overlooking a courtyard and gardens ablaze with color.
Upon arrival, warm biscuits shaped like a dragonfly arrive with whipped cane-syrup pecan butter. The dragonfly biscuit symbolizes the omen that inspired owner Kevin Kelly to acquire Houmas House when initially touring the grounds.
A dragonfly landed, then lingered on Kelly's shoulder, convincing the developer to purchase the estate in 2003, meticulously restoring the mansion, and elaborately transforming the grounds.
Now that acclaimed Chef Jeremy Langlois has returned, the River Road Sunday brunch buffet is enhanced with bourbon shrimp fragrant with fresh herbs, veal grillades with stone-ground white cheddar grits, and slices of tender duck breast with a smooth praline-pecan glaze.
"I like brunch because Sundays have a more relaxed feeling," says Langlois. "It's the one day of the week you get to have a different kind of menu."
His a la carte menu features Chef's signature curried crawfish, pumpkin and corn bisque, a crawfish and brie omelet topped with a fried soft-shell crawfish and hollandaise, mouth-watering grilled tournedos of filet mignon accented with a wild mushroom demi-glace, and the artfully assembled eggplant Belle Rose, layered with jumbo lump crabmeat in a saffron cream sauce.
"Kevin has a tremendous vision for the property," says Langlois. "He is able to envision the future."
Kelly's amazing new 28,000-square-foot Great River Road Museum and Interpretive Center, currently under construction, is designed to recount life along the Mississippi, complete with a raised amphitheater, cafe and an arched bridge leading to Steamboat Overlook near a walkway, his most substantial "vision" to date.
Café Burnside
40136 Highway 942, Darrow . 225-473-9380 . houmashouse.com
---
A PATIO WITH MOCKTAILS
Spoonbill Watering Hole & Restaurant
Weekend brunch on the covered patio at Spoonbill Watering Hole is a hip, casual, laid-back destination for those who prefer non-traditional fare.
The snazzy new hangout is designed for a "total immersion" experience with an open kitchen near bartenders crafting festively-garnished cocktails. Located in the former Filling Station. Chef-owner Jeremy Conner's seafood-centric hits include a poke stack and crab quesadillas. Brunch top-seller: Bibimbap, a green rice bowl with bulgogi, pickled veggies, hot pepper sauce, sesame seeds and a sunny-side-up egg. Chase it down with a Suffering Bastard (in a tiki glass) or a Corpse Reviver if you've had one of those nights. Not imbibing? Blackened Lemonade and Cloudy with a Chance mocktails are equally refreshing and fetching. It's a great place for posting up. (See more about Spoonbill in our Sur la menu article this issue.)
Spoonbill Watering Hole & Restaurant
900 Jefferson St., Lafayette; 337-534-0585; spoonbillrestaurant.com
---
ICE CREAM AND A SANDBOX
4 Sisters Café
A hidden all-day breakfast oasis for young children and parents who want to relax with friends and excellent coffees, or order wine, beer, frozen margaritas, Bloody Marys and mimosas.
Inside, there's a little kids table with games, a mounted spinning device to win complimentary ice cream, an ice cream bar that includes beignet sundaes and kid-friendly menus. The side porch is flanked by an outdoor play area with a sandbox, and the yard has a pretend, brightly-painted fire hydrant for doggies. Waffles shaped like a fleur de lis come with varied toppings. Recommended: stuffed breakfast croissants, beignet batons, shrimp and grits and biscuits à la Teche with eggs and crawfish smothered in spicy Cajun sausage. Local products available.
4 Sisters Café
220 Rees St., Breaux Bridge . 337-332-0308 . 4sisterscafe.com
---
TAKE FIDO
A Place For Pooch
Are you trying to find a place where your pup can have brunch, too?
In Lafayette, you don't have to leave your furry friend at home when brunching at Saint Street Inn, a charming dog-friendly, farm-to-table spot with a covered porch area (tip: pain perdu with lemon curd, steak and eggs, green chili burritos, sweet potato waffles); saintstreetinn.com while Blue Dog Café has live music and a new brunch menu (tip: Clovis Marie cocktail rimmed in crawfish boil, bacon pecan sticky buns, Croque Madame); bluedogcafe.com.
Houma's Cristiano Ristorante's courtyard has 10 dog-friendly tables (tip: frittatas, grillades and grits, pork belly debris with polenta) cristianoristorante.com.
In Lake Charles, Pujo Street Café welcomes Fido in a large, enclosed patio with fans (tip: beignets, eggs Benedict, chicken and waffles); pujostreet.com.
---
BEST LIVE JAZZ
Luna Bar & Grill
The patio fills up quickly on Sundays for the super-casual jazz brunch at Luna Bar & Grill. A popular nightly concert venue, Luna is expected to double in size once the expansion to the building next door is a wrap. This means more space for the brunch bunch.
Although Chef-owner Dave Evans sold the Luna Live venue last year, he promises to continue his downtown Chuck Fest, and there is even talk of a possible food truck eventually rolling into Lafayette.
A stiff Bloody Mary and an order of Dr. John's voodoo hash, replete with crawfish, jalapenos and Cajun hollandaise, will help get your Night Tripper, Gris Gris-man groove on while recounting last night's transgressions. If your taste buds are leaning toward sweet stuff, the Louis Armstrong glazed crepes with mascarpone cream and blackberries will put you on the "sunny side of the street."
Evans is a celebrated singer-guitarist, which explains the fun and funky music-themed décor, from the big piano keys towering over the length of the bar, the trippy mural and spiky light fixtures to the collection of photos and the big neon guitar at the entrance that glows Luna at night. It's a conjuring.
"I used to have a show seven days a week," Evans says. "I'm into everything, from bluegrass to the Grateful Dead. That's what I love, music and food."
You'll likely be singing "I Found My Thrill" after enjoying Evans' new Fats Domino brunch special, a tall biscuit stacked with crispy fried chicken and a generous scoop of boudin draped with a creamy gravy. Eggs Pontchartrain will get your taste buds dancing with crab cakes, shrimp, bacon, avocado and that spicy Cajun hollandaise. Don't leave without trying the crawfish-stuffed avocado. Definitely the stuffed avocado.
The servers are super friendly, and the price is right. Brunch ends at 2 p.m., and they open an hour later with the next menu, so it's best to arrive earlier, rather than later.
Luna Bar & Grill
719 Ryan St., Lake Charles . 337-494-5862 . lunabarandgrill.com
---
MAKING A SPLASH
Boating to Brunch
It's a clear and sunny Saturday, ideal for kayaking. Brunch/lunch anyone?
Paddle along the cypress-lined banks of Bayou Fuselier and dock at Little Big Cup (littlebigcup.com), an Arnaudville oasis for weekend brunch buffets (includes crème brûlée French toast, pork roast, fresh fruit salad and gumbo). But only on Saturdays can you get the regular menu with brunch. Best bets: Crab Stack 2.0 (a tall, layered sensation of fried eggplant, crab cakes and fried soft-shell crab topped with crawfish etouffée); praline chicken and waffles; bountifully topped Bloody Marys.
Power boating with a crowd near Lake Charles? Weekenders gravitate to Loggerheads Riverfront
(facebook.com/loggerheads) for boiled shrimp, fried fish and grilled shrimp salad served on deck from 11 a.m. until the live music starts spicing things up at 4 p.m.
---
BEST SEAFOOD
Café Sydnie Mae
Author James Lee Burke's new murder mystery novel, "New Iberia Blues," has a gripping chapter that describes how Detective Dave Robicheaux's daughter, Alafair, leaves a note on the fridge explaining that she is going to brunch at Café Sydnie Mae in Breaux Bridge. But when Dave calls the café, Alafair has mysteriously disappeared in a suspicious cherry-red Lamborghini.
"I didn't have a clue that Café Sydnie Mae was in Burke's new novel until some people from Texas came in for brunch and told me about it, then asked me to sign the book!" says Chef Bonnie Breaux. "People from all over have been coming here about it."
Crowned Queen of Louisiana Seafood in 2017, she recently teamed up for a chef demo with the 2018 Seafood King, Blue Dog Café Chef Ryan Trahan, during Books Along the Teche Literary Festival heralding Burke's Detective Dave Robicheaux novels.
"Our cafe is under new ownership," says Breaux. "Chip and Lucy Durand are planning to open a new restaurant in St. Martinville. Running the cafe was too much for them, so our general manager, who has been here since the beginning, David Puckett and his wife bought Café Sydnie Mae from Durand. It was David's idea to introduce brunch before he even bought the cafe, so we did, and he ended up buying it."
Chef Breaux says that plans are underway to introduce a live music duo for Sunday brunch. The lunch menu was recently added to brunch offerings.
Teche Benedict is a masterful medley of fried seafood imperial cakes with poached eggs atop toasted biscuits. Teche Wellington with a sherry-cream sauce is another big hit.
Seafood lovers gravitate to Breaux's blackened shrimp and Creole cream cheese in a spicy tasso cream sauce, and the Atchafalaya omelet brimming with crawfish, shrimp, crab and peppers.
Go all out and order the indulgent banana Foster waffles, dressed to kill with Buffalo Trace caramel, roasted pecans, bananas and oodles of whipped cream. Mimosas add a festive touch to a memorable brunch by a celebrated Seafood Queen.
Café Sydnie Mae
140 E. Bridge St., Breaux Bridge . 337-909-2377 . cafesydniemae.com
---
BEAN THERE DONE THAT
Java Joints with Lagniappe
Acadiana's coffeehouses are enlivened with local musicians and consignment art, children's movies, miniature electric trains and yoga as lagniappe
Saturdays at the artsy Stellar Beans Coffee House in Lake Charles bring Snickerdoodle frappés and beignets enhanced by live jazz, art exhibits and yoga classes (proprietor Chelsea Boudreaux also owns Yoga Center next door). Get serenaded in Jeanerette on Sundays (via the grand piano and trumpet) with lattes and stuffed biscuits as you sink into leather sofas at the elegant Cooper Street Café. Feel the circa 1800s RR vibe in Scott's quaint Coffee Depot while enjoying croissants and cappuccino. Have an envie for chicken gumbo with your biscuit or Poché's boudin instead of eggs? Look beneath the only red light in Grand Coteau (home of the only Vatican-recognized miracle in the United States) to find Chicory's Coffee & Café, a retro hangout with books, local art and Who Dat smoothies, build-your-own breakfast wraps, fruit bowls and white chocolate bread pudding.
---