Big Day Digs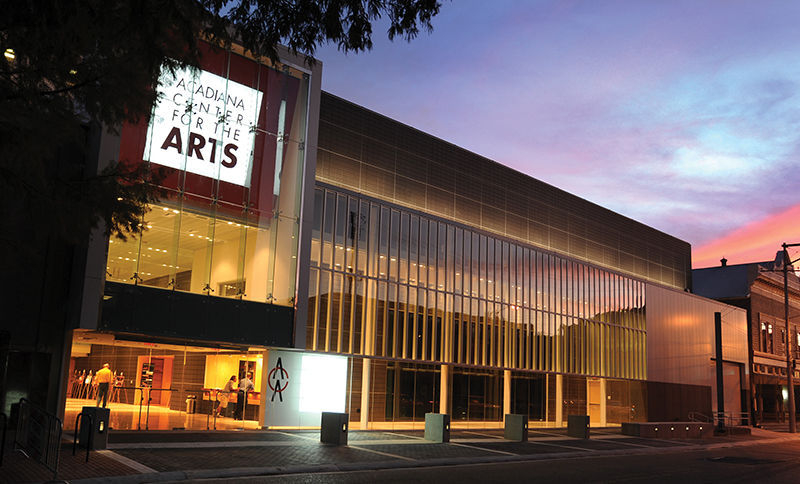 From charming refurbished barns and elegant Victorian houses to chic contemporary art spaces, south Louisiana has an astounding variety of wedding and reception venues from which to choose. While it ultimately comes down to your personal style and budget, you might find that the location that's truly right might not be what you imagined rather, when you find it, you just know. Have a look at these seven gorgeous venues and see if any suit your fancy.
---
Grand Opera House of the South
(Crowley) — Take your vows on a stage once graced by the likes of Enrico Caruso in this stunning turn-of-the-century Opera House in the heart of Crowley. If a stage is a bit too much, two other rooms are available for receptions or ceremonies — an historic third-story ballroom with warm slatted-wood ceilings and windows overlooking the streets (seats 175), and an enormous first-story grand hall, which has been gently refurbished to include reclaimed wood and a stunning antique bar, as well as elements like exposed brick and plaster walls that give it a character-filled shabby-chic aesthetic (seats over 700).
---
Acadiana Center for the Arts
(Lafayette) — Downtown Lafayette's Acadiana Center for the Arts was designed with a sleek modern aesthetic and with a mind toward multi-use spaces. That's part of what makes it so perfect for a wedding: you can really turn their art galleries, glassy café atrium, meeting rooms, and main theater (with modular seating that can be fully or partially removed) into your very own space, seating anywhere from 10 to 500, all without losing the cool design-oriented look of the space itself.
---

Caldwell House
(Abbeville) — This handsome Victorian mansion in central Abbeville offers full-service weddings: rehearsal dinner, bridal suite, ceremony, reception, honeymoon suite and more. Of course, you can choose à la carte from these services — have your wedding in one of the many churches just a short walk away or have your ceremony (up to 150) in Caldwell House's handsomely-landscaped backyard. The attention to detail offered by the planners here is ideal for a couple who wants the very best of traditional luxury: a silver punch bowl, real table linens, crystal champagne flutes, and — of course — the meticulously-appointed and spacious interiors.
---
Wolff Ballroom
(Washington) — Built in the 1840s, the Wolff Ballroom is listed on the National Register of Historic Places, and can accommodate up to 400 guests in its spacious, history-drenched main room or stone courtyard. The building has been fully restored with traditionalism in mind: a copper-covered bar, exposed bricks, wooden beams, and 16 graceful chandeliers. Despite these traditional elements, though, the space is open enough that you really can make it your own — with décor and furnishings that take the traditional look even further, or with sleek, modern décor that offers a bit of punchy contrast.
---
Calcasieu Marine
(Lake Charles) — Built as a bank in the stately, ornate neoclassical style favored at the height of the roaring 20s, this venue is ideal if you're looking for something grand and distinctive. The large reception room (capacity 600) is lined with marble pillars and gold friezes that provide high drama. An outdoor courtyard can add space for your ceremony or a backdrop for a fabulous departure.
---
La Belle Venue
(Eunice) — La Belle Venue is a former church turned elegant, full-service event space with both lovely landscaped grounds (sporting traditional stone garden sculptures from New Orleans) and a spacious, light-filled interior space that can accommodate up to 400. The interior can be dressed to your personal style, but works particularly well for couples who want a romantic feel, with airy white draping and delicate fairy lights.
---
James Grace House
(Plaquemine) — This elegant antebellum home sits on the banks of Bayou Plaquemine just a bit south and west of Baton Rouge, and offers an ideal setting for those preferring a Pinterest-worthy rustic-glam wedding. A gazebo overlooking the bayou offers a classically beautiful ceremony space, and a beautifully refurbished barn (capacity 200) and sweet landscaped gardens are perfect for a dining and dancing-filled reception.
---
TIP
A lot of venues are flexible and can work with a number of design themes, but if you have your heart set on a rustic wedding, don't go with a hotel ballroom, and vice versa. Fully transforming a space is possible, but it takes a huge amount of time, energy and money, so try to find a base upon which you can easily build your personal style.
Cassie Thibeaux of Southern Fête
---
QUICK TIPS
Lafayette-based event planner Cassie Thibeaux of Southern Fête offers advice for picking the venue of your dreams
1: Start with your numbers!
Don't even begin to assess venues until you've come up with a solid number of guests. You can squeeze a few more people in or spread out just a bit, but your basic number is so important for determining a venue.
2: Indoor or Outdoor?
This seems like an obvious starter question, but don't brush it off. In south Louisiana, a little rain can mean big disaster for a tent wedding in the summertime, and an unexpectedly hot day can be brutal if you're getting hitched in Daddy's barn in the winter. Have a backup plan at the ready.
3: Find Out About Outside Vendors
As you begin to assess venues, ask right off the bat about outside vendors, especially if you have a strong preference for or against them. Full-service venues are amazing if you don't want to deal with pesky details, but if you're a micromanager, you might prefer a broader choice of options.
---