Beyond the Surface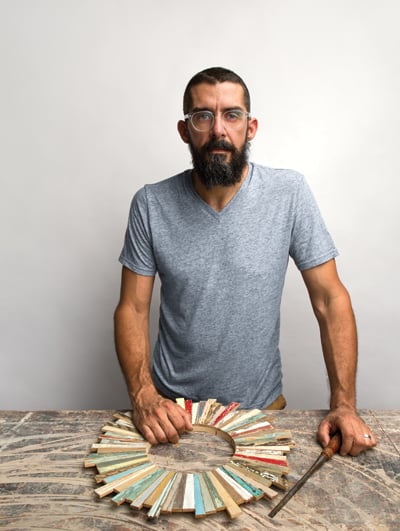 It's 7 a.m. and David Bergeron is up with the sun. There's a smattering of fresh materials — junk to some, and new only to Bergeron's woodshop — waiting to be sorted, strategically stacked and readied for rebirth.
The artist saved this wood from languishing in a landfill. The material has weathered in wait for years and generations, making its way across the South and the neighborhoods of New Orleans, into much of coastal Louisiana closer to Bergeron's current home of Thibodaux.
As Bergeron gets to work on these vintage materials, he isn't so much fiddling with old wood as assuming the role of a caretaker for something that could speak of stories of old. Maybe even a forgotten truth.
These slats and boards are the former bones of his city and he wakes up every morning to resurrect the dead.
He launched Bergeron Woodworks in his mid-20s, and now at 45, the Delgado Community College alum has built with his hands a kaleidoscopic body of reclaimed woodwork, from $30 geometric picture frames to intricate custom-built benches, beds and tables that fetch thousands.
Growing up on the West Bank, Bergeron watched his grandfather, a woodworker and gardener, make a proud living and build the family homestead on a third-grade education.
"I kind of bounced around construction and was lucky enough to encounter a few very talented people," Bergeron says. "I just tried to keep my mouth shut and watch."
His work is time-intensive, due to the nature of the materials and the fact that he's doing everything he can to maintain the integrity and color of the wood. It didn't take long for Bergeron's playful colors — which reflect the city's personality and his constant attention to detail — to catch the eye of the House of Blues. For a decade he helped to define the eclectic rainbow remix of designs that became part of the unforgettable aesthetic of the Decatur Street music mecca.
"At the beginning, [House of Blues] had a really talented in-house art and design department that was very focused on keeping the founder's vision intact," Bergeron says. "It was an incredible learning experience that I could not put a price on."
With the House of Blues as a client, Bergeron's sense of story and his passion for environmentally-friendly work led to three separate creative projects for the Bonnaroo Music & Arts Festival in Tennessee, including a series of 10-foot by 10-foot frames for housing acclaimed rock photographer Danny Clinch's work. The festival founders responded well to the principals of sustainability that Bergeron's work professes, but this wasn't always the case. Twenty years ago the populace was much more timid about purchasing furniture from salvaged materials.
"People would approach the work with interest and then back off when you said it was from the trash," Bergeron recalls. "Now when you say it's from the trash they move forward."
Protecting the environment has always been his driving force, he says. In 2016 alone, Bergeron diverted more than five tons of material from the waste stream.
"When its all said and done, that is something I will lay my head on," he says.
If de-nailing wood slats for days on end has his muscles feeling like they are filled with battery acid, or the soothing effects of a new color palette of well-weathered materials has his childlike wonder lit and aloft, all of it is part of his process and central to the more fundamental desire Bergeron holds for his life's work. He wants to see beyond the surface of all things — inanimate and living. At the very heart of Bergeron's craft is a search for a kind of glory in someone else's garbage, a rescue mission for the rebirthed and bright future of what was once cast away.
"The most rewarding thing is creating value in a piece of material that is otherwise unwanted," Bergeron says. "I think that with a little time and creativity, all people and materials have value."
Q&A
What do you do for fun when you're not putting in 10 hours inside the shop? I've been really getting into the work of the abstract expressionist painter Richard Diebenkorn lately — for whatever that's worth. Mostly, I'm an outdoors kind of person. So running I love. Being out in nature, hiking and beer. I'm trying to get a better grip on the organic gardening thing too, but that is proving to be quite the learning curve, ha.
Do you feel like you have to seek out inspirations and explore other people's art to move forward? People are always recommending that I check out the work of so-and-so, but I'm a firm believer in 'protecting the eye.' In other words, I feel like everything we take in or experience affects us so I like to curate that very carefully.
Your work used the old bones of structures of New Orleans, so in a very tangible way, New Orleans influences your work. Why did you decide this was the place for your woodwork to thrive? Can you define the spirit of the city? New Orleans has an openness that is a lot harder to find in the rest of the South. I grew up in a lower-to-middle income, blue-collar and culturally-diverse area, and I wouldn't change that for anything. Just people helping people and figuring it all out.
You've certainly figured things out, and had some incredibly recognizable clients like the House of Blues and Bonnaroo. You must have come across some celebrities. I did do a piece for Brad Pitt's Make It Right 9 Project in the Lower 9th Ward, and I got to meet him. I went to introduce myself, and he says 'Oh, I know who you are, I love your stuff.'
That's a great story. Pitt seems to be someone with a keen eye for design and construction and I can't imagine how many new people he met and worked with during the entire project, so that's a compliment. Any tales of rock 'n' roll from working for the Bonnaroo? I don't think any of my rock 'n' roll stories are fit for print, ha!