Beef Up Burgers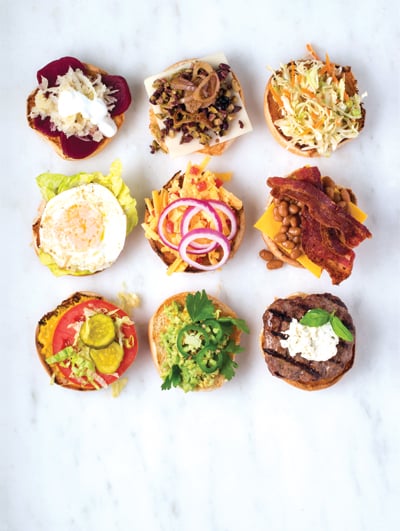 My husband Rock is known as the grill master in our neighborhood. He is always at the ready to fire up the grill on which to slap a couple of steaks, a few wieners or maybe several kabobs, but his area of expertise is the hamburger. On the first day of summer, he gives the grill (and his 50-gallon drum barbecue pit) a big cleaning. All the ash that has collected at the bottom of both the grill and pit is removed. All the grill surfaces are cleaned with a wire brush. All his grilling equipment – tongs, long-handled forks, spatulas – are reverently cleaned and stashed in a "dry box" on the patio.
We are ready for our annual burger bash. The big cypress table we inherited from his father is laden with a variety of condiments, assorted buns (one year we even made our own), and sides like potato salad, coleslaw, baked beans and sometimes a mystery casserole made with whatever he can find in the pantry, freezer or fridge. If we're lucky, we have a platter of Creole tomatoes. Sometimes Rock grills thick slices of Vidalias, and there is always an array of cheeses – American, Swiss, chevre, smoked Gouda, Maytag blue and my homemade version of Bousin with whatever fresh herbs are available in my garden.
Needless to say we have experimented with the burger itself. For a juicy, rich burger, ask your butcher to grind the second cut (or nose-cut) of a brisket. Ground chuck (80-20) is also a good choice. I sometimes pamper myself with a ground rib-eye. I also like a combination of sirloin (to give it a tender texture) and chuck (to add some fat and flavor). About 15 percent fat gives the burger a good beef taste, and I like a medium-course grind to give it texture. Don't be afraid to experiment with combining beef of your choice with ground pork, or veal and yes, even lamb.
What to season your meat mixture with is very personal. Some purists will tell you that salt, a few grindings of black pepper, a pinch of cayenne and a squirt of Worcestershire sauce are all you need. You might want to experiment with adding some minced shallots or garlic for a spark of flavor. There are certainly no rules as to what you can add to your mixture. A friend of mine swears by adding a handful of finely chopped white button mushrooms and chives – whatever tickles your taste buds. Shape the patties into whatever size is your pleasure. Personally, I go for an 8-ounce burger.
On to cooking. Grill over a medium fire. Do not press down with a spatula – you're releasing all the flavor and causing a flare-up if you do. On occasion, we have put Papa's big cast-iron skillet right on the grill and cooked the burgers in it. All that good flavor of fat is fine with me.
All-American
Mustard, mayo, sliced tomatoes and shredded lettuce and maybe a few slices of dill pickles. Add a slice of American cheese for a cheeseburger in paradise à la Jimmy Buffett.
Asian
Add soy sauce, toasted sesame oil and Sriracha to the meat mixture. Dress with sliced shiitakes sauteed in olive oil and soy sauce.
Breakfast
Add crumbled crisp bacon to the meat mixture, top with a fried or poached egg, drizzle with hollandaise sauce, and dress with Bibb lettuce.
California
Sliced or mashed avocados brightened with fresh lime juice and minced cilantro. Maybe a dash of hot sauce and a scattering of jalapeno peppers.
Cowboy
Add barbecue sauce to the meat mixture. Dress with barbecued beans and apple-smoked bacon.
French
Spread the bun with aioli (garlic-flavored mayo) and Dijon, stuff the burger with blue cheese and freshly ground black pepper and top with grilled onions. Add fresh thyme to the meat mixture. Serve with cornichons.
German
Dress with pickled beets, sauerkraut and sour cream.
Mediterranean
Add smashed anchovies to the meat mixture. Dress with tapenade and fried shallots.
Sinful
Ground rib-eye patty spiked with Tabasco, spread the bun with Boursin cheese and roasted garlic. Maybe throw in a few leaves of sweet basil!
Southern
Add barbecue sauce to a ground brisket patty and dress with coleslaw.
Southern II
Dress with roasted red bell peppers, thinly sliced red onions (soaked in ice water for 30 minutes) and spread the bun with pimiento cheese.
Portobello Burger
Brush the mushrooms and the onions with oil and season with ½ teaspoon salt and ½ teaspoon black pepper. Heat a large non-stick or cast-iron skillet over medium heat. Add the mushrooms (do not crowd – cook in two batches if necessary) and cook until just tender, about 4 minutes. Transfer the mushrooms to a platter, cavity side up, and cover to keep warm.
In the same skillet, cook the onion slices until golden, 6 to 8 minutes, turning occasionally.
Meanwhile, combine ½ of the sliced avocados with the yogurt, garlic and remaining ¼ teaspoon salt and ¼ teaspoon black pepper. Mash well with a fork until fairly smooth.
Spoon equal amounts of the onions and roasted peppers into the mushroom caps. Spread equal amounts of the avocado mixture on the bottom of each bun top each with the stuffed mushrooms. Top with the remaining sliced avocados. Dress with arugula and roasted bell peppers. Cover with the tops of the buns.
Makes 4 servings

Ingredients
4 medium portobello mushrooms, stems removed and wiped clean
1 medium onion, cut crosswise into ¼-inch slices
3 tablespoons olive oil
¾ teaspoon salt
½ teaspoon black pepper
1 avocado, sliced
2 tablespoons low-fat yogurt
½ teaspoon minced garlic
4 whole wheat hamburger buns, lightly toasted
Arugula leaves and roasted sliced red peppers
---
TIP
Wash it Down
We believe that burger-flipping and brews go hand-in-hand. We recommend Parish Brewing's South Coast Amber Ale.