Beat Summer Heat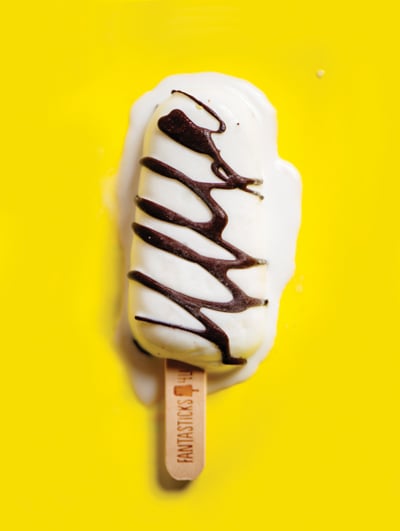 In 2014, gelato artisans from across America faced off in Austin, Texas for the Gelato World Tour. Silvia Bertolazzi, proprietress of Lafayette's Carpe Diem! Espresso and Gelato Bar walked away with the top award for "La Grande Bellezza" (The Great Beauty) for her richly-hued avocado and basil gelato.
A native of Merano, Italy, Bertolazzi studied modern languages at the University of Southwestern Louisiana (now University of Louisiana). Charmed by the culture, she made Lafayette her home and found work with UL France, at the Paul and Lulu Hilliard University Art Museum. She opened her shop on Jefferson Street when a craving for her homeland's signature dessert struck and she grew homesick.
In addition to her love of gelato, Bertolazzi's passion for pups means dog biscuits and a watering station adjacent to the outdoor seating will keep your canine cool, too, while you indulge in a cold sweet. Every day, the menu of house-made goodness offers over 20 varieties ranging from dark chocolate with fresh cherries; cinnamon-kissed Biscoff; a swirled confection of milk and dark chocolates topped with chocolate shavings; a bracing cucumber-lemon; and the award-winning avocado-basil.
The display cases at Indulge, Lafayette's first dessert-only restaurant, are crammed with fragrant house-made delicacies including cakes, cheesecakes, cupcakes, tarts and pies. Cool and creamy cheesecakes include blueberry, brownie, Kahlua espresso, turtle, and white chocolate raspberry. If sugar is a no-go, varieties made with Splenda sweetener include key lime and pecan praline.
The shop's signature cold drink is the Cake Shake, a blended delight of cake and Blue Bell brand ice cream served in a large mason jar. The red velvet variety will make you swoon.
Less highbrow, but cold, soothing, delicious and more fun than kindergarten, the snowballs at Isis Snow Cones & Snacks have been drawing lines that wrap around the block since 2012. Flavors are numerous but watermelon ball, palm ball and pineapple ball, in which the middle of the fruit is hollowed out and filled with sweet, refreshing snowball, are what keeps the customers coming from near and far. Consider adding a scoop of ice cream to the middle of the cold, flavored snow for a creamy treat. Not just a snowball stand, you can score a full meal that will make you feel like a child. The hatched-roof hut also serves Frito pie, nachos, and hot dogs.
Closed on Mondays.

Peach Mango | Amerena (cherry)
---
Bonus Bite
The highly versatile popsicle is currently the hottest thing going in Acadiana.
Pops & Rockets recently opened an expanded production facility and retail facility in downtown Lake Charles.

"In addition to a wide variety of pops, we've added hand-made ice cream to the menu," says founder Nick Villaume. "It's made with milk from Hillcrest Creamery, a local, all-pastured, hormone-free, non-homogenized dairy. They make that super creamy milk that's the perfect addition to our nostalgic fantasy. "
"Our shop is super cool with 80's tunes playing and a few vintage 1980's arcade games. We have already begun expansion into Lafayette, Baton Rouge, and New Orleans."
In Lafayette they sell their pops at La Creperie Bistro at The Parc Lafayette Shopping Center, and via a cart on weekends outside of Jefferson Towers in downtown Lafayette.
They kicked off sales in Baton Rouge at the Live After 5 concert series and the Baton Rouge Blues Festival and a retail outlet is coming.
A newly expanded menu now encompasses dip pops and filled pops. Current flavors include "Bacon the Law" a maple/bacon pop honoring Judas Priest; and "Pop You Like a Hurricane," named for the hit song by The Scorpions. They cover the rap scene, too with "Raz DMC," a raspberry and lime pop.
Out any day now is "You Can Still Pop in America," a pop named for a Night Ranger tune combining strawberry cream and strawberry Pop Rocks candy suspended in white chocolate.
---
Carpe Diem! Gelato – Espresso Bar 812 Jefferson St., Lafayette. 337-534-4155. carpediemgelato.com
Indulge 1921 Kaliste Saloom Rd., Ste. 111, Lafayette. 337-534-8700. indulgesweetspot.com
Isis Snowballs & Snacks 1105 N. Avenue D., Crowley. 337-514-3978
Pops and Rockets 104 W. Pujo St., Lake Charles. 888-978-7677. popsandrockets.com