Bayou in a Bottle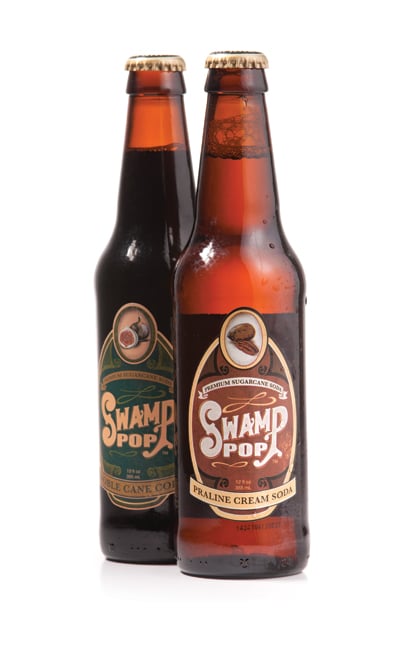 Bad news, everyone.
You know that saying, the one about how all the good ideas are taken? Well, turns out, it's true … now.
Lafayette's John Peterson and Collin Cormier – first cousins who rarely bicker like brothers and gleefully overextend like young entrepreneurs – not only nabbed the last one, they formulated it, bottled it, packaged it, distributed it and slapped it on a store shelf near you. It happened back in December 2012.
They can't remember exactly where they were or what they were doing when this light bulb illuminated, because they've been at each other's side from the time they learned to shove a straw through a juice box. And quite honestly, they aren't quite sure who said it, but someone used the term Swamp Pop as a double entendre.
"The music and the beverage," Peterson says. "And Collin and I turned to each other and said, 'Oh man, that's good, that's good. Someone must have done this.' So we're looking around and researching and we're like, 'Nobody has done this? It doesn't exist yet?! It's a great idea, and we'd been looking for an excuse to hang out more, so it served a couple purposes, and the company was born with the idea of using the cleverness of the name and combining the use of Louisiana sugar that supports the Louisiana sugar cane industry."
That's right. Unlike the wall of soft drinks found on aisle 7 injected with high fructose corn syrup, Swamp Pop uses pure sugar – a concept Cormier pushed hard for considering the massive amounts of Mexican Coke he sells out of the popular Viva La Waffle food truck, his other business venture. Available in four flavors – Noble Cane Cola, Satsuma Fizz, Praline Cream Soda and Jean Lafitte Ginger Ale – Swamp Pop is bottled, not canned, and can be found in Rouses stores throughout south Louisiana along with select specialty stores and restaurants. In its first six months of production, Swamp Pop has produced nearly 500,000 bottles of soda.

---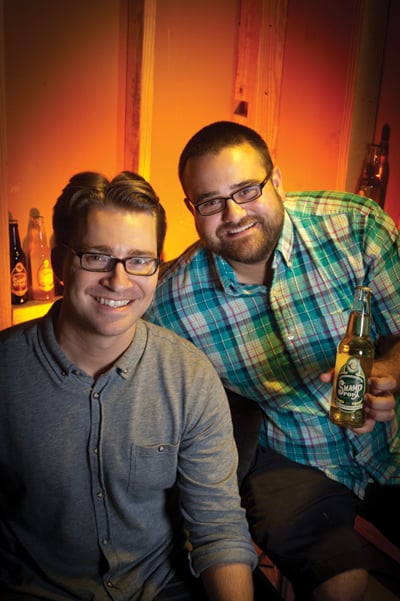 ---
"For a couple of guys who had no experience doing this, and we're just making our way through a new industry, it's been a great start," Peterson says. "We started shipping at a time when sales tend to level off a little, getting our sea legs through winter. So now that it's warming up and you can ship liquids throughout the country without worrying about those liquids freezing, I finally feel like we understand how to do this, and we're ready for a busy summer."
Though equipped with business backgrounds (Cormier owns the aforementioned food truck and Peterson runs the Genterie Supply Co., a men's clothing store) the complementary cousins didn't know squat about the beverage game. Like a couple of dime-store lab rats, they played around with a Soda Stream machine, mixing flavors just because. In one of their earliest experiments, Cormier and Peterson tossed some Louisiana figs into a run-of-the-mill cola recipe, figuring it'd offer a palatable herbal drink.
"It was a good idea and turned out not too bad, but it was extremely clear extremely fast that this is not how you do it. We didn't know what the hell we were doing," Peterson admits. "We got a good idea, but we need help, because this is chemistry when it comes right down to it."
The new business partners subcontracted "flavor professionals," who, in four months, converted the cousins' 15 or so ideas into mass-producible reality. They settled on four flavors, though six were strongly considered. When pressed to divulge the flavors that miss the initial cut, Peterson doesn't crack, explaining those will be released a later date.
"Considering (Cormier's) background as a chef, he's got a really good gut about what's gonna work and what's not gonna work," Peterson says. "And I think I can take that and translate it into numbers or a plan that we can do something with. So it's nice – I can rely on my training, and he can rely on his instincts, and when those two things combine, we're gonna be all right. We spend so much time together, I swear our brains developed in tandem. We have all the same thoughts."
After settling on oft-tinkered formulas, the Swamp Pop owners had to figure out how to find their way in a crowded marketplace. The use of sugar provided a niche. So did Swamp Pop's packaging. Eschewing multi-container formats popularized by larger brands, Swamp Pop is solely found in capped bottles – a move that's a bit more costly but one that offers consumers a better-tasting product. The move worked, possibly too well, if there's such a thing. Swamp Pop's popularity has brought forth a couple welcomed dilemmas as Cormier and Peterson find innovative ways to attend to the needs of their blossoming joint business and their original individual endeavors.
"When we figure out how to juggle those things, we'll tell you how it's done … Not for a second did we think through all this would entail. I mean, there's a thousand ways to talk yourself out of a good idea, but if you're doing something that you love, it doesn't matter how busy you are, because you're going to be enjoying life every day.
"And I get to do it with Collin," he continues. "Functionally, we're more brothers than cousins. I mean, it took us a year to realize I'm not his kid's uncle. 'Oh yeah, I guess he's technically not my nephew.' But that's how close we are."