Barrels of Fun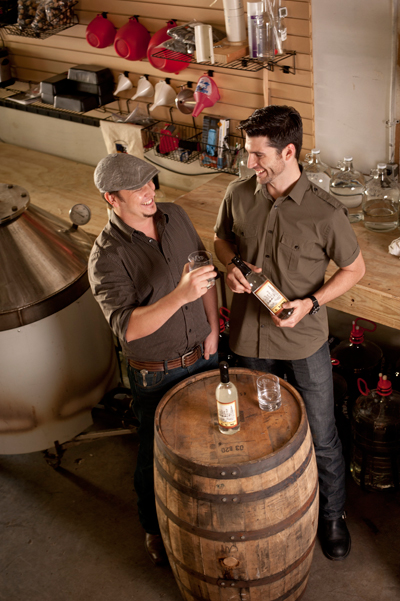 Meet David Meaux and Cole LeBlanc, a couple of gu ys who actually did what we all drunkenly talk about, who brought to fruition those 70-proof whimsical notions that often dissipate in the lost hours between closing time and Waffle House. Together, they own and run Rank Wildcat Distillery, the first business of its kind to call Acadiana home when they opened their shed door two years ago. Located in a nondescript commercial warehouse once rented out to a plumber, the two-man operation is part Boys Club, part burgeoning alcohol enterprise.
"It is quite a trip, something we got into really more as a hobby … but it's been amazing," Meaux says. "We love it. It's one of the few jobs where it's mandatory to drink on the job."
Apparently, all that "hard work" has paid off. Bottled from a still they built themselves and named after a girl, Rank Wildcat's signature Sweet Crude Rum was one of six domestic spirits recognized at the 2013 Washington Cup – essentially the hard-liquor Oscars – sharing the honor with heavy-hitters like Knob Creek and Buffalo Trace. Pretty impressive considering Rank Wildcat's "workspace" is lined with common garage-items like a charcoal grill, three garden hoses, a couple tailgate chairs and a dusty exercise bike.
"We did a lot of work," LeBlanc says. "It was definitely not set up for any type of distillery. We had to put plumbing in the walls. It wasn't set up for any type of anything. It was just a warehouse. We basically converted that into a registered and functional rum distillery. We're very proud of it. I mean, it's not a big fancy thing. It's what we built, and we're proud to show it to anyone who wants to see it. It's small, but it allows us to make good rum and not go into the poorhouse doing it.
"We're having a good ole time," LeBlanc says. "Our top roof portion is open, and the guy next door, well, he can listen, and he's probably laughing. We're cutting up, and he's working. He has a little painting shop. Man, I can't imagine what he's heard and what he's thinking."
If we're going to start on the first page of this easy-to-root-for story, the concept of Rank Wildcat was loosely conceived after hours, when the two left the triumphs and stresses of the work day at Coastal Land Services behind and talked about how cool it'd be to make the kind of liquor they were currently tipping back.
"The idea just never died," Meaux says. "I don't know … it was like, cosmic. It just seemed like something that should happen."
Fast-forward a couple of months. During his honeymoon in Ireland, Meaux convinced his better half to take a tour of the Jameson's Whiskey distillery, where he witnessed the beautiful complexities of the liquor-making process firsthand and gleefully strolled through aisles of aging product. Brimming with inspiration, he pulled out his phone right there and sent a $40 email to LeBlanc. The message was clear as rum: We're doing this!
"That's where it became a business idea rather than playing around, getting drunk," Meaux says. "I caught the bug."
Upon his return stateside, he and LeBlanc immediately applied for a liquor-making license, a process (like anything that is government-run) bogged down with a lengthy wait period. While stuck in spirits purgatory, LeBlanc and Meaux researched methods used by other distilleries and toyed with ideas to make their recipe unique. Still, despite all that preparation, they had no clue what they were actually getting into once given the green light by the state.
"Neither of us are scientists. We're landmen. We didn't have anybody in our pocket that was a master of distillery or anything," LeBlanc says. "It probably caused more trial and error than anything.
"Those first batches, they weren't undrinkable in a dangerous way, but they didn't taste as good as what we decided we wanted to sell. We weren't going to move forward until we were 100-percent happy with the product. We've still got jars of old stuff – and man, I'm really glad we decided to tinker."
Every step – from gathering raw ingredients, the distilling, the filling, bottling and labeling – is handled by either LeBlanc or Meaux, hence the early morning wake-up times on Saturdays. Despite their success, neither co-owner is eager to quit their day job. With their brand easily found at various establishments in and around Acadiana, Rank Wildcat is in the infant stages of distributing throughout the state.
"It's a good spirit. At the end of the day that's the crux of the matter. People really love it," Meaux says. "We don't have a lot of money to do billboards and big fancy tourist attraction-type facilities, so we rely heavily on local word-of-mouth. Because we've done it that way, we've been able to generate a buzz just here in the region, with very little expenditure.
"This has all been funded up until now out of our back pockets," he continues. "And that's part of our story: We built everything about this business, and I think we want to ride it out at this level for as long as we can. This is fun; it's still fun. I don't know if the fun would go away if it was full-time. That's a big decision."