Baring His Art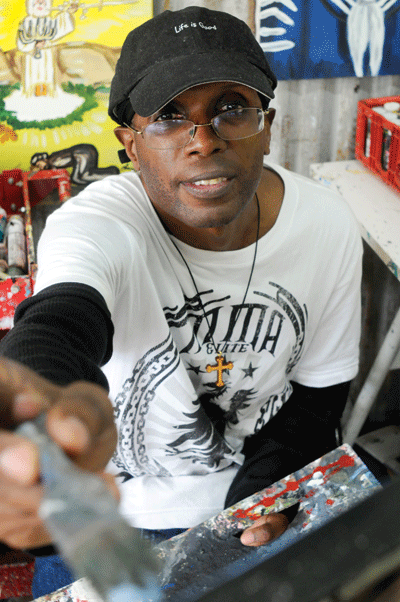 An out-of-place chill – the kind that braids your nose hairs and that tourists travel down here to escape – keeps the passersby on Railroad Avenue in their vehicles, relegating the usual waves to horn honks.
Paintbrush in his right hand, eyes involved in a competitive staring contest with the tiny canvas, Alvin Batiste acknowledges the successive beeeeep-beep of the speeding Ford Focus with a monarchial rise of his left hand.
Fifteen minutes later, it's a GMC Yukon. Batiste snaps quickly to the right, squinting through finger-smudged eyeglass lenses illuminated in the February morning light. Tinted windows conceal the driver's identity, but Batiste smiles in his or her direction anyway. Before that, the mailman stopped in for a lengthy chat and to thaw out. They talked for a good 10 minutes, Batiste speaking in his Charmin-soft voice, using a long delivery to squeeze out every phonetic ounce of each word before it passes his lips. The gentle 48-year-old never appears the least bit annoyed; he is unfazed when the creative process is interrupted (as this brief Wednesday snippet shows it often is.). This local art ambassador says he accepts the interruptions because he understands that when you willingly expose your talents to anyone who cares to stand and watch you paint, occasional disruption is simply part of the job description.
His studio is listed in brochures and tour guides as an area attraction alongside museums, state parks and swamp tours, and the chance to observe Batiste's brilliance up close enhances the Mayberry charm of historic downtown Donaldsonville and amplifies the character contained in this century-old store. Batiste's studio hugs a long shop window at Rossie's Custom Framing, in plain view of the public. On this day, the speckled acrylic confetti of paintings past coats his more-gray-than-green hooded sweatshirt as Batiste applies the finishing touches to this latest piece.
Critics label his work "primitive art" – a distinction Batiste dismisses with a shoulder shrug. Self-taught, primitive, whatever the art- world upper crust wishes to call Batiste, it's something fans of his folk art give little credence. His pieces hang in museums in the United States and Europe, the homes of his neighbors both rich and poor and even the palatial residences of Hollywood royalty.
And before he eats lunch, this painting – a scene from Mardi Gras morning – will be done, completing a set of New Orleans-centric works a lady commissioned after chatting up Batiste in the store last week. The depiction is spot-on: Tribes of Mardi Gras Indians enthrall the masses with their outward flamboyance while the floats of Zulu roll toward conclusion, all of it an amazing credit to Batiste's talent, especially when he offers this disclaimer: "I've never been to the Zulu parade," he says with a smile that could sell anything. "I've seen it on TV and in the magazines but never up close. I don't know that I ever will, what with the crowds and the big, big city."
Truth be told, many of Batiste's concepts are derived from the abstract, from the visions he'd conjure up as a young child when his mother told stories, showcasing a thespian's flair and a politician's podium presence. He was unburdened by the nuisance of television (the Batiste family didn't own one for a long time), and the ability to cultivate his mother's animated words into pristine images he'd later paint became Batiste's gift – one that still benefits him to this day.
Many of Batiste's pieces feature a housekeeper with exaggerated physical features. He affectionately calls this recurring character "Big Mama," paying homage to his mother's influence.
"It was entertainment," Batiste says. "She would just sit there and tell her stories – some of them scary, some of them funny, some of them not-so-funny. But she was good. I'm wishing I could have had it on video or just the recording. All that's left are my own visions of the stories she told. And I keep them through my painting."
The genesis of Batiste's art dates back to the age of 3, when he was a notorious sketcher, scribbling on pieces of paper he should have, pieces of paper he shouldn't have and – daringly – a wall or two. With her son always in search of new media to leave his mark, Batiste's mother cleaned and saved the foam supermarket trays used in packaging meat and poultry so they could double as makeshift canvases.
Around 1993, Batiste's love for art re-blossomed – from watching television. A regular Saturday morning viewer of Bob Ross' The Joy of Painting on PBS, Batiste spent the little disposable income accrued from part-time custodial jobs on painting supplies – a couple of tubes here, a brush or two there, canvases in different sizes. He bought everything from Rossie's.
The frequency of Batiste's trips into the store piqued the curiosity of the owner of Rossie's, the late Sandra Imbraguglio.
"What are you doing with all this?" she eventually had the nerve to ask Batiste.
"Oh, it's just a hobby," Batiste told her. "Something to put on the walls for my mother."
Like almost everyone, Imbraguglio took a liking to Batiste, offering encouragement and the opportunity to sell some of his paintings at the store. Flattered but convinced that his work was too amateurish for someone to buy, Batiste reluctantly handed over three painted winter landscapes for Imbraguglio to hang in the store.
"I was like, 'Who in the world is going to buy these?'" Batiste recalls.
Within two days, they sold – albeit for a fraction of what his paintings command today. Nonetheless, Batiste was thrilled.
When he walked in to collect his money, Imbraguglio suggested Batiste consider painting at the store. Not in the back. Not by the register. But near the street, by the window.
"When I first started, I didn't want to paint in the public," Batiste says. "I was kind of nervous. I was shy. I told Miss Sandra, 'I don't know if I can do this.' Because people were coming and looking and had questions. At first, I was so shy I kept telling myself, 'I just hope I make it through this day.' Now, it's just like nothing."
In 2001, Batiste's close proximity to the downtown foot traffic caught the attention of crew members shooting the movie The Badge, an unsuccessful, low-budget murder mystery film that was unceremoniously jettisoned straight to video. They, like many, walked in and were enchanted first by Batiste's work and then by his personality.
The next day, another person from the set stepped into Rossie's and asked to borrow a little bit of Batiste's time. It was actor Billy Bob Thornton. Raving on and on about Batiste's simplistic yet illuminating use of color and texture, Thornton purchased plenty of paintings and asked the artist to draw the cover art for his country music album, Private Radio. He sketched the actor in a metal folding chair with a ball cap concealing his eyes.
"That was something," Batiste says. "It's not every day that you get a movie star coming in, asking you about your work. But, in the end, he was just like everyone else that comes in or watches. They want to know how you do this, or they want to know your inspiration or why you do this or if you can paint this or if you can paint that. And I'm glad to talk to them."