Artistic Liberty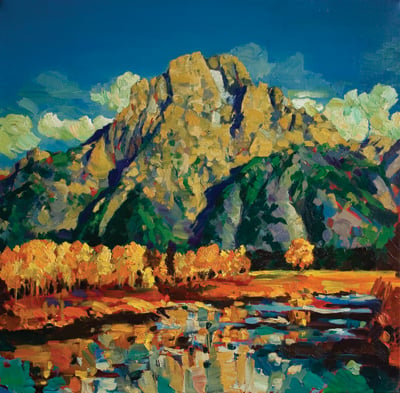 Because there's no written-out biography on Edward Cappel's website – he's working on it, the Lake Charles artist swears – he's asked to recite the Cliff Notes version of the path painting has taken him down thus far.
He pauses, takes another breath, then gets into it – pretty basic stuff, at first. Dad's brother was an accomplished painter. So was Mom. Supplies were plentiful as a kid – canvases, brushes, inspirational books, how-to texts. Creativity was certainly encouraged and, therefore, flourished. As Cappel says, painting "wasn't a mysterious process as a little kid."
Went to LSU. Majored in History. Mom encouraged Cappel to load his electives schedule up with art classes. Made sense, Cappel figured. It was practical, if anything. While other students wallpapered their rooms in tacky posters, personal artwork hung around Cappel in his during long study sessions. Did well enough to get accepted to medical school, breezed through two years before Cappel decided to drop all that for a bucket of brushes and paint tubes – you know, typical stuff…
…Wait a minute. medical school?!
"Yeah," he confesses, nonchalantly. "And, the thing is, I did well academically in medical school, so I think I was going to finish. But I couldn't. Even with an M.D., I couldn't see myself utilizing it."
For Cappel, the path to paint intercepted the path to be a physician and practice medicine. Since 2001, Cappel has developed a stellar reputation (and cultivated a personal business) as one of the most-requested, and therefore busiest, portrait artists in Acadiana. Relying more on word-of-mouth rather than representation for commissioned works, Cappel also makes a conscious point to flex his diverse artistic muscle with a deep catalogue of abstract pieces, as well, not only showcasing but also nurturing an innate talent that (as weird as it may sound) would have covered beneath a doctor's coat.
"Not only did I push away (from medicine), I pushed myself in the furthest direction from that; you know what I mean?" Cappel says. "When I was in the hospital, I thought I should at least give (being a full-time artist) a go. And that was difficult, because you open yourself up to everybody's opinions. And people have an investment. They want to see you do well. It's a recipe for financial security, and the public has a lot of confidence in the medical community.
"But (art) has worked for me," Cappel says. "Are there things from a business aspect I could learn and do better? Well, yeah. But it's evolved to where I had a bunch of commission work always lined up in front of me, to now, where I just feel like I'm producing."
Looking back, Cappel guesses his passion for art blossomed so late in life (well, relatively compared to others) because the medium was never pushed upon him as a child. Though exposed to museums and the process behind creating pieces by his mother, Cappel was never formally taught until he went to college, and even then, painting was never an emphasized academic concentration.
---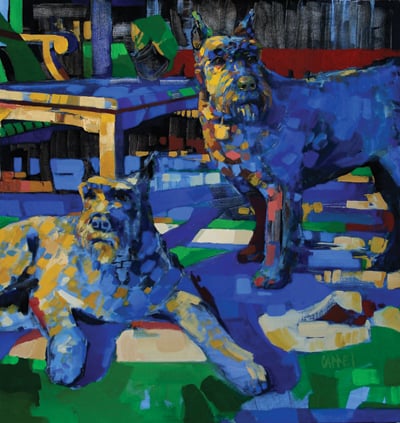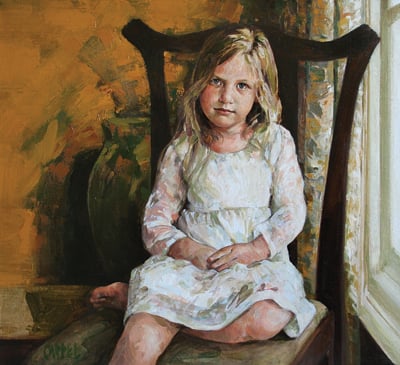 ---
"It's like playing an instrument – the onus is on you ultimately," Cappel says of art. "You can learn techniques, and there are ways to expedite the process, but ultimately you have to find the notes and find the rhythm … You're born with certain aptitudes. I don't believe this is our first rodeo – that's there's strengths engendered in us from many, many lifetimes (before us). It's in your DNA, just like it would be in LeBron James' son's DNA to be bodacious athletically. I see water colors that I did when I was little that were pretty kickass."
Cappel laughs, then seamlessly transitions into the subjectivity of art, a point emphasized by an anecdote about a study that examined how renowned critics raved over children's artwork when lined up next to the work of exalted painters. It's all in the eye of the beholder, Cappel says. Though he takes his craft seriously, Cappel has maintained his humility and sense of perspective. He speaks in a vernacular indigenous to California not Calcasieu, uttering more than once this whole art career has "been a trip."
"The way I look at art is that everything is valid," Cappel says. "Somebody could come to me and say, 'Paint your favorite cat.' And I'll say, 'Sure,' because if it's a gorgeous painting, it doesn't matter if it's a cat, or a show, or whatever."
Most recently, Cappel has been inspired by various films and has adapted what he's viewed onto the canvas in what he calls "a marriage between portrait art, abstract and landscapes." Though a bit of a reprieve from his usual, commission work, Cappel's latest pieces share similarities to his previous catalog in both style and technique.
"I think we're hard-wired to relate to faces," Cappel says. "And that struck me. So that's the same.
"There's an energy to paintings that exists early on that when you obsess about it and analyze it, you can dumb it down … But it takes a while to realize things like that," Cappel says. "It's like being a lead guitarist. You'll suck for awhile, know what I mean? You're not going to be Brian May of Queen out of the gate. It isn't going to happen."

To see more of Edward Cappel's work, visit edwardcappel.com