Armchair Guide to Louisiana's Nature Conservancy Sites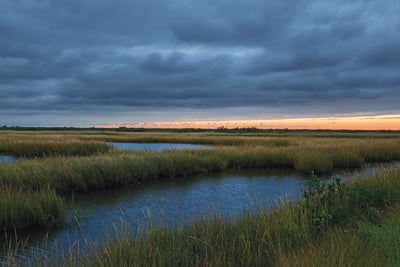 One of the greatest attributes of Louisiana's outdoors is the 300,000 acres of natural habitat and indigenous wildlife owned and/or managed here by the Nature Conservancy. Another is C.C. Lockwood's documentation of our woods and waters in words and photographs, a task he chose as his lifework four decades ago. In recent months his skills and knowledge have been focused exclusively on the Conservancy properties, and the result is a new coffee-table treasure from LSU Press called Louisiana Wild, the Protected and Restored Lands of the Nature Conservancy.
For us "Travelers" it will be the inspiration for many adventures, and for all Louisianians it will serve as a definitive and lavishly illustrated atlas of our landscape in all its beauty and variety.
Lockwood is not without colleagues in his chosen vocation – Greg Guirard of the Atchafalaya, Jim Caldwell of Kisatchie Forest, Nancy Camel (The Nature of Things at Lake Martin), Bevil Knapp (America's Wetland), Charlie Hohorst (Wings of Paradise) and Julia Sims (Manchac Swamp) come to mind – but after a 43-year career and nine books on the topic, it's fair to call "Clyde" the dean of our outdoor writer/photographers. He burst onto the scene in 1981 with his blockbuster Atchafalaya (a stroke of luck for newborn Louisiana Life whose early issues were graced with major Lockwood portfolio-features), followed by titles as broad-scoped as his 1986 Discovering Louisiana and as focused as his 1995 Louisiana Nature Guide for youngsters (like me).
Today 21 properties here are owned by the Conservancy and 20 more are managed in cooperation with our National Wildlife Refuges and state Wildlife Management Areas. Upwards of 20 preserves held by entities like U.S. Fish and Wildlife and the Corps of Engineers currently benefit from major Conservancy projects, and 15 "easements" are undergoing Conservancy protection and restoration by arrangement with private landowners. Some Conservancy sites are accessible on a regular basis, others by appointment, and many of the remaining sites can be viewed from roadsides, adjacent properties or canoe/kayak streams like Bayou Dorcheat (a National Scenic Stream, Webster Parish) and the Bogue Chitto (St. Tammany).
After the foreword's heartfelt introduction to the history and mission of the Conservancy by state director Keith Ouchley and an introduction that's essentially Lockwood's confession of love for the land and for wife Sue (who "walked most every step of the woods" with him), the statewide tour begins in the incredible Copenhagen Hills of Caldwell Parish and ends 132 pages later in West Feliciana, in the shade of the world's largest known bald cypress. Along with Lockwood's vivid descriptions and personal feelings for the scenes captured by his camera, the preserves are further defined in terms of prevalent plant and animal species, land type and "ecoregion."
Louisiana is divided between two of North America's major ecoregions, the broad floodplain called the Mississippi River Alluvial Valley, and the vast Gulf Coastal Plain whose Louisiana portion is quartered by Lower and Upper designations (seaside and inland) and East and West designations divided by the river.
For purposes of a short preview and to illustrate the variety of land types that await you, consider the following preserves, beginning (as it deserves) with the Copenhagen Hills – the thousand most unique acres of the 23,000 owned outright in Louisiana by the Conservancy. Six miles southeast of Columbia and owned until recent years by the Gov. John McKeithen family, the "hills" are better described as prairie-topped ridges whose woody slopes plunge 200 feet to the Ouachita River, resulting in a compact collection of starkly differing landforms and more species of trees and shrubs per square mile than any other area in the state.
Here, where Lockwood captured his first images for Louisiana Wild, I had ventured 20 years earlier with geology professor Gary Stringer of UL-Monroe (director of the university's incredible Museum of Natural Sciences), who presented our little group with 36.5-million-year-old coral fossils he had gathered thereabouts – souvenirs of the Upper Eocene epoch when Caldwell and neighboring parishes were oceanfront property. Those marine fossils, he told us, along with the strata, the soils and the plants they sustain, make the place a virtual geologic journal of earliest Louisiana. Because of the importance and fragility of its formations and plantlife, Copenhagen Hills is one of several Conservancy properties that can withstand only limited foot traffic, but admission requests made to the Northeast Louisiana office in Winnsboro, (318) 412-0472, will be considered. Other regional offices are listed under "Contact Us" at nature.org/louisiana.
At the opposite extremity of the state, as opposite as any opposite can be, two Conservancy sites on Grand Isle offer another impressive mix of habitat, which Lockwood lists as "ponds, tidal mudflats, the live oak forest, the marsh, the back bay and nearby small islands." The "back bay" refers to Bollinger Marsh and the subtle beauty of its waters and waving cordgrass, while the "live oak forest" refers to the Lafitte Woods where the scene historically most associated with this barrier island still exists: groves of live oaks bowing dramatically northward, bent permanently by the Gulf winds. The two habitats are year-round havens for birds and wildlife, especially in spring when waves of butterflies and birds, exhausted from their trans-Gulf migration, literally cover the oaks and underbrush of the island – a phenomenon that has inspired a Grand Isle Migratory Bird Festival and attracts camera-clicking spectators from around the world.
Cypress Island Preserve, near St. Martinville at the westernmost reaches of the Mississippi Valley ecoregion, is open all year on weekends and Wednesdays-Sundays in spring. Its Visitor Center sits at the southern tip of Lake Martin, near an expansive rookery where countless egrets, spoonbills, herons and cormorants begin nesting in January, an attraction that Lockwood credits with doing "as much as the Atchafalaya Basin and our subsiding coastal marsh to bring wildlife and the environment to the forefront of our minds." There's good viewing from the lake's west-side Levee Trail, and from Rookery Road and a boardwalk along the east bank.
Yet another form of Louisiana topography is represented by the Mary Ann Brown Preserve near St. Francisville, where two miles of pathways lead hikers along creeks and plunging ravines reminiscent of nearby Port Hudson battlefield. The Mary Ann Brown is a 110-acre parcel of the famed Tunica Hills, complete with pine/hardwood-forested slopes and ridgetops, just three miles from Audubon State Historic Site (with its own nature trails, where Audubon headquartered while roaming Thompson Creek and the Tunicas in search of his Birds of America).
Some chapters of Louisiana Wild pay tribute to special projects conducted cooperatively with other agencies and entities, a practice that has led to many of the greatest achievements of the Conservancy's 60-year history in the U.S. Such projects in its 30-year presence in Louisiana include efforts to preserve the nation's rarest snake (the Louisiana pine snake) in Bienville Parish and, in Kisatchie National Forest and elsewhere, use of controlled burning to improve historic stands of longleaf pine and undergrowth important to the wild turkey and other wildlife.
C.C. Lockwood's great tribute to the Nature Conservancy will also stand as a timeless tribute to him by LSU Press, and Louisiana Wild deserves a place in every Louisiana home.