American Beauty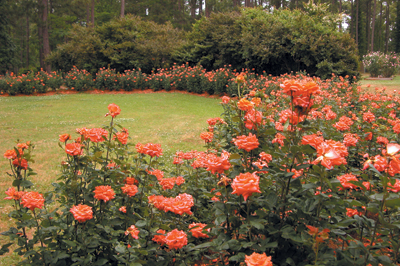 Guess where the official registry of the world's named roses is maintained for access by horticulturists, nurseries, landscapists and backyard gardeners around the globe.
Guess where you can preview roses right now that are coming soon to a nursery near you.
We all cherish Louisiana's grand variety of public gardens, like the "salt dome" gardens of Iberia Parish and plantation gardens of the Felicianas, but you can't complete your checklist without an expedition to the incredible American Rose Center in the rural reaches of Caddo Parish.
Despite its easy access from Interstate 20 just west of Shreveport, the Rose Center – headquarters and national gardens of the great American Rose Society – is not a destination you'll ever stumble on by luck. It's not "on the way" to anywhere (got to be going there to get there), but once inside its rose-draped gates, visitors instantly recognize the place as a treasure and scrap any notion of a quick look-see. Can't rush it. Relax. You're here for the day.
This 60-acre maze of drives and footways is really a garden of gardens: Rose Society test gardens plus 70 separate sites sponsored by local chapters around the continent. The result is a guided tour and/or solo exploration (with your trusty garden map), guaranteed to yield sights and insights on a staggering variety of roses, old and new (19th-century "Old Garden Roses" sharing hillsides with the latest winners of national hybridizing competitions); well-known and unknown (like the mystery rose from a New Orleans lawn damaged by Hurricane Katrina and regrown here from a single surviving sprig); with color variations beyond belief, from the New Dawn (which blooms pink and fades to white – first plant of any sort ever patented) to the tri-color Mutabilis and a historic green rose once planted to mark "safe houses" of the Underground Railroad.
Some of the stops along the trails are specialty plantings, like the "Noisette" Garden (the only "class" of roses to have originated in the U.S.) and a semicircular planting of "Shreveport" roses called the Harold and Ida Hayden Garden, honoring two locals instrumental in luring the Rose Society and acquiring the All America-ranked hybrid that became Shreveport's namesake rose. Then, of course, there are the ever-popular test plots like the Earth Kind Garden (experimental roses that can thrive with no chemicals, no pruning and a single annual watering), while other parcels are used for testing specialty hybrids like low-slung bushes for ground cover or identifying the most manageable varieties of beautiful but notoriously difficult Hybrid Tea Roses.

---

LEFT: Mystery rose, Katrina survivor RIGHT: Winding path through the roses (photo by Jerome Lewis)
---
Interspaced among the gardens' 20,000 rosebushes are features like trellises, pergolas, fountains and sculptures, not to mention a wishing well, butterfly garden and reflection pool, the Administration Building's "Cascade Falls," the Japanese Tea Garden's pagoda, a playground erected by the Oklahoma Rose Society (in memory of children lost in the 1995 Oklahoma City bombing), and guest plantings by the Ark-La-Tex Herb Society. The best known landmark is the Windsounds Carillon Tower set in a circle of All America Rose Selection winners, forming a hub for paths leading off to other gardens as the chimes ring out familiar tunes at 15-minute intervals.
Founded in 1892 in Washington, D.C., the American Rose Society soon established offices at Harrisburg, Penn., relocating in 1954 to Columbus, Ohio. In 1974 came the move to Shreveport, motivated by the region's sandy and well-drained soil, longer blooming season, national accessibility enhanced by Interstate 20 and the enthusiasm of Shreveporters who provided contributions, corporate grants and even the outright donation of today's 118-acre property by the Thigpen and Herold families.
After 41 years here the Society is well dug in (literally and figuratively), although public contributions as well as Society memberships remain important since the Rose Center is owned and supported solely by members of the Society's local chapters.
Already the largest park dedicated to our national flower, the Rose Center possesses ample space to double the garden area. Improvements are already evident, thanks to individual and corporate assistance following a 2012 tornado and the devastating hailstorm of 2014. Walkway improvements were completed last year (funded by virtue of the paths' adoption into the Louisiana Recreational Trails Program administered by State Parks), 1,200 new rose varieties have been added this year, and a major feature to be called the "Rose History Lane" is on the drawing board.
New special events also continue to appear, many featuring games and musical groups, to the extent that the Rose Center can now boast an entire year of activities. After the camellias of January and the "Pruning Party" in February (for members and volunteers) come the azaleas and Louisiana Irises of March, and the big Spring Bloom Ceremony in April welcomes the roses which peak through mid-May. The much-anticipated Easter Egg Hunt involves very special eggs (filled with prizes), plus games, miniature train rides and photos with Peter Cottontail, then check the garden's website for the gala Star Gazing Party held one evening each summer. Fall's rose-blooming season is mid-September through October and Halloween brings a Ghouls in the Garden party, after which the now-famous "Christmas in Roseland" extravaganza occupies November and December with its thousands of lights, dozens of special LED-lighted displays, photos with Santa, rides on the "Roseland Express" and nightly musical entertainment.
All the while, in the Administration Building, the American Rose Society is amassing files on new rose varieties as it has since its selection as "International Cultivar Registration Authority for Roses" in 1955 by the International Society for Horticultural Science, based in Leuven, Belgium.

---

LEFT: Windsounds Carillon (photo by Jerry Jinks) RIGHT: Horizon Garden's roses of tomorrow
---
The registry, available at rose.org, now contains 34,000 varieties. The Rose Society also publishes the bimonthly American Rose magazine and literature distributed through its local chapters, operates a book/souvenir shop, maintains bountiful on-line assets for rose growers, coordinates seminars and speakers, arranges reciprocal visitor benefits with many other botanical organizations and manages a "Consulting Rosarians" program for training and certifying rose experts (whose professional guidance then becomes available to chapters and individual members free of charge).
Of paramount interest to professional and amateur hybridizers, the Society assists its 400 chapters and 17 districts with rose shows and exhibitions (usually involving competitions) and itself hosts three national competitions per year (one strictly for miniature roses), where a winning trophy or certificate can launch a new hybrid to stardom in the world of floral marketing.
The Rose Center, 8877 Jefferson-Paige Road near Greenwood, is open daily April 1-Oct. 31 and weekdays during November through February. Call (318) 938-5402 a week in advance for guided cart tours or group tours, including the 90-minute "all about the roses" tour for 15 or more – an in-depth introduction to rose "classes" and varieties, fragrances, flavors (teas and jellies), planting and pruning.
Consider joining the Rose Society, enjoy shows and exhibitions at the Rose Center and at Louisiana's 10 local chapters, "learn by doing" at Rose Center workdays, and explore the Society's vast digital assets at rose.org. Most important, visit the gardens often – a pleasure Louisiana is only too happy to share with travelers from other states and continents – and think of our advantage: we're already here!