Alisha Totina, M.D.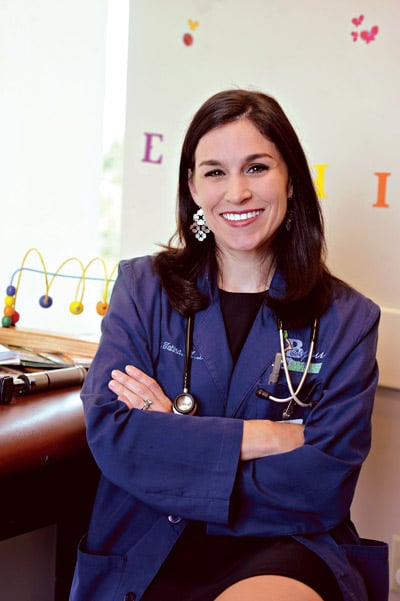 ONE OF MY MOST DIFFICULT CASES
The Girl With Too Many Infections
After spending several years in Grenada and New York pursuing her medical career, Dr. Alisha Totina jumped at the opportunity to complete her pediatric residency at Tulane University School of Medicine. After finishing, she joined Bayou Pediatric Associates.
"I always had a longing to return to my roots. There is something unique and special about the Southern lifestyle," Totina says.
Her passion for medicine began at an early age by observing her father, who is also a pediatrician. Totina remembers quite vividly the allure and intrigue she felt when presented with one medical conquest after another by childhood friends.
"My eyes would twinkle, and my heart would race with anticipation when I eagerly volunteered to remove an unwelcome splinter or patch up a skinned knee," she recalls. "These encounters, although simplistic in nature, ignited an overwhelming desire to pursue a career built upon extending care and compassion to others."
As time progressed, the prospect of becoming a physician remained not only enticing, but also as a deeply rooted ambition. Her interest in pediatrics strengthened during her pediatric rotation in medical school. Furthermore, Totina says she enjoys the complexities and challenges a pediatrician faces.
"Kids are often shy or unable to fully communicate their symptoms or ailments, and you are often faced with gathering information from an anxious parent," she says. "History gathering is critical and an art."
One of her most memorable cases occurred when she was still a resident. This case resonates with Totina, because of its complexity, as well as it being her first experience with a pediatric patient dying.
A 10-month-old female infant was presented to another hospital with acute onset of facial and lower extremity edema (abnormal swelling caused by buildup of fluid in the tissues). Family history was significant for the loss of a male sibling at 4 months of age due to an undetermined cause. With no time to lose, additional work revealed the infant was suffering from severe hemolytic anemia and schizocytes (fragmented red blood cells) in the blood. The infant immediately began antihypertensive therapy and red blood cell transfusions to help correct anemia. A clinical diagnosis of atypical hemolytic uremic syndrome was established. Unfortunately, after three weeks of hospitalization, the infant developed a cardiac arrhythmia and died.
"It is hard to lose any patient, and it is even more devastating to lose a child," Totina says.
Another memorable case involved a 13-month-old female who had been presented to a clinic with a history of recurrent febrile illnesses every three to four weeks since she was 2 to 3 months old. After several months of recurrent febrile episodes, Totina began to wonder how many infections are too many.
"After reviewing the child's medical record, it became evident that the child was being treated almost monthly with antibiotic therapy," Totina says. "Today, in the midst of antibiotic resistance, this is rather alarming."
The child was referred to an infectious disease specialist, who later diagnosed the child with periodic fever, aphthous stomatitis, pharyngitis and adenitis or periodic fever aphthous pharyngitis and cervical adenopathy (PFAPA), a syndrome characterized by periodic high fever at intervals of about three to five weeks, as well as aphthous ulcers (canker sores), pharyngitis (inflammation of the throat) and/or adenitis (inflammation of a gland or lymph node). The child was subsequently treated with prednisone at the onset of fever and illness and has been doing well ever since.
Patient cases such as these often require Totina to work long after the last patient leaves the office.
"Medicine is not only a job but a true calling, one that ignores weekends and nights," Totina notes. "Having a child name his Build-A-Bear 'Dr. Alisha' reinforces that what I do makes a difference in these children's lives, and providing them with the best care possible makes it all worthwhile."