Acadiana Doctor Profiles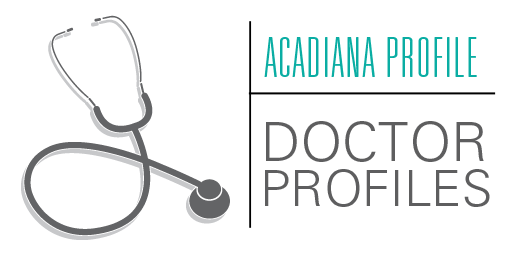 Darric Baty, M.D.
Specialty: Pediatric Neurosurgery
Ball State University 1998
Indiana University School of Medicine 2002
Native of Springport, Ind.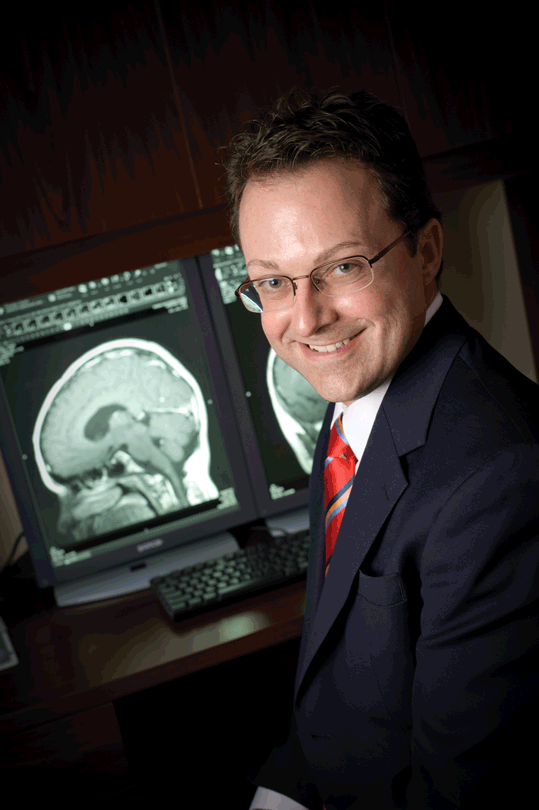 My Toughest Case
40-plus-hour operations
Forty hours is full workweek to most. Dr. Darric Baty, a pediatric neurosurgeon at Lafayette's Women's & Children's Kids Specialty Center, regularly spends that amount of time on one surgery.

In what was one of his toughest cases, Baty spent considerably more than 40 hours removing a tumor from a narrow space near the center of a shy 9-year-old boy's brain. As Baty puts it, it took the time it did because there is "a lot of high-stakes real estate in there." He says his focus stays sharp due to the intensity of the situation and his training.

A native of rural Indiana, Baty says he was immediately smitten with the warm weather, welcoming people and spicy local cuisine of Acadiana when he first visited for an interview.

"The first time that I flew into the airport here and was driving to my first destination for my interview, it just felt like home," says Baty. "It felt so much like I belong here."

His passion for medicine is deeply ingrained. Baty says his mother recalls him expressing a desire to become a doctor when he was too little to even remember. He always loved the science and complexity involved in the field. En route to his current home in Lafayette, Baty completed his residency training in neurosurgery at Temple University Hospital in Philadelphia and his fellowship in Pediatric Neurosurgery at Children's Medical Center in Dallas, Texas.

"I always thought that I wanted to work with kids because I enjoy them, and they just bring so much to life," he says. "That's been the easy component for me."

He developed a fondness for neurosurgery toward the end of medical school and was later able to tie that in with his desire to work with children. As a pediatric neurosurgeon, Baty's specialty requires him to treat the fragile nervous systems of children, whether it be water on the brain or a traumatic injury to the spine. In his current practice he see patients ranging from newborns to 21-year-olds.

At just 36 years old, Baty looks forward to playing an integral part in the progression and collaboration of Lafayette's medical community for years to come.

"I have tons of goals," says Baty. "I want to continue to grow the program. I want to continue to provide neurological services to kids in this area and to expand what we're able to offer. Some things are best treated from a team perspective, so from a group of physicians, or at least more than one, that are working together in the operating room itself or in the clinic. The more people you have looking at it, that can be helpful.

"So, there are several areas," adds Baty. "We've started down those pathways, but, as with everything that's worthwhile in life, there are challenges. We're definitely closer than we were two years ago, but I want to continue to push the envelope and to be able to offer more services to people here in the community."
John Bernard, M.D.
Specialty: Family Practice
University of Southwestern Louisiana 1963
LSU School of Medicine in New Orleans 1974
Native of Lafayette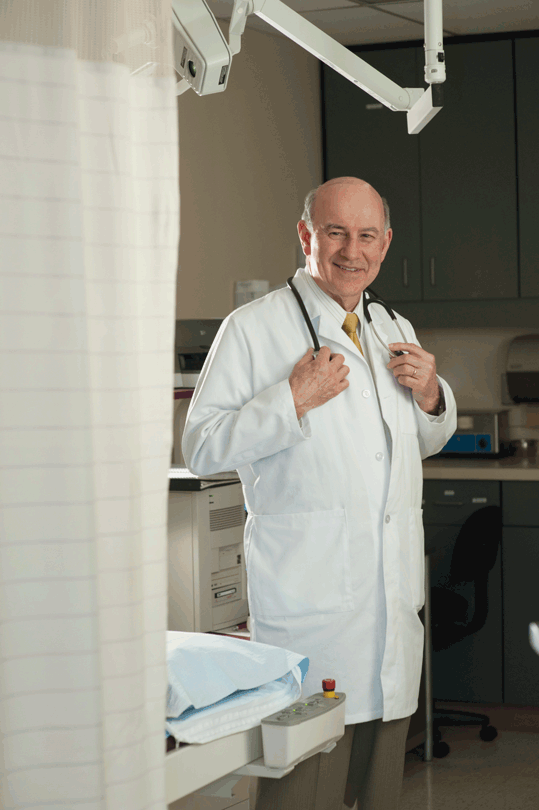 My Toughest Case
the boy who turned comatose
Dr. John Bernard was married with four children and in his sixth year at an accounting firm when he decided to pursue a career in medicine. More than 40 years and nine grandchildren later, Bernard continues his pursuit to help others with no intention of slowing down.

"I always joked that I didn't like the paperwork in accounting, so I got into medicine," says Bernard. "There's more paperwork in medicine than in accounting."

Growing up, Bernard, now 70, had always admired his family's doctor, Dr. Charles Chester Martin. The close relationships and mutual respect Martin maintained with the families he served inspired Bernard to change career paths. In addition, Bernard was attracted to the freedom available in a medical profession.

"I enjoy the independence of medicine," says Bernard. "I could become a doctor and go anywhere I wanted to, if I wanted to, and make a living, practice and enjoy what I was doing."

In 1970, Bernard moved his family to New Orleans, where he attended LSU's medical school and graduated in three-and-a-half years. After, Bernard spent three years as a resident at Baton Rouge's Earl K. Long Hospital.

Bernard chose to be a family practitioner so he could be more available for his own family and create a close rapport with his patients, like that of which he experienced with Dr. Martin. Having moved back to Lafayette, Bernard's duties were widespread, because of the lack of specialists in the area. At the time, he was among the only family doctors who delivered babies and was constantly on call.

"It was very nice in that you followed the patients," comments Bernard. "You knew the children. You knew the families. It was a nice way to practice. I don't think that's available or possible anymore.

"There are good and bad things to the way medicine evolves and changes," adds Bernard. "I think the bad thing about it is what we call continuity of care, someone knowing everything about the patient. The good thing about it is that with the technology that has changed so dramatically, people are diagnosed much quicker. Things are much better in that sense. I wouldn't go back."

Such progression in technology has led to successful outcomes in some of Bernard's most trying cases. Last fall, a 12-year-old boy from New Iberia entered Bernard's office complaining of a sore throat. After preliminary measures, his condition got worse. He developed heart and lung failure and was comatose for a week. Bernard diagnosed the boy with Rocky Mountain Spotted Fever, usually caused by a tick bite, and later with the parasitic decease Toxoplasmosis. After being hospitalized for more than three weeks, the boy made a full recovery, but he would not have survived had it happened 20 years ago. Bernard says it is these advances in medication and equipment, which allow for higher success rates, that continuously make his job satisfying.

"In a family practice, I think making a diagnosis of a difficult case is very enjoyable," says Bernard. "You know, when people come to me, they are paying me for helping them out with a problem. In a sense, it's just like any other business, you come to me and you have a problem that you want me to solve. Trying to connect all the dots, trying to connect everything that a patient tells you and then helping them out is enjoyable."
David Foreman, M.D.
Specialty: Ear, Nose & Throat
Tulane University 1980
LSU School of Medicine in New Orleans 1984
Native of Lafayette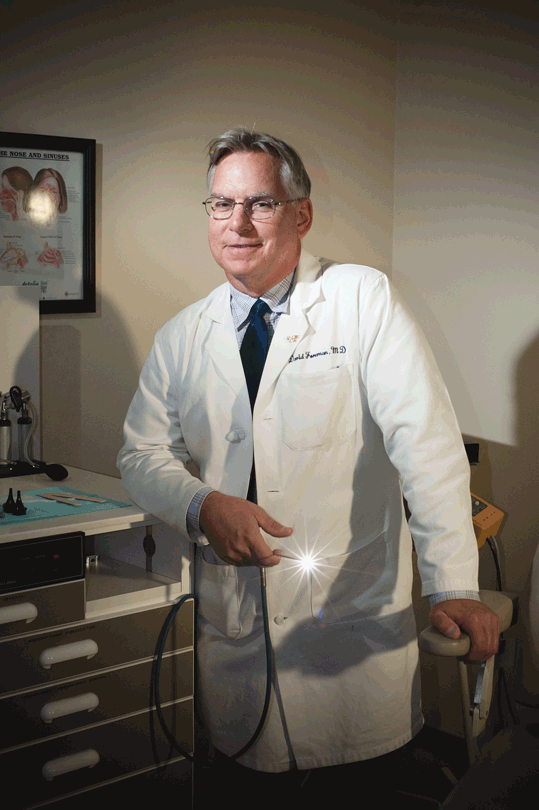 My Toughest Case
curing cancer of the face
Having accepted a fairly routine yearlong diagnosis of Bell's Palsy, where half of her face was paralyzed, a New Iberia woman made an unrelated appointment with an otolaryngologist (an ear, nose and throat doctor), Dr. David Foreman. Foreman's meticulous method led him to a different conclusion about her facial palsy: parotid cancer.

The woman had a growing cancer of the parotid gland in her face that was rapidly spreading through her facial nerves and into her ear. In a curing effort, Foreman extracted the parotid, dissected her ear and resected the temporal bone, grafted a nerve from her leg in place of the cancerous facial nerve and half of her temple bone, grafted a leg nerve to her face and ultimately left the woman cancer-free. Foreman says that nice muscular tone and some movement have returned to her face, and she is pain-free.

"It's one of those cases that I always look back on and say that's a feather in my cap and is my reason for being. Persistence is the key to heroism. You have to be persistent in life, and with continued persistence, good things happen. It's just a matter of when it happens."

Foreman left Lafayette High School with some trepidation about his ability and the education he received in Louisiana. "Leaving for college, we (Louisiana) always seemed to be ranked 49th in everything. So, reading the papers, I was afraid I'd be 49th as well when I competed against the nationwide student body. After the first year, I realized I wasn't that weak of a student. After the second year, I realized those highly educated, overly confident Northern students weren't as strong as I thought they were. After the third year, those highly educated, overly confident students came to appreciate and respect me – and therefore our state of Louisiana. That's when I realized that I earned their respect, and Louisiana deserves their respect."

Foreman, 54, says he always knew his temperament required him to be a surgeon, which has the potential for rapid cures, but wasn't sure of a specialty. Working as a surgical technician in both college and medical school at Touro Infirmary in New Orleans, and subsequently at Charity Hospital in New Orleans, he was exposed to multiple specialties.

That exposure led him to decide on the specialty of otolaryngology (ENT), which attracted him because of its variety of patient ages, anatomical, surgical and medical challenges. Time spent at Charity Hospital demanded its physicians to be resourceful, humble, frugal, thankful and persistent; those traits continue to be employed in his daily practice. It is a practice Foreman expects to rival the best in the nation. Ultimately, he expects his medical treatment of each patient to be as good, if not better, than any place in America, whether it be Los Angeles, New York or Houston. He is honored to be in Acadiana, where he feels the health professionals and hospitals are as good as anywhere else in America.
Ammar Morad, M.D.
Specialty: Pediatric Hematology-oncology
Damascus University School of Medicine 1983
Native of Damascus, Syria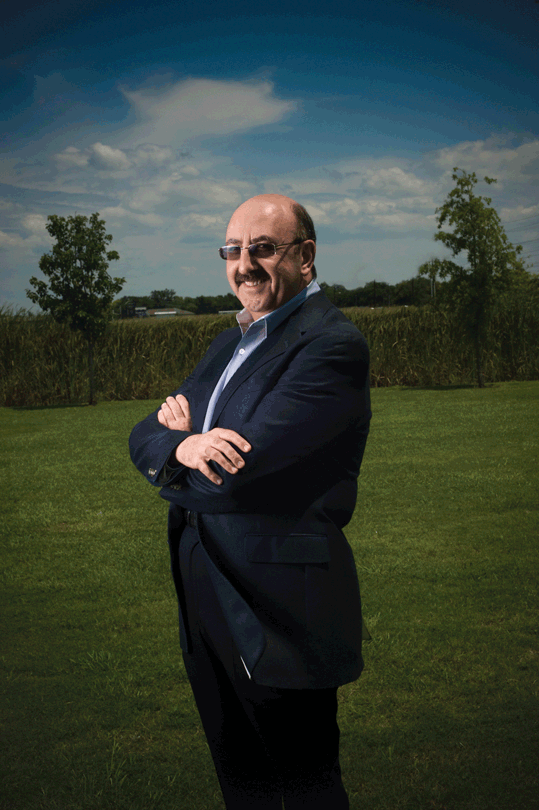 My Toughest Case
stopping a spreading cancer
To Syrian-born pediatric hematologist-oncologist Dr. Ammar Morad, it was nearly a foregone conclusion that he would become a doctor.

"I come from a whole pedigree of doctors," says Morad. "My grandfather was a doctor. My two uncles are doctors. My two sisters are doctors. So this is something that I think is in our genes."

Morad's medical journey began when he moved to Washington, D.C., in 1984 after completing medical school. There he performed research for several years at the National Institutes of Health. Morad completed his residency at Children's Hospital in Milwaukee and his fellowship at Baylor College of Medicine's Texas Children's Cancer Center in Houston, before landing at Lafayette's Women's & Children's Kids Specialty Center. He wanted to bolster the available services of the then- underserved area, and he still supports efforts to improve the community's outlook.

"We take pride in the fact that we do what I call 'big- city care' in a small-town environment," says Morad. "We want to establish this program here as a regional power. This is to serve the southwestern part of the state. When you look at the map and demographics, people come to us from 14 different parishes. The hope is more of the work that can be done stays local, because the whole mission is to minimize the hardship, the suffering, the having to travel, life on the road, dealing with the unknown. I think we make it very homey here."

One example of Morad's "big-city care" happened when a 5-year-old girl, grumbling about a stomachache, was taken to see her pediatrician. The doctor initially thought it was a minor ailment, but after a lump was felt, he sent the girl in for further testing. Cancer was found in one of her kidneys and it was spreading to her lungs. Morad treated the girl for nearly a year. It was a lengthy process, not aided by the girl's unstable home life, but she now has been healthy for more than six months.

"I think the challenges were, one, the social environment was not conducive to good care, and two, the fact that she had a widespread, Stage 4 advanced disease, made it fairly tough and complicated," says Morad. "It was a lot of hospital days, a lot of treatments, admissions, but at the end of the day, she's a healthy, happy-looking child."

Morad and his team at the Kids Specialty Center have a 95 percent cure rate, which is well above the 80 to 85 percent national benchmark, and strive for continued success and improvement.

"All these things that were not available to this town a few years are readily available now," says Morad. "What I see is the transformation. It used to be that people who lived in Lafayette would go to New Orleans, they would go to Houston, and now Lafayette has become become a center that attracts people from Lake Charles and Alexandria and New Iberia, so the program has really taken a whole new form now, much to my satisfaction and maybe a bit beyond what my imagination was. I just did not think it was going to take off so quickly."