A Visit To Pop's Poboys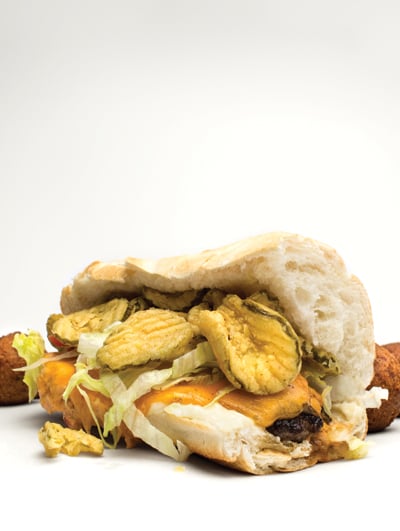 Before Louisiana was purchased by the United States, it passed hands between France and Spain several times, leading to a unique gumbo of Western European influence. When the U.S. purchased Louisiana in 1803, immigrants flocked to the area in droves, particularly to the renowned port city of New Orleans. Americans, French, Creoles, Africans, Germans and Italians flooded the Crescent City, adding to the cultural mélange of Franco-Spanish influence. The result is a rich cultural tapestry, one which South Louisianians take quite seriously, especially when it comes to culinary traditions. An instance of this heritage is the poor boy sandwich, a street fare staple that arose in Great Depression-era New Orleans, historically consisting of seafood and/or terrestrial proteins stuffed into a massive loaf of crusty French bread.
There are hundreds of poor boy vendors in Louisiana, and dozens of "best poor boy" lists on the Internet that can intimidate and befuddle even the most seasoned food Googler. In New Orleans, poor boys are offered on virtually every corner, but there is a new entrant to the scene that is churning out the best French bread sandwiches in the state. Two hours west of the Big Easy, in the heart of Cajun Country, is Pop's Poboys, the enfant terrible of the traditional Louisiana sandwich scene.
Pop's is the brainchild of Lafayette native Collin Cormier, who is no stranger to deviating from conventional sandwich norms. For years, he owned and operated a food truck called Viva La Waffle, which served taco-style sandwiches using waffles in lieu of tortillas. Cormier opened Pop's in April of 2015, and his menu offers more traditional Cajun poor boys such as fried catfish or oysters in addition to innovations like sandwiches stuffed with stewed meatballs, Asian-style shrimp, and falafel made from red beans – the go-to regional legume.
Pop's is located on the main drag of historic downtown Lafayette, which looks like a lot of quaint small town downtowns. Ordering takes place at a counter in front of a monstrous chalkboard displaying the regular menu and specials du jour. While I cannot recommend filling up on starters, the pimento cheese dip and fried pickles and hushpuppies were all outstanding. The hushpuppies at Pop's are perfectly crispy with moist and airy interiors, and the cane butter dipping sauce is decadent without being overly rich.
While "best of the best" lists will always be debatable and while there is no accounting for taste, Pop's Poboys offers a sophisticated and well-thought-out marriage of tradition and innovation often lacking in the poor boy world. If you find yourself in Cajun Country, Pop's is not one to be missed.

what to get
Our table ordered a half of almost every sandwich and while everyone gushed about everything they tried, opinions were mixed about which sandwich was best – the sign of a great dining experience. The "Cajun Castro" comes with Cajun-style roast pork in addition to the usual ham, pickles and mustard. It was delightful, as the two pork preparations paired perfectly with the mustard. If spicy fried chicken is your thing, the "HOT HOT" features Nashville-style chicken topped with a creamy homemade scallion buttermilk ranch dressing to cut the heat a little, a combination which tasted as superlative as it sounds. My favorite was the "Surf & Turf," the constant crown jewel of poor boy joints from St. Charles to New Orleans, stuffed with slow roast beef in thick gravy and fried oysters. The crispiness of the oysters offsets the velvety roast gravy perfectly, and the horseradish peppercorn sauce lights up the sinuses with a sharp kick.

Pop's Poboys
740 Jefferson St.
Lafayette
(337) 534-0621
popspoboys.com