A Thousand Words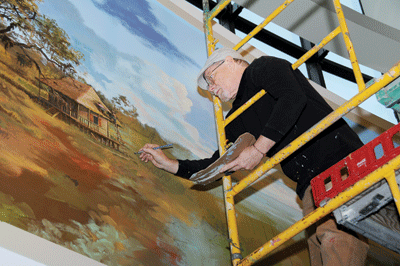 Bathed in the colored brilliance brought forth by its raconteur, an overlooked and seldom-told story fits the curved-lobby dimensions of Corporate America.
He uses no words, no dialogue, only brush strokes.
There are no pages, no chapters, only two giant 20-foot-wide canvases depicting far-forgotten people from a not-so-far-forgotten place – so seemingly detached from the lawyers, insurance salesmen, energy executives and the clerical 9-to-5ers who walk beneath them morning and night.
Renowned for his large-scale, historically accurate depictions of the Acadian Exile, accomplished muralist Robert Dafford chose to step further back in history on a project commission by Rault Resources Group for the Lafayette Park Tower complex on Kaliste Saloom Road. In late May 2011, Dafford completed side-by-side murals of an early-18th-century Atakapa Indian fishing camp on Vermilion Bay and Creole trappers, hunters and fishermen nestled near several raised structures on the edge of Cote Blanche Bay.
"The scale of the piece is just right," Dafford says. "The size of it. The shape of it. The marsh itself is a panoramic reality, so that was a perfect marriage. And the subject matter was something that intrigued me for a long time.
"I always thought about the fact that there were natives here when the Acadians came here," Dafford continues.
"They spoke of having encounters with the natives, yet there are no pictures of them – in typical American fashion, they were ignored, just Indians, and they didn't matter. Well, I was always interested in the Indians. To me, they mattered."
Typical of a Dafford piece, the Park Tower murals contain too much for the eye to absorb with a passing glance; they are complete stories told in painted chapters ranging from the foreground to the background. In the Atakapa mural, for instance, two men haul their catch in baskets to a large dugout while women clean and dry fish in the distance near a scattering of palmetto huts. Seagulls, pelicans and other indigenous water fowl fill the space in abundance. The facing mural showcases two Creole men scaling an alligator. Around them, women scrape hides as the children frolic in the Cote Blanche Bay. They are within eyesight of their father, who pulls his boat onshore after a hunt.
Beyond striving to produce art worthy of a critic's praise, Dafford prides himself on creating a "realistic, believable illusionistic space" – a benchmark that can only be reached through thorough research. That, Dafford says, was the trick this time: finding material and visual aids from which to construct this historical painted Polaroid. The pickings were slim at the Historic New Orleans Collection and the University of Louisiana at Lafayette libraries, forcing Dafford to go as far as interviewing Atakapa Chief Mike Amos and historic architectural experts from around Acadiana.
"I want to be accurate," Dafford says. "It's easy to impress the average viewer, but I'm interested in seeing scholars seeing the fruits of their knowledge being portrayed correctly. I like it when a scholar says: 'Yeah, look at that. That's the way it was. That's what we know about that culture.' I don't want to add more noise to the ways history has been distorted. There are too many misconceptions already."
Dafford adds that there are also plenty of misconceptions regarding the mural-making process. Because many of these projects are squeezed into functional areas of normal, everyday life – a downtown square; the side of a business; or, like Park Tower, a busy office complex – Dafford's skin is thicker than most, almost immune to the wisecracks of armchair art critics. A select group of onlookers, he says, thinks "you start at one corner and go until the other corner until you're finished."
If it were only that simple.
Believe it or not, he preaches, there's an art to creating art. "When the painting starts up, you'll often have people saying: 'Ugh! My daughter can do better than that! What's that supposed to be? Where'd they get you from?'" Dafford says. "It's too bad they can't see what's in my head. Then, the painting starts to develop, and they begin to comprehend why it looks the way it looks at first."
Further complicating matters (for Dafford, anyway) is that his "studio" isn't a studio. It's a lobby, a street corner, a 20-story building, a park by the riverside. As expected, issues arise: wacky weather patterns, unseasonable temperatures, traffic, nosy passersby. There are so many variables. Just when Dafford thinks he's got every possible scenario covered, something foreign pops up, like an infuriating game of Whac-A-Mole.
For the Park Tower murals, Dafford's crew assembled three sets of scaffolding but also brought plenty of portable lighting after suffering through some dark periods in the lobby, depending on the time of day. Furthermore, while on assignment in Mississippi, Dafford was trying to explain the intricacies of the Park Tower mural when the oppressive heat caused him to lose his train of thought: "My brain is boiling. It's amazing what 100 degrees does to your vocabulary."
In addition to logistical planning, Dafford also meticulously maps out the creative process for the piece. This usually involves sketching a rough cartoon of primary colors. From there, he builds up layers to give the mural "bounce" and to accumulate a heavy coat to guard against Mother Nature's fickle ways. The process is fluid, changing daily. Dafford notices how the flip-flopping sometimes infuriates younger artists on his crews, but he insists the alterations are mandatory.
"You didn't count on that big orange building next door or that giant green sign right there that blocks the sun most of the day," Dafford says. "So I adjust my color to suit the environment. It gets frustrating for some of the helpers and other artists that I work with because they have no clue where I'm going. That's on-the-spot creativity – changing the scale, characters, changing the directive, changing the perspective."
Those unfamiliar with Dafford's name have most likely gazed upon his work. One of his most visible pieces – a enormous jazz clarinet slapped up on the side of the Holiday Inn in New Orleans' Central Business District – flaunts Dafford's masterful talent in creating the impression of depth on a 2-dimensional surface, achieving trompe l'oeil (an artistic term meaning "to fool the eye.") Locally, Dafford is responsible for playful images such as the frog murals of Rayne, the Flying Violin mural in downtown Lafayette and the UL mural at the I-10/University exit in Upper Lafayette. But his passion lies in murals that double as works of art and a large-scale historical archive: serious pieces such as the new Park Towers piece, the Orphan Train painting in Opelousas and the 30-foot-wide The Arrival of the Acadians in Louisiana mural at the Acadian Memorial in St. Martinville.
"Historical painting gives me a huge variety of subjects to tackle – stuff with purpose, stuff with place, stuff that matters," Dafford says. "So many people in America have no sense of themselves in history. Touring Europe, you see art dedicated to the story of 'us': 'Look at us; we did this in 1683. We did this and that.' In America, we don't do that as much. So, if anything, I'd like to continue giving us the sense of 'us.'"