A Sense of Time, A Sense of Place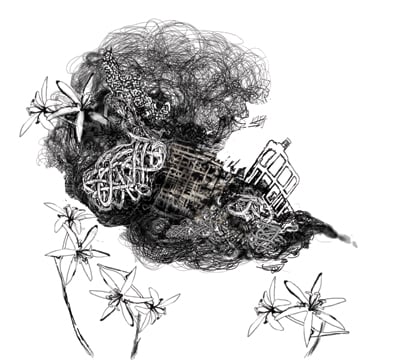 What's being asked of Raina Benoit – to illustrate her vision without the benefit of sight, to paint a picture while her brushes are stacked bristles down in a tin cup – isn't easy to do this early on a Saturday morning, or any time of day, really.
"The exhibit is … well, it's …" says the artist, trying to verbally dissect the elements and essence of her work.
Till the end of February, Benoit's "A Search For Balance," will hold visitors' eyeballs a little longer than the other easily understood and therefore easily-digestible offerings at the Acadiana Center for the Arts in Lafayette.
The brochure they hand you at the door does a decent job boiling everything down to 124 words, but as Benoit reveals, such a concise synopsis can't capture the totality of the work and its desired meaning. It's more complex than the tiny space afforded in print, a story better told within 2,000 square feet of gallery. It's not a dying sun reflecting a spectrum of color off still water. It's not the beauty of the human form chiseled from rock. It's not confined by the boundaries of a canvas. It's … It's …
"OK, let's start with this," Benoit explains with patience on loan from her parents. "The show is a multi-media installation … a site-specific installation show."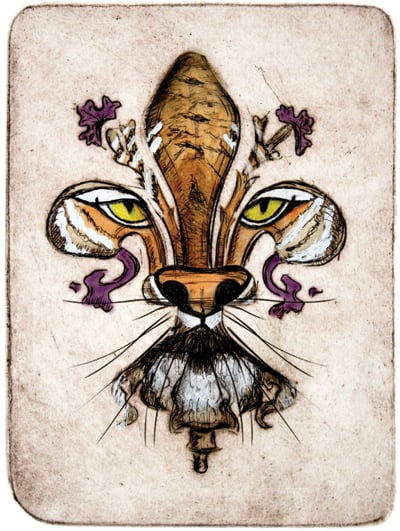 By that she means it's not only arranged to fill the confines of space, but it's also a testament to the ethos of the area, whether it is pleasant or unsettling. Considering she was reared in Lafayette and studied art at LSU, Benoit more than fulfills that prerequisite as she speaks to the practical/ethical struggle in the co-mingling of Louisiana's natural splendor with the region's economic dependence on the intrusive energy sector in this thought-provoking exhibit.
"We're intertwined with our landscape around us," Benoit says. "Most people view our own personal narratives as separate from the environment, but I don't. And I'm really trying to convey that in the work in a non-linear way. Sure, I could paint a beautiful landscape and people could appreciate that. But being a person who likes to take the unbeaten path, I don't want to paint a beautiful picture. That's not my role as an artist because that's not what I see everywhere I go.
"When I go on a walk, it's really hard not to see man's thumbprint (on nature) … this is a beautiful place, but it's in danger."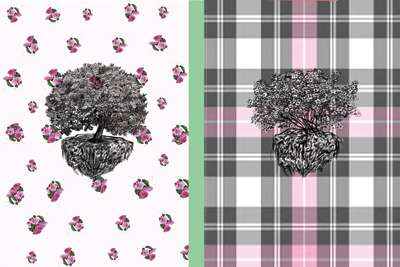 The vehicle used to convey that worry is literally a vehicle – a 1970s camper, to be specific. Via video animation, the camper traverses a conjectural path, past various road markers like peace, tranquility and love. Featuring many of the hallmarks of her previous series, "The Zen of Flowers and Refineries," which explored the complexity of south Louisiana by depicting indigenous flowers alongside the nuts and bolts of the oil industry, Benoit hopes this exhibit creates an inner dialogue, though unpleasant for some, impossible to ignore.
"Art to me, and to many people, is political," Benoit says. "It's supposed to go against the grain. It's supposed to prepare the mind. In order for art to do its job, it needs to be outside looking in. That's what I try to make my work about – to convey the complexities surrounding us in a simple way."As for this [exhibit], Louisiana is a place unlike any other, but I'm fearful of us losing it. I think there needs to be a new wave of environmentalism – one that's accepted by the mainstream. And I think that movement begins with the artists, to make it ubiquitous."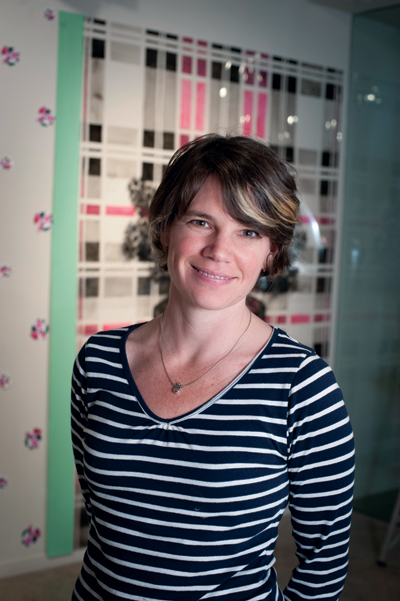 Art served as a logical outlet for Benoit's social conscience because, as she says, "the paper always listened." After earning a degree in creative writing from LSU in 1999, Benoit moved to New York City because someone told her, "You have to go to New York if you want to be an artist." She also studied and worked in France, Arizona and Florida, eager to incorporate the essence of those settings into her previous exhibits that consists of writings, performances, paintings and video presentations.
"It's been a long ride, and I have to say that 'place' has a really important influence in my work," Benoit says. "Everywhere has a heartbeat. The rhythm of the city, the community – everything has a buzz, a vibration to it. I could never make a brand of my work: This is me, this is what I do. I've always wanted to be a tuning fork for wherever I was, because of how I feel when I'm in an area. It's not the marker, the spot on the map; it's the essence of that place. I hope that there's a specific dialect that comes through in my work."