A Place of Her Own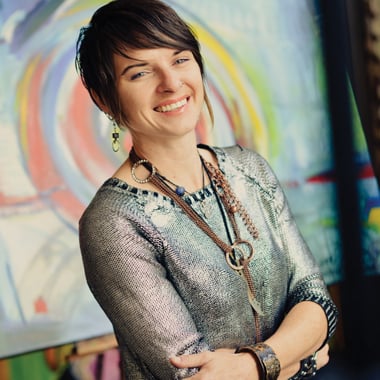 A prisoner of nature, she hasn't opened the van door in three days and won't for another four.
Covered in an unrelenting white snow, the modest Pennsylvania hills feel like Everest. Covered in discarded white plastic foam ramen noodle cups – Candice Alexander's only sustenance at the time – the plush interior of this monstrous Dodge feels like Angola.
It's the winter of 2006, and frankly, it's too damn freezing for Alexander to chuckle at the irony. When she bought this van four years ago, it symbolized her escape from Southwest Louisiana – the four-wheeled magic carpet on which her artistic odyssey took flight. She was going to travel the country; create pieces; somehow incorporate her folksy on-the-road adventures into her prints, engravings, maybe a film career and God knows what else.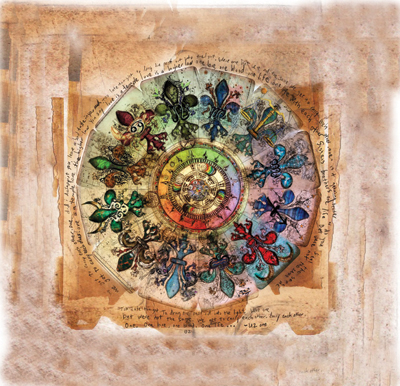 "And I had [done that], to a degree, but I found myself at rock bottom," Alexander says. "I went to renaissance fairs and festivals, making pieces for that audience, using the money to pay my bills."
The icy roads probably aren't safe to travel. They won't be until the end of the week. By then, Alexander will have painted 18 new pieces and documented this forgettable/unforgettable marooning in her notebook. In it, she writes about her wants, wishes and desires in an unedited stream of consciousness: how she'd author a collectable series of prints, how she needed her own gallery, her own huge space, one without seat belts. While writing, she was also reading – a book by Julia Cameron that she says changed her life, The Artist's Way.
Alexander followed it home.
Today, her problems and stresses breathe comfortably in a 5,000-square-foot gallery and studio in downtown Lake Charles. Even with a staff of a half-dozen workers, it's not easy to keep up with customer demand, a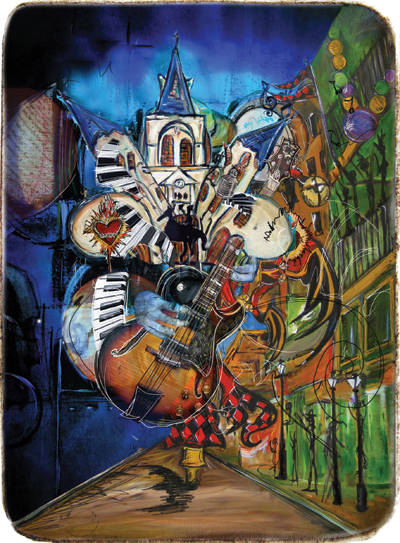 welcome burden that blossomed a couple of years ago thanks to the popularity of Alexander's Fleur De Lis – Worlds Within series. In those pieces, Alexander incorporates the iconic symbol of Louisiana into various themes and genres, allowing that recognizable image to resonate on a personal, individual level.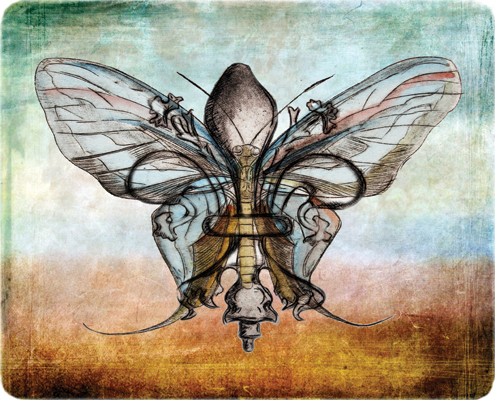 "When it really took off, I remember a woman commissioning a Marine fleur-de-lis," Alexander says. "Now if they want a Marine, then they're going to want an Army and a Navy, a cop, a doctor. And it just hit me, 'Oh, shit, I got some work to do!' So for the last five years, I've busted my butt.
"My dream was – and kind of still is – to be in an art history book someday after I die," Alexander says, later. "The first sentence will be about me growing up in Hathaway, graduating in a class of 21, having a pet raccoon, getting in trouble for putting paint on my white bedsheets when I was a kid. I don't know why Mom got me a white one, but that's where you have to start."
The daughter of a farmer – mostly rice and soy, except during crawfish season – Alexander says her artistic curiosity sprouted from relatively infertile soil. The school district she lived in was too tiny to offer students art classes. Her parents, while creative and nurturing, weren't professionally trained. Alexander dabbled in 4-H, but really, her genesis as an artist began at a restaurant in Lake Arthur.
In 1992, the Cajun prairie region served as the setting for the movie Passion Fish, which was nominated for two Academy Awards and starred Mary McDonnell and Angela Bassett. Alexander ran into and befriended several key members of the film's art department, including the backdrop painter.
"I sat next to her, and all I could think was: 'Wow, this is a real artist. Like a really real artist,'" Alexander recalls. "It was kind of a big deal, so everyone in town knew who the people were who were filming the movie. I pretty much knew from that day I was going to be an artist like her."
They stayed in touch as Alexander attended nearby McNeese State University, majoring in visual arts. While there, she studied art history abroad in Paris and Athens. She graduated cum laude, and in March, she was honored to be the keynote speaker at a Junior Women's Leadership conference at her alma mater.
"I didn't know what I was going to do, but I knew I was going to sell my work," Alexander says. "The only job I ever had was working at Hobby Lobby for a month, and I wasn't going to do that again."
So she bought a van (like a "Scooby Doo van," she clarifies), packed it with a printing press and materials and hit the road. It was a big ol' thing, hard to control and maneuver, Alexander recalls. The first time she took it on the interstate, she cried out of fear. Focused more on survival than success, she traversed the country from show to show, from fair to fair – hustling her pieces, trying to find a niche.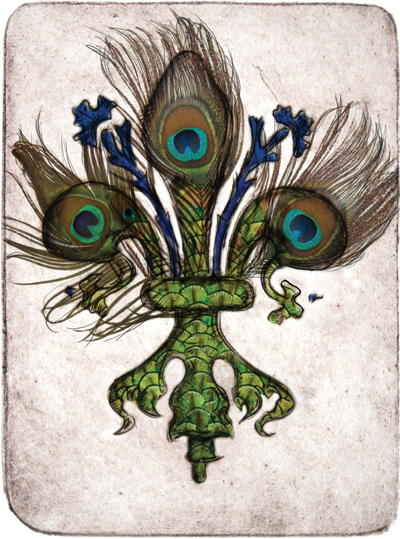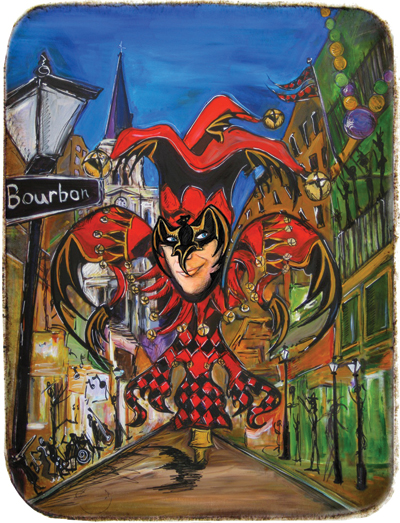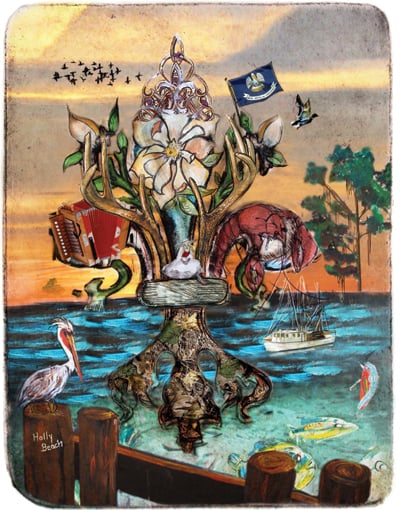 "I was an art gypsy," she says. "I'd camp out in a tent, camp out in a van. I had a cat, and it brought in poison ivy one time – it was awful. I took showers in hostels; I sold in parking lots near Jackson Square; I rode the subways in New York City with a suitcase that flipped up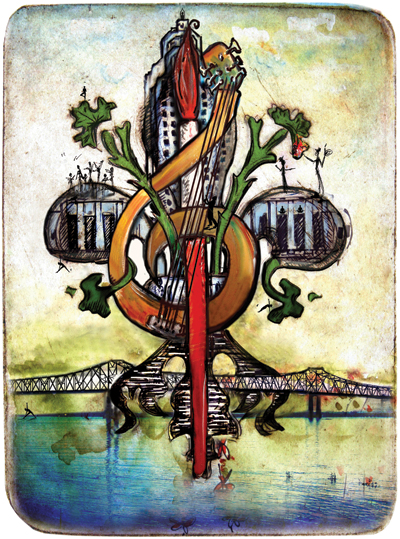 and folded out like a mini-display. I sold things for what I could get. I sold really nice things for dirt cheap because I had to."
And then the snow fell – and fell and fell, and everything changed.
Instead of distancing herself from the region, Alexander began flirting with fleur-de-lis designs after she was stiffed the $300 she was owed for a commissioned engraving, money already spent to pay rent. Today, that unclaimed engraving still serves as the template for all of Alexander's fleur-de-lis pieces.
Once home, Alexander delved deeper into the genre, perfectly blending Old World printmaking techniques with the latest digital editing technology.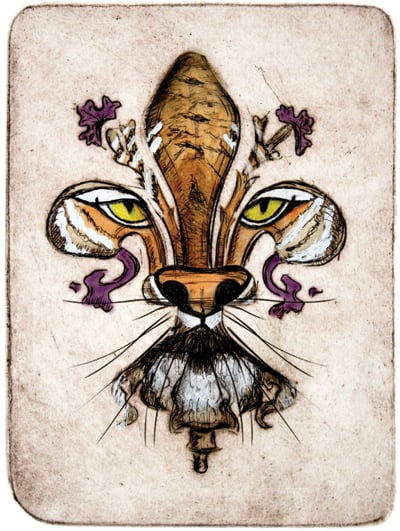 "When I left, my intention was never to stay gone – I just didn't think that there was anything here, as far as art, that I could make a living on," Alexander says. "Five-thousand-square-feet later, we're out of room in downtown Lake Charles. When I opened this storefront, I said it'd do one of two things: It was going to make me stay or make me go.
"Well, months later, I signed a long lease on this building. The phone doesn't stop ringing. The email is full. It's a dream come true."