A Hidden Haven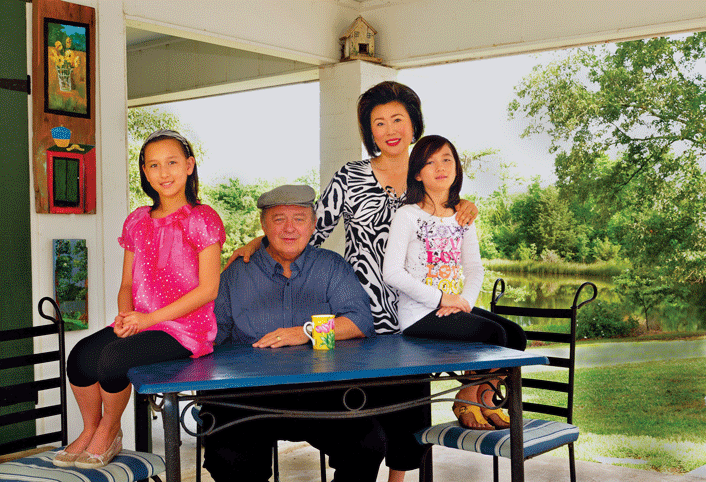 Gary and Carol Steckler have succeeded in designing their home with rich finds that remain ageless and elegant. They know that when you buy what you love, it will all fit together.
"Your home is an extension of your personality" was a bit of wisdom passed on to Gary by his mother when he was a young man. This is certainly evident in the home that he and Carol, his wife, have shared since 1993 along with their 9-year-old twins, Anna Katherine and Victoria Grace.
But the story really began in the year 1966, when Gary was fresh out of law school. He had admired for some time a 34-acre tract of property that his cousin owned in the Evangeline Parish town of St. Landry. The sloping wooded terrain that included two lakes stocked with fish was breathtaking, and he very much wanted it. An agreement was made, and construction started in 1972 using a picture drawn by a friend. It took several years to finish because Gary had to wait for a case to be resolved each time he had to compensate the carpenter or purchase more building supplies.
"Initially the plan was for this to be a second home," explains Gary. "But we discovered that in actuality it has become our Walden Pond."
Recycled materials in the form of antique cypress boards and old brick, including St. Louis bricks, comprise most of the floors and walls throughout. Aged cypress timbers retrieved from the area act as bracing for walls in the glassed-in back porch as well as supports above the double French doors (acquired on Magazine Street in New Orleans) and windows leading into this room. The windows that cover the entire exterior wall facing the lake are from an old schoolhouse in Church Point. Some of the former panes remain.
Both Gary and Carol believe that by preserving and displaying the original state of these materials, a semblance of authenticity and character has been retained.
"I have boards that are not straight or square; nothing is plumb," Gary says. "But everything works."
"Boards were kept natural, not finished," adds Carol. "Nail heads were left exposed, and layers of old paint are still visible. We don't strive for perfection but welcome imperfection. We make it into beauty and appreciate its uniqueness."
This uniqueness is also prevalent in the eclectic array of furnishings that seem like they would be incongruous but somehow blend harmoniously. When asked where most were acquired, Gary and Carol readily admit to visiting many junk shops and bidding at auctions. "Refinishing furniture is Gary's department, but when it comes to fixing a leak in the roof or attending to a leaky toilet, the job is mine," Carol says with a laugh.
The artful manner in which Gary and Carol's home evolved played a part in their becoming collectors of original paintings. Then, 10 years ago, a friend of Gary's urged him to challenge himself by giving painting a try.
"I couldn't make a very good circle," Gary says, "but I purchased a book for $1.25 on how to draw, and that is how it all began." His diversity of themes includes still lifes, cityscapes and people. The enthusiasm he feels has spilled over to the twin girls, who have completed pieces of their own and enjoyed a showing at a gallery in Alexandria.
The other works that consume the remaining walls date from the 1800s to the 21st century and represent an impressive exhibit of notable artists, namely James Michalopoulos, Simon Gunning and Alexander Drysdale of New Orleans; Francis Pavy and Adrian Fulton of Lafayette; and William Norman Arnold of Baton Rouge. There is art by others, too, such as William Hemmerling of Ponchatoula, with whom Gary had an opportunity to visit at a time when they both were battling cancer.
"The Old World traditional art resides next to the contemporary interpretative," Carol says. "We buy pictures that we love. If tomorrow they are not worth anything, that's OK because every day they bring us pleasure."
Many have been privy to the warmth of the Stecklers' hospitality. Their 4,500-square-foot home makes a good case for incorporating personal touches in one's surroundings. The sage advice from Gary's mom has served this family well.