A Colorful Preservation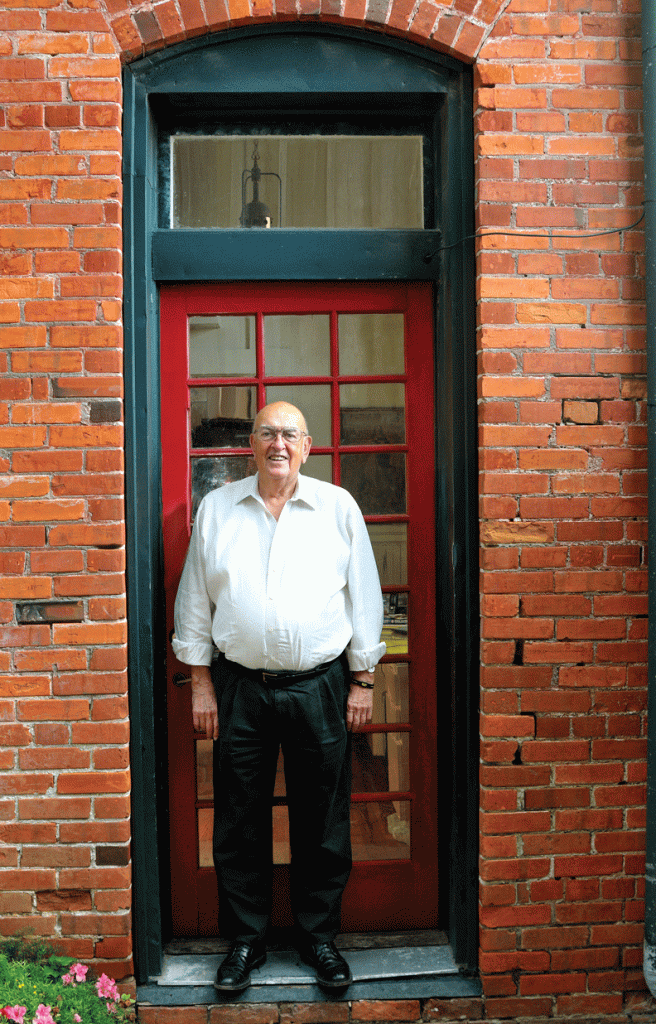 In 1880 the village of Scott was founded following a decision by Southern Pacific Railroad to lay tracks one-half-mile west of Vermilionville (now Lafayette). The settlement was so named in honor of J. B. Scott, superintendent of Southern Pacific, after he agreed to build a railroad station in the community. This railway intersecting the town prompted the settlers to refer to it as the place where the West begins because the train rates were different for east and west.
As business grew from revenues generated by the surrounding farms, a group of men met to establish the Bank of Scott, which opened its doors in August 1911. Greatly affected by the Great Depression, it was no longer in operation as of 1927.
Enter Paul Begnaud, who grew up in what is now the city of Scott and returned from living in Minnesota from 1946 to 1970, where he'd been working as a clerical tailor. On meandering around town, he happened onto the former bank located on the corner of St. Mary and Delhomme. Although unoccupied for some years, its red brick façade aroused thoughts in Begnaud of the great potential for making it his home.
"I contacted the owner, who responded with a price of $20,000," Begnaud says. "Thinking we would settle somewhere in between, I countered with $4,000. The big surprise was that it was accepted."
A small investment restored and refreshed this historic building, but Begnaud truly made it come alive. What was the main lobby now functions as his living and dining room with a 14-foot ceiling in deep blue surrounded by walls painted a soft gold. Where the beadboard ends, a diversity of art begins dominating every bit of space up to the moldings.
His furnishings tell the tale of a man who has no fear of mixing the bright and bold in pattern and hue. "People are afraid of color," he says. "But they come here and go home with thoughts on how to change their décor."
Following his move, Begnaud transferred his talents to drapery treatments, assisting clients in their selections of fabric. It was only natural that he was asked for tips on completing the look.
"I would try to help them to decorate around their personality with insight in watching for the little things," he explains.
Originally the vault, the 9-foot-by-9-foot kitchen houses personal items such as the screened cabinet that stores his Blue Willow dinnerware. It was retrieved from his childhood home and presently shares this room with his collection of Red Wing pottery and old crockery bowls.
Here the walls are five bricks deep while the main room has three layers of brick. A bedroom on the second level and a bath on the first would seem miniscule and unworkable by today's standards, but it works for Begnaud, whose home is a hub for many of Scott's social activities.
"I inherited Pie Day from my grandmother, who began this tradition 100 years ago," he says. "It was passed on to my mother and then to my sister with me being the last family member carrying it on."
Every year on Holy Thursday, this 88-year-old, armed with enthusiasm and a crew of town ladies, labors to make scores of sweet dough pies to be served to the crowds that attend the Good Friday festivities. Guests from as far away as California keep this date as a must-do.
The house lends itself to all the gatherings that occur here. Hand-painted Japanese silk screens, etchings of Sacred Heart in Grand Coteau and oil paintings of the street people of Haiti are just a few of the pieces of amassed art that peer down upon Begnaud's frequent visitors.
"I started collecting art in 1946 with the first being titled The Chef," he says. "Since then I haven't been able to stop."