Top Lawyers of Acadiana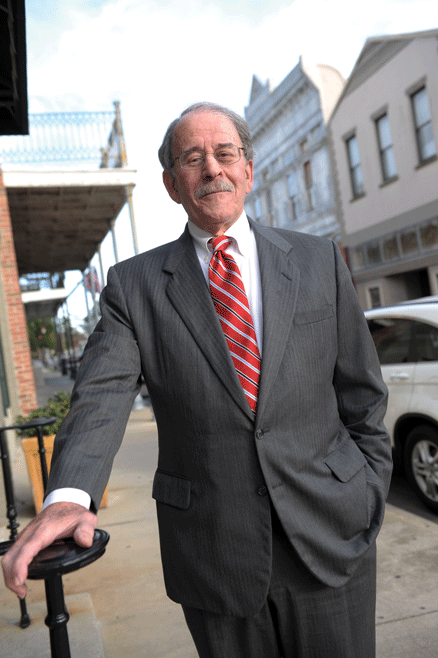 Taking on Texaco
Harold Block, Thibodaux
Legal Specialty: Business, Corporate
and Commercial Law
40 years in practice
B.A. University of Virginia – 1968
J.D. Tulane University School of Law – 1971
Native of Thibodaux
At a young age Harold Block knew he would not grow up to become an engineer or a world-renowned musician. Block's talents lay in the power of words and the use of language, and he would hone these skills at Tulane University School of Law to become a successful attorney in Thibodaux.
"For the last 40 years, I have been paid to do what I love doing," Block says. "Guiding clients through their own personal hurricanes is an awesome responsibility, but if I can assist them in successfully navigating through the storm, it is a very rewarding experience."
Block's love for the practice would be put to the test in the early 1980s, when he faced one of his toughest cases. He was part of a three-man team who filed the first Louisiana lawsuit against Texaco for the underpayment of natural gas royalties. Their clients consisted of small landowners throughout South Louisiana and smaller land companies and oil and gas companies. The three-man team was composed of Block; Charles Aycock, a sole practitioner from Houston; and Campbell Hutchinson, a partner in a large New Orleans law firm.
Block remembers that the difficulty of the case came from Texaco's "tremendous political and economic clout" stemming from being an early player in developing Louisiana's natural gas resources and its "tremendous financial resources to defend against lawsuits."
Texaco employed scores of lawyers, accountants and other professionals on the case. "Early on, Texaco realized that if our lawsuit was successful, they would be exposed to a multiplicity of lawsuits," Block explains.
To market the natural gas it discovered, Texaco entered into 30-year fixed-price contracts for the sale of the natural gas. Block and his colleagues' clients were paid royalties based upon a fraction of Texaco's contract sale price. As the price of natural gas soared, instead of paying royalties based upon the current market value of the gas, Texaco continued paying its clients royalties based upon the long-term low-price sale contracts. Block and his colleagues were able to prove that Texaco manipulated its sources of natural gas so that the clients' gas was used to fulfill Texaco's low-price sale contracts rather than the more lucrative sale contracts that were executed later. After the lawsuit was decided in the clients' favor in trial court, Texaco agreed to settle for $9.6 million.
The state of Louisiana was and is a substantial landowner, and it was also receiving natural gas royalties based upon Texaco's long-term low-price sale contracts. The state also filed a lawsuit and later settled with Texaco for approximately $1 billion.
Block went on to represent Rebecca Plantation LLC, which owns approximately 2,000 acres between Thibodaux and Houma at the intersection of U.S. Highway 90 and Louisiana Highway 311. In the past few years Rebecca Plantation has developed a business park devoted to the offshore oil and gas drilling industry. Block performs all of the legal work in conjunction with land sales to British Petroleum; Weatherford; Hunting Energy Services; K & B Machine; Sealand Mechanical; Entergy; Nautical Ventures; Energy Alloys; GCGK Investments; and the state of Louisiana, which is constructing a community technical college on the site. More than 1,200 jobs will be created and approximately 1,800 students are expected to attend the community college upon completion of construction.
Currently, Block is representing a client in a potential land sale for a huge site on the Mississippi River that will result in an eight-figure purchase price. The purchaser is a corporation that intends to construct a large industrial plant that will use the Mississippi River to bring in raw material and to ship out its finished products.
One of the most valuable lessons he's learned from his 40 years in practice is to "work hard but work smart, and always make time for your friends, your community and especially your family."
Custody Battles
Randy J. Fuerst,
Lake Charles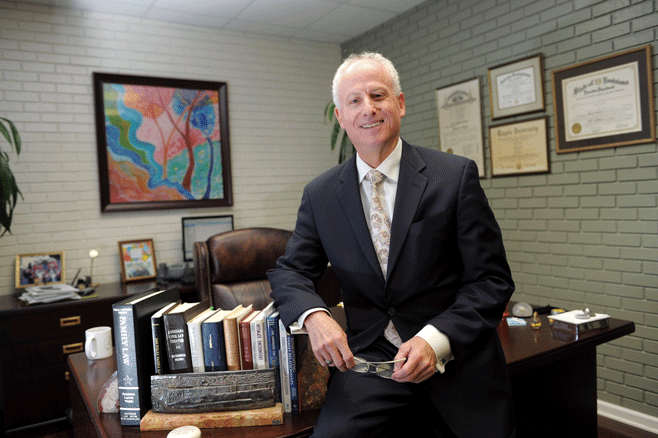 Legal Specialty: Family Law
More than 30 years in practice
B.A. Washington University in St. Louis ­– 1978
J.D. Loyola Law School – 1981
Native of Brooklyn, N.Y.
As a kid flipping through his Justice League of America and Superman comic books, Randy Fuerst remembers always wanting the good guys to prevail and the bad guys to be punished. Fuerst grew up and became a lawyer, fighting for the underdog and those who are powerless to help themselves – just like the heroes in the comic books he grew up with.
During a trip home, Fuerst, then a senior at Washington University in St. Louis, had a life-changing conversation with one of his father's friends, Mr. Korn.
"He [Mr. Korn] instilled enough confidence in me to apply to law school," Fuerst says. "It's funny how brief encounters with interesting people who care about you have such a dramatic impact on your life."
After graduating from Loyola Law School, he was recruited by Camp Carmouche Law Firm in Lake Charles, where he practiced insurance defense for the first two years of his career. When the firm split up, Fuerst was kindly given office space by another established attorney in town and began his solo practice. Within months, Fuerst did his first divorce, and he has been practicing almost exclusively in family law since that time.
A typical day for Fuerst usually consists of court proceedings, meetings, hearings, paperwork and more. His days rarely ever end before 6 p.m.
"I often take work home as I feel obligated to meet my clients' needs," he says.
Fuerst says that his toughest cases involve children and custody battles.
He admits that he can sometimes get too emotionally invested in the outcome of some of his cases involving children and custody battles.
"I see my children in their children, and sometimes I get personally wrapped up in the outcome," Fuerst says.
Fuerst is no stranger to being threatened with physical harm, financial ruin or destruction of his reputation. He has had to hire security guards for three to six months in some of his higher conflict cases. One of these higher conflict cases involved an individual who threatened to take his wife to Russia and abandon her there while he disappeared with the children. He eventually lost all rights to his children.
Another difficult event for him was not the case itself but what happened after the case was settled: Fuerst learned that his client, who had been granted a divorce a few days earlier, was murdered by her ex-husband, who also turned the gun on himself.
"You wonder what you could have done differently … to prevent such a tragedy," Fuerst says.
When faced with difficult cases such as these, Fuerst finds solace and inspiration in his faith. He is an active member of Temple Sinai, where he currently serves as president. Fuerst also served as the president of the Family Courts Committee for the Louisiana State Bar Association for several years. He has attempted to bring a system of family courts to Louisiana to focus on the needs of families and children with the support and social services necessary to help them. He received the Louisiana State Bar Association Pro Bono Award in 1998, and he has been a guest lecturer at McNeese State University, LSU Law Center, Loyola Law School, the American Bar Association and the Association of Family and Conciliation Courts CLE Seminars.
When Fuerst is not busy working, he enjoys traveling, golfing, gardening and spending time with his family.
Arguing in "The Trial of the Century"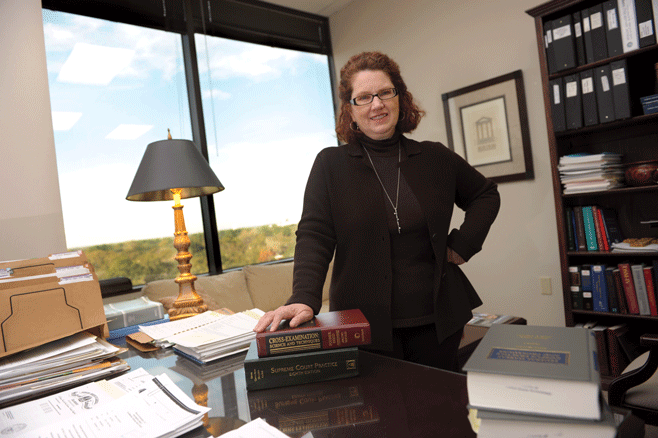 Rebecca Hudsmith,
Lafayette
Legal Specialty: Criminal Law
More than 30 years in practice
B.A. LSU – Shreveport – 1977
J.D. LSU Law Center – 1980
Native of Shreveport
The first death row client Rebecca Hudsmith represented was ultimately released from prison because he was innocent. Her second death row client, after four years of litigating the unfairness of his death sentence, was executed in 1987.

"I was with him at Angola the day of his death just until he was taken away to be prepared for execution by electrocution in the electric chair," Hudsmith remembers. "It was a very difficult experience for me as a relatively young attorney."
Hudsmith says she became an attorney due to the influence of a few very dedicated young priests who came through her church in Shreveport and who emphasized the importance of trying to make a positive difference in the world, especially for the less fortunate. Coming from a blue-collar background and having no lawyers in the family, Hudsmith decided in high school that she would try to make a difference as a lawyer.
With more than 30 years in practice, Hudsmith does not take the responsibility of her job lightly because she represents "people accused of crime whose freedom is on the line."
Hudsmith attended LSU Law Center and while there was a member of the Louisiana Law Review; in her last year of law school, she served on the Board of Editors of the law review. She was also a member of the Order of the Coif. After graduating law school in 1980, Hudsmith spent a year in New Orleans as a law clerk for Albert Tate, judge for the U.S. Court of Appeals for the Fifth Circuit.
"This first year as a lawyer was a highlight of my legal career," Hudsmith says.
Following her clerkship, Hudsmith spent two years in Washington, D.C., working as an associate in the law firm of Steptoe & Johnson. Hudsmith is a member of the District of Columbia Bar in addition to the Louisiana Bar. While at Steptoe, Hudsmith worked on a pro bono case representing her first death row client. As a result of her work on this case, she committed her professional life to civil rights and constitutional and criminal defense work rather than corporate litigation.
In 1988, Hudsmith moved to New Orleans for two years to become the first director of the Loyola Death Penalty Resource Center, where she represented inmates on Louisiana's death row in post-conviction proceedings. She then ultimately returned to private practice in Shreveport.
In 1993, Hudsmith became the first federal public defender for the Middle and Western Districts in Louisiana. She moved to Lafayette to head up this brand-new office in the state, and she holds this position to this day.
"The work is often stressful, and the hours are often long, but I can say that my work is always fascinating and the legal issues often go to the heart of our U.S. Constitution," Hudsmith says.
She faced one of her toughest and most interesting cases of her career during the prosecution of former Gov. Edwin Edwards in connection with the licensing of riverboat gambling. Hudsmith was the only court-appointed attorney in the case, representing defendant Cecil Brown.
"The trial lasted four months and was closely followed by the press, who were camped out both in the courtroom and outside the courthouse with cameras, a very new experience for me as an attorney," she says.
After the riverboat trial, Brown had another trial, where Hudsmith had the opportunity to call former Gov. Edwards as a witness, which was an interesting and unique experience.
"The trial of [former] Gov. Edwards has been called 'the trial of the century'; it was certainly the trial of my career," Hudsmith says.
Hudsmith had the honor of meeting U.S. Supreme Court Justice Antonin Scalia at a Fifth Circuit Judicial Conference. She also had the privilege of arguing and winning a case before the U.S. Supreme Court, which is a rare opportunity for any lawyer, as court-appointed counsel for an Angola inmate in federal habeas corpus proceedings.
Her advice to young attorneys: "Always be aware of the importance of a good reputation as an ethical, competent attorney."