10 Top Places to Stay Along the Gulf Coast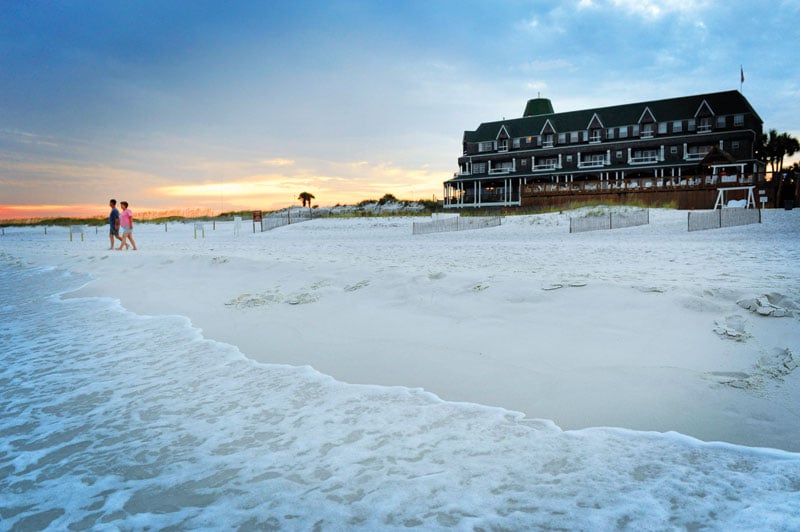 Springtime arrives and thoughts of emerald waters and sugar white beaches come to mind. Heading east from New Orleans, heaven exists in our neighboring Gulf states, and the beachside destinations run the gamut from quaint bed-and-breakfasts and inns, to full-service resorts with all the amenities. Here are 10 to choose from, from the Mississippi Gulf Coast to Panama City.
Marriott Grand Hotel
Point Clear, Ala.
The Grand Hotel owns a colorful history. First opened as a resort in 1847, the hotel was used as a makeshift hospital during the Civil War and allowed military to secretly train on the grounds during World War II. Today, a cannon is fired daily after a procession in honor of the hotel's military past.
This family-friendly resort located right on Mobile Bay continues to win accolades, including being named to the "Top 500 Hotels in the World" for 2013 by Travel + Leisure, its spa named as one of the top in the country by Condé Nast Traveler and the No. 1 Marriott resort for guest satisfaction in North America for 2012.
People visit for its championship golf courses, the AAA four-diamond restaurant, an elegant spa with one of the finest quiet rooms – at least for women – and water activities. There are also plenty of ongoing events held throughout the year, such as the Opus One Wine Dinner March 22, and the annual Easter celebration.
Charming Fairhope, with its restaurants and shopping, is only minutes away. The 62nd annual Fairhope Arts & Crafts Festival is happening 10 a.m. to 5 p.m. daily March 14-16 on the streets of downtown Fairhope, and admission is free.
Website: MarriottGrand.com
The Beach Club
Gulf Shores, Ala.
There are several reasons to choose The Beach Club at Gulf Shores. First, the massive property is located on Highway 180, halfway from the heart of Gulf Shores to secluded Fort Morgan at the end of the peninsula, far enough away from the maddening crowds to offer a more peaceful beach experience. There are 86 acres left to nature, lined with walking trails and vast private beaches. Second, the property offers variety, from the multi-story condominium towers overlooking the Gulf to quaint lakeside cottages.
Last, go for the variety. One of the reasons The Beach Club attracts snowbirds in winter (the Bermuda shorts wearing kind) in addition to the warm season visitors, is its long menu of amenities. There are five pools, a fitness room, a racquet club, an activities court, a spa and salon, several dining options, a children's playground and shopping in The Village. In addition, weekly activities range from pickleball and aqua Zumba to happy hour and movie nights.
Website: TheBeachClub.SpectrumResorts.com
Wyndham Bay Point Resort
Panama City, Fla.
The Gulf side of Panama City stretches as one long strip of hotels, condos, restaurants and beach attractions. Nestled along St. Andrews Bay on a peninsula just north of the Gulf beaches is Wyndham Bay Point Resort, and that location makes all the difference for those wanting a more natural beach experience.
Visitors will travel down Lagoon Drive to road's end where several buildings make up the resort. Shore birds flit among the sea grasses and golfers enjoy championship golf within a 1,100-acre wildlife preserve. On the water is a boardwalk that stretches out to a private strip of beach, bayside café and access to the Bay Point Lady, which heads out to scenic Shell Island daily during the season at no charge to guests.
The resort offers five clay tennis courts, five pools both indoor and outdoor, three hot tubs, the full-service Serenity Spa, sports equipment rentals and a children's room with activities.
The St. Andrews State Park with its fabulous beaches, hiking trails and access to Shell Island is but a short drive away, as is the heart of Panama City.
Website: Wyndham.com
The Battle House Renaissance Mobile Hotel & Spa
Mobile, Ala.
Most people discount Mobile as a great coast getaway mainly because it isn't located on the beach. What makes Mobile an interesting destination is that it's close to Gulf Shores and Dauphin Island beaches, but even closer to Mobile Bay hotspots such as the 5 Rivers – Alabama's Delta Resource Center with its outstanding kayaking and canoeing on, you guessed it, five rivers. Charming Fairhope is a short drive away as well as the Battleship Memorial Park, where rests the Battleship USS Alabama, the submarine USS Drum and the Aircraft Pavilion.
And when not thinking of Gulf beaches, there are plenty of things to do in Mobile central.
First, the Battle House is a destination in itself, a circa-1852 hotel that's seen its share of presidents and celebrities. Located in the heart of downtown Mobile, the historic building has been lovingly restored and now includes Mobile's only four-diamond restaurant, The Trellis Room, a 10,000-square-foot spa, a rooftop pool, a colorful and comfortable lobby and a grand ballroom with its original architecture that's popular with Carnival royalty.
Places to visit in Mobile include the Mobile Museum of Art that offers great art both inside and out, several historic homes that are open to the public and the obelisk grave of Michael Frafft, a member of the ancient Carnival Cowbellion Society, which is decorated by modern Mardi Gras revelers every year in historic Magnolia Cemetery.
Website: Marriott.com
Beau Rivage Casino and Resort
Biloxi, Miss.
Beau Rivage on the Mississippi Gulf Coast offers 32 stories and 85,000 square feet of casino. The resort offers a variety of amenities, so gambling doesn't have to be why you visit. There are plenty of dining and lounge options including two gourmet restaurants, a spa and salon, a retail promenade and the Tom Fazio-designed golf course, Fallen Oak. In addition, there's the Beau Rivage Theatre, which hosts ongoing entertainment. Upcoming events include the musical production Chicago March 7-9, Jack Hann's Into The Wild March 14-15, Michael Bolton on March 21 and Alan Jackson on April 11.
One great aspect about the Mississippi Gulf Coast is its ongoing historic charm, despite Hurricane Katrina's wrath and the advent of casinos. The new Ohr-O'Keefe Museum of Art spotlights the modern architecture of Frank O. Gehry but inside lies the unique ceramics of George E. Ohr, the self-proclaimed "Mad Potter of Biloxi" who died in 1918. Mary Mahoney's, Biloxi's old landmark restaurant downtown, continues with art-filled walls, a charming courtyard and an old bar boasting of the Katrina waterline, as well as photos of dignitaries and former presidents.
A quick drive from New Orleans to Biloxi, Beau Rivage makes it easy to enjoy Gulf beaches.
Website: BeauRivage.com
Henderson Park Inn
Destin, Fla.
In the midst of the concrete condos and shopping marts of Destin lies the New England-styled Henderson Park Inn bed-and-breakfast. Even though the excitement of Destin is only a short drive away, visitors here will feel as if they've relocated to Cape Cod. Unlike New England, however, there's the warm emerald water of the Gulf of Mexico right outside your door.
The inn is located next to Henderson Beach State Park, which means that at least one side of the property enjoys more dunes and wildlife than human wild life. There are large verandas to relax upon and sip wine and watch the sun set (happy hour is on them), or enjoy fine dining on the water at the inn's Beach Walk Café. Everything is included, including wine and chocolates on arrival and a gourmet breakfast in the morning to beach chairs, bicycles and other beach essentials.
Henderson Park caters only to adults, however, one of the reasons why it's tops for weddings. It was also voted No. 1 in a listing of Destin's best hotels on the beach by Trip Advisor, and one of the most romantic in the country.
Website: HendersonParkInn.com
Magnolia Springs Bed and Breakfast
Magnolia Springs, Ala.
Turpentine brought timber folks to sleepy Magnolia Springs, Ala., and when both ran dry, the town never developed much further. That is a good thing for tourists looking for a true southern small town experience. Magnolia Springs rests at the headwaters of the sleepy Magnolia River, which eventually makes its way into Mobile Bay, and many of the town's residents live right at water's edge. In fact, mail is still delivered by boat year-round. Ancient live oaks provide a welcome canopy over city streets, offering a cooling effect even in the sweltering months of summer.
Owners David Worthington and Eric Bigelow have transformed one of the town's historic properties into the Magnolia Springs Bed and Breakfast, with its five unique rooms, sprawling veranda and gourmet breakfast. The home was even featured on Bob Villa's "Restore America" on HGTV.
Staying in Magnolia Springs definitely falls under getaways and romantic retreats, but visitors aren't far from the Alabama coast and all its attractions. If you want to remain in town, Jesse's Restaurant offers fine dining inside the former Moore Bros. Store built in 1922 and listed on the National Register of Historic Places. The restaurant is named for Jesse King, the cheerful shopkeeper of Moore's who reportedly never missed a day of work in 60 years.
Website: MagnoliaSprings.com
Rosemary Beach
Rosemary Beach, Fla.
Highway 30-A stretches east of Destin, featuring planned communities, house rentals, a variety of wonderful dining options and, of course, beautiful beaches. At the highway's end lies the elegant community of Rosemary Beach, with properties ranging from sweet carriage houses and rooms at the newly remodeled Pensione Inn, to those in the million-dollar-plus range.
Snaking through the subdivision are meandering trails leading to the town center, bike rentals, pools, a fitness center, tennis courts, a full-service spa, a racquet club, a butterfly garden and shopping. It is a beach experience where just about everything you need is within walking distance.
The beaches, with their environmentally significant dunes, have been lovingly taken into consideration when building this property. Nine walkovers (two for wheelchair access) take visitors down to the beach over the dunes. At water's edge visitors can obtain umbrellas and rent sailboats or surf.
Rosemary Beach is home to several dining establishments, from Restaurant Paradis' seafood and beef creations with a Louisiana flare, to the fun casual breakfast at the Cowgirl Kitchen.
Website: RosemaryBeach.com
WaterColor Inn & Resort
Santa Rosa Beach, Fla.
This award-winning full-service resort received the Forbes 4-Star travel rating for 2014, the second year in a row. Chalk it up to the vacation houses and newly redecorated inn rooms, the numerous amenities from six luxurious pools to shopping, championship golf and tennis and the endless activities to keep the family happy.
A one-stop family resort, included in your stay are complimentary use of bikes, canoes and kayaks; supervised children's activities; acres of natural gardens and foot paths along with hiking and biking through woodlands and beaches, a fitness center, WaterColor InnSpa and so much more. Visitors may rent films from the DVD library or enjoy a movie night.
The resort neighbors Grayton Beach State Park with its nearly 2,000 acres of dunes, lakes, beaches and a unique salt marsh ecosystem. There are more than four miles of hiking and biking trails in the park, plus fishermen and paddlers may access the inland lake by a park boat ramp.
Website: WaterColorResort.com
Sandestin Golf & Beach Resort
Destin, Fla.
Sandestin offers a variety of accommodations to suit any taste or budget. There are four distinct areas of the property – Beachside, Bayside, Lakeside and The Village and Grand Complex – along with four championship golf courses, 15 tennis courts of both HydroGrid clay and hard surfaces, a 98-slip marina, a fitness center and spa and a village of boutiques, restaurants and nightlife venues at the Village of Baytowne Wharf.
Included in the daily price of accommodations is the use of the fitness center and four pools, two bicycles for four hours (and you'll want to take advantage since the property is so large), one hour of boogie boarding, kayak and/or canoe use and an hour of tennis court time. Children's activities and admission to family events are sometimes free as well.
In other words, park your car and never touch the gas pedal until you leave. Seasonal transportation around the property is included, so you can stay at the Village of Baytowne Wharf condo and catch a ride to the beach. Or view the Gulf from your seaside accommodations and grab fish tacos and margaritas at the Lazy Gecko Deck Bar or zip line at Baytowne Adventure Zone.
This spring the resort hosts the Sandestin Wine Festival April 10-13 at The Village of Baytowne Wharf, featuring wine tastings of more than 800 domestic and international wines.
Website: Sandestin.com
---
BREAKING AWAY
Zoo Encounters
Visitors get up close and personal at the Alabama Gulf Coast Zoo, including petting a baby white tiger.
Alabama Gulf Coast Zoo at Gulf Shores offers everything you could want in a zoo: more than 500 animals in various habitats, daily animals shows in the summer and a petting zoo. Aiming to give visitors a little more is the zoo's "Animal Encounters," where for a fee, folks get up close and personal with zoo residents. For instance, young Bengal tigers are released in an enclosed environment, allowing visitors to pet, scratch and feed the cubs. The "encounters" are for adults and children ages 4 and up accompanied by an adult, and all animals are small enough to be safe for human contact. Participating tigers arrive when available through the Marcan Tiger Preserve. The zoo's kangaroo encounters and reptile encounters begin in the spring. For more information, visit AlabamaGulfCoastZoo.org.
---
Panhandle Parks
The home of William Henry Wesley with its collection of Louis XVI furniture – the second largest in the United States – is open for tours at Eden Gardens State Park.
The Florida Panhandle is home to numerous state parks, from natural springs to historic properties – not to mention plenty of beaches. Eden Gardens State Park, below, near Grayton Beach allows visitors a chance to tour the 5,500-square-foot home of William Henry Wesley with its collection of Louis XVI furniture: the second largest in the country. His Wesley Lumber Company harvested the area's longleaf pine forests from 1890 until around World War I.
Around the home are 163 landscaped acres that include a rose garden, picnic areas and Tucker Bayou. Between Grayton Beach and Panama City is the rustic Camp Helen State Park, the site of a former textile mill camp for employee family members. The park includes historic buildings and a long boardwalk to the beach with protected dune areas and marsh. For more information on Florida state parks, visit FloridaStateParks.org.
---
Free Mississippi
You can watch potters at work at Shearwater Pottery in Ocean Springs, many of them descendants of Peter Anderson and his brothers, Walter and James.
Your wallet will thank you for visiting the Mississippi Gulf Coast, as there are plenty of great attractions that don't cost a dime. In Ocean Springs, you can visit Shearwater Pottery, where ceramics begun by the late Peter Anderson and his brothers, Walter and James, are still being handcrafted, and if you arrive before 4:30 p.m., you can watch the potters in action.
Shearwater creates distinctive art pottery, decorative tiles, figurines and other pottery pieces. The permanent home for the Maritime & Seafood Industry Museum should be finished by April, but until then the 6,500-square-foot museum showcases Gulf Coast maritime history at Edgewater Mall in Gulfport. Admission is free, but the quaint gift shop that sells maritime-related gifts and local arts and books helps support the museum. The same can be said for the Shearwater Pottery Showroom, the only retail outlet for the pottery.
---
Cooking Up Fun
The Grand Hotel Marriott Resort in Fairhope, Ala., wants to teach visitors how to cook.
The yearlong series of culinary weekends start with a "Beverage Academy" on a Friday night and range from making Grand Hotel drinks to pairing fine wines with the right meals. The next morning chefs from the hotel restaurants will teach culinary classes appropriate for both novice and advanced cooks. For instance, March's class teaches a "History of the American Cocktail" and how to utilize the freshest ingredients for salads. The beverage classes begin on Friday nights at 5:30 p.m. and cost $10 each. The culinary classes begin at 10 a.m. Saturdays and typically cost $25 each. For information and to register, call (251) 928-9201. Participants must be 21 or older in classes incorporating alcohol.