Women Who Lead
2022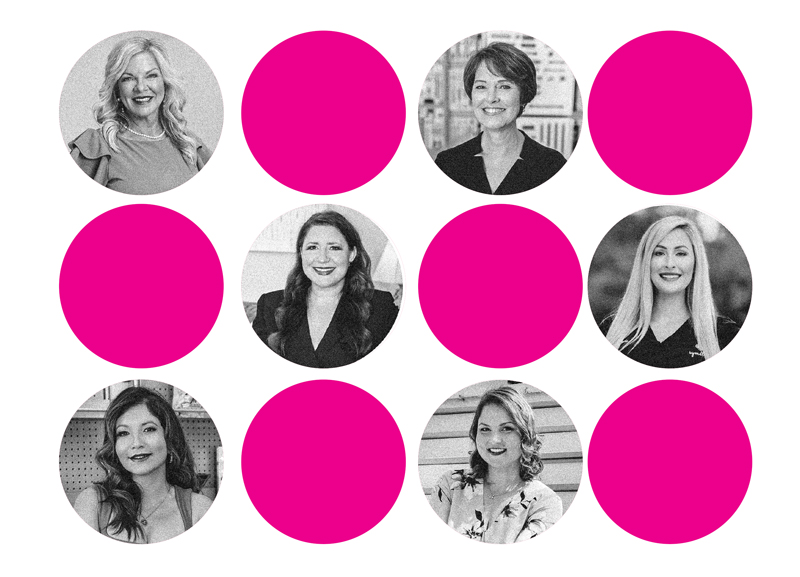 Acadiana Profile magazine spotlights women who lead Acadiana's communities and industries with devotion, determination, resourcefulness and innovation
Co-owner/Physician/Cosmetic Surgeon
Acadia Women's Health & Cosmetic Surgery Center
Dr. Michelle Owens, FACOG, FAACS established Acadia Women's Health in 1999 with Dr. John Gonzalez to offer women in the region a comprehensive center for boosting health and confidence.
"My mission is to help every woman be her best self at all ages and give her a renewed look on life," says Dr. Owens.
Acadia Women's Health offers women a one-stop shop of healthcare services: women's general health, gynecology, med spa, and cosmetic surgery services. Accredited by the AAAHC, the clinic features five specialized providers, two operating rooms, in-house laboratory and ultrasound services, full-service medical spa, and its own medical-grade skincare line, The Real OG.
An active staff member at Acadia General Health, Dr. Owens served two years as Chief of Staff and was a pioneer of MIGS (Minimally Invasive Gynecological Surgery & Urogynecology) and the first female to perform robotic gynecologic surgery in Acadia Parish.
Beyond her professional services, Dr. Owens is an active member of St. Michael Catholic Church and numerous civic and professional organizations. Committed to family, she is a dedicated wife and mother of three.
Acadia Women's Health & Cosmetic Surgery Center
527 Old Fellows Road Suite B
Crowley, LA
337-514-4369
acadiawomenshealth.com
Owner/Attorney
The Law Office of Julie DesOrmeaux Rosenzweig, LLC
Julie Rosenzweig's law firm is built on a culture of caring and service, a culture she fosters daily in her personal life as well. Specializing in estate planning services, Julie is known for helping clients gain peace of mind, knowing their affairs are set up correctly for themselves, their futures, and their loved ones. Through proactive communication and a solid system of organization and documentation, Julie helps clients leave behind a real-life legacy while keeping what they have and who they love out of court and out of conflict.
"Our clients want to pass on what they have worked so hard for their entire lives," says Julie. "Wealth isn't measured just by the dollars in the bank but by the well-being of the people you love."
An Abbeville native, Julie is a dedicated wife and mother of seven. She serves on numerous community boards of professional organizations and nonprofits supporting business, education, the arts, children's activities, the church, and more.
The Law Office of Julie DesOrmeaux Rosenzweig, LLC
210 S Girouard Rd Ste. B
Broussard, LA
337-321-9111
planwithjulie.com
Landscape Designer/Contractor
Megan Montgomery Design
As a Landscape Designer, Megan Montgomery loves the challenge of realizing a vision, layer by layer and piece by piece. From simple landscape beds to high-functioning outdoor living spaces, Megan's designs tell their own stories, highlighting the uniqueness of each environment. Megan was recently featured in Pro Landscaper USA for her success turning a small outdoor space into a multifunctional modern backyard. Community minded, Megan was invited to join the board of The Roy House and will voluntarily design the landscaping for the space dedicated for ULL's Department of Louisiana Studies.
Megan Montgomery Design
Lafayette, LA
337-280-6657
meganmontgomerydesign.com
Owner
Edible Arrangements Lafayette & Baton Rouge
Key to Pallavi Simon's success as a business owner is her belief that empowerment means using your voice and acknowledging your inner power. Inspired by the possibilities of entrepreneurship and the support of her children and parents, Pallavi has expanded one Edible Arrangements franchise to three. Beyond specializing professionally in gifting, Pallavi also gives to the community—she donates to Second Harvest Food Bank, Healing House, and the American Cancer Society. In addition to her entrepreneurial strength, Pallavi exhibits immense physical strength as a national and international competitive swimmer, receiving silver and bronze medals in the Asia Pacific Games.
Edible Arrangements Lafayette & Baton Rouge
2800 W. Pinhook Rd, Lafayette, LA
337-266-9989
m.ediblearrangements.com
Owner
Symétrie Studio & Spa
A Loreauville native, Kylie Neuville entered the beauty industry with a passion for helping people feel their best. Kylie grew that passion into a thriving business and employs a talented team of women who proudly improve the lives of others as they provide for their own. Last year, Symétrie Studio & Spa received the Best of Acadiana community choice award for Best Brow/Eyelash. The studio will expand services with a new 3,500-squarefoot building currently underway.
A savvy entrepreneur, Kylie introduced and expanded permanent makeup services to Lafayette with Symétrie. Named a Spirit of Hope Honoree by the American Cancer Society, she offers 3D areola tattooing for breast cancer survivors.
Symétrie Studio & Spa
500 Settlers Trace #2
337-534-0852
symetriestudiospa.com
Owner/Operator
Distinctive Hardware
After founding Distinctive Hardware in 2008, Jackie Michaud has grown her decorative cabinet and door hardware store to one of the most sought after hardware stores in Acadiana and across the Gulf South. Jackie is known for bringing customers' visions to life, working with designers, architects, and builders to satisfy a variety of ever-changing aesthetic styles while ensuring smooth projects. Jackie works with designers for the Lafayette area St. Jude Dream Home Giveaway and donates all cabinet and door hardware. Dedicated to the preservation of artifacts, Jackie serves on the board of Le Musee Museum in Maurice.
Distinctive Hardware and Decor LLC
300 Ridge Road Ste A, Lafayette, LA 70506
337-984-1749
distinctivehardwarellc.com