Wide Open Spaces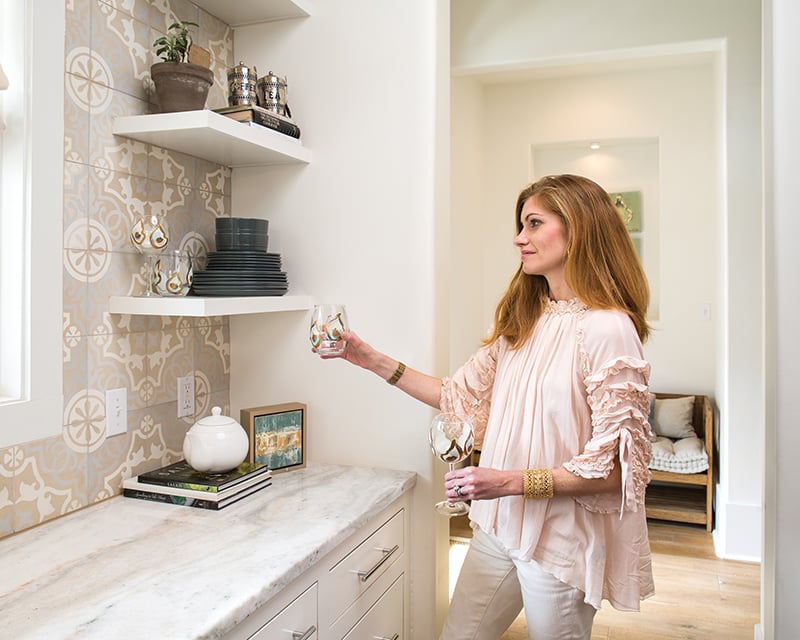 Beautifully-styled open kitchen shelves are the stuff of Pinterest board and Instagram feed dreams, but when it comes to implementing them in a real life, practical concerns can intimidate even the most ambitious minimalist. That's where smart design comes in.
Brianne Jenkins of Grayson Carter Designs believes magic happens when you find that perfect balance between simplicity and function. Meaning, you can have your open shelves sans clutter and dust, you just need to edit.
"Start by asking yourself what items would be helpful to have accessible — what do you use the most?" says Jenkins.
Bringing these hard-working items (think plates, bowls and glasses) from behind closed doors streamlines your daily workflow and makes your space more inviting to guests, who will never have to guess the location of your coffee cups.
Once you have the base layer set, weave in practical items that inspire you. Another perk about open shelving in your kitchen is you can display pieces from your treasured cookbook collection and serveware investments as works of art. Jenkins also loves mixing in vintage accessories, like pewter tea and coffee canisters, to add character. Potted herbs introduce that life-giving pop of green and a pretty painting pulls everything together.
It may take a few tries before you have a layout that works for you, but Jenkins advises not to worry too much about following a specific template.
"Design is about breaking rules," she says. "Do what looks and feels right."
---
Steps
Simplicity and Function

1. Determine your most-used items and make those your base.
2. Layer a few well-loved cookbooks and serveware.
3. Place potted herbs, like parsley or basil, in plain view.
4. Add canisters or a basket — filled with things you access daily.
[Art Credit : Painting by Gwen Foreman]