Where To Eat Now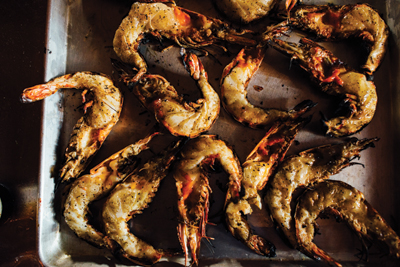 Eating out doesn't have to be about four walls and a table anymore. Acadiana has seen the rise of pop-up dinners to bring together culinary genius and support local nonprofits, gourmet food trucks are allowing entrepreneurs experimentation on wheels and special events dining can delight members of a tight-knit community. And in Thibodaux, students at the Chef John Folse Culinary Institute at Nicholl's State serve up what they learn while residents reap the delicious benefits.
---
Pig & Plough

Pig and Plough offers pop-up dinners that are formal, with up to six courses. But it also hosts casual, family-style events, like this one at Bayou Teche Brewery in Arnaudville. Either way, the dinners help connect people to local food producers and raise money for various nonprofits in the region.

Banana pudding created by chef Ryan Trahan for a Pig and Plough dinner
Tyler F. Thigpen arrived in Lafayette to work at the National Wetlands Research Center and when the ecologist studied the effect of herbicides on human cells for her masters at the University of Louisiana at Lafayette, she began to realize the importance of harmful chemicals in food.
"That's where my love of local foods really took off," Thigpen says. "There's so much about our food that we don't know about. It's scary."
In 2011, Thigpen helped start the Acadiana Food Circle, a nonprofit organization connecting consumers to local food producers and helping spread the word on healthy, local food choices. Then in 2013, chef Jeremy Connor got the idea to sponsor a series of slow food dinners featuring chef collaborations utilizing South Louisiana foods and Thigpen threw in her hat.
Called Pig and Plough Suppers, these pop-ups dinners have ranged from formal, sit-down dinners with up to six courses to a more family-style meal at Bayou Teche Brewery. Last December, their third annual Bayou Teche Brewing Fundraiser featured Lafayette chefs Madonna Broussard and Lacey Broussard of Laura's 2 and Ryan Trahan and Cory Bourgeois of Dark Roux.
One of the most creative events they've done merged the talents of chef Kelsey Leger of The Saint Street Inn and Chef Clair Burton of Social Southern Table and Bar on April 13 at Saint Street Inn in Lafayette. Their challenge was to create vegetarian dishes that included locally produced flowers.
"There were crickets in the desserts," Thigpen says. "I think it was one of the more creative pop-ups Acadiana has seen."
All events raise money for local nonprofits. December's dinner benefited NUNU's Arts and Culture Collective's Healing Garden Initiative in Arnaudville and the flowers dinner the Acadiana Beekeepers society. To date, the organization has raised about $14,000 for local food causes in Acadiana.
throughout Lafayette and Acadiana facebook.com/PigandPlough
---
The Sloppy Taco

The chipotle shrimp tacos feature cabbage, pico de gallo, queso fresco, fried green tomatoes and a cilantro-ranch dressing on six-inch tortillas.
Brett Stutes always loved to cook, and the idea of bringing home the bacon – literally – lingered in the back of his mind, even when he worked on pipelines. Last March, when Stutes was in between jobs, he decided to try out his recipes to see how they were received by others. He set up tables and pits at Live at the Lakefront, a music series at the Lake Charles Lakefront Promenade's Arcade Amphitheatre and starting selling his trademark tacos under the name The Sloppy Taco. He had owned the rights to the name for years, so he figured it was about time to test-drive his dream.
Stutes attracted a crowd, so he set up shop again at Lake Charles' Downtown at Sundown, another free music series that incorporates food.
"We had a better and better following each time," Stutes says. "We kept gaining momentum from there."
The next step was to purchase a food truck, which Stutes operated with the help of Daniel Woods; his brother, Derek Stutes; and his wife, "the social media expert" Amanda Stutes. Today, they operate daily throughout Lake Charles, sometimes in 15 locations each month. Their locations and culinary offerings are announced on their Facebook page, followed by hundreds of new fans.
Naturally, the menu focuses on tacos, what Stutes calls "the perfect little eating vessel for so many things, especially for those on the go."
Offerings include the chipotle shrimp tacos with cabbage, pico de gallo, queso fresco, fried green tomatoes and a cilantro ranch dressing on six-inch tortillas. Or the namesake Sloppy Taco filled with pork that's fried and braised and served with grilled ribeye and shrimp, Monterey Jack cheese, purple onions and jalapenos that's topped with a remoulade sauce.
To placate the government and receive a permit that allows him to operate on a daily basis, Stutes purchased a down-and-out diner on Kirkman Street that will serve as his "commissary," or main kitchen.
The storefront is scheduled to open in March.
"We're going from two picnic tables and a pit to a sit-down restaurant in one year," the Louisiana native says.

Lake Charles | sloppytacotruck.com | facebook.com/TheSloppyTaco | (337) 602-6364
---
Runaway Dish

Grilled octopus with pit smoked potatoes, crab fat aioli, pickled shallots, and mint for Runaway Dish's Southern Forged dinner.

Volunteers help construct the dining room for Runaway Dish's Southern Forged dinner. The portable dining room was designed and built by UL Lafayette architecture graduate student Nick Arcuri as his master's thesis project.
Denny Culbert fell in love with Acadiana foodways when he arrived in Lafayette for a newspaper internship. He and his wife founded Runaway Dish, quarterly pop-up dinners that pair two chefs with a theme with tickets benefitting local charities. The focus of each dinner is to introduce chefs to one another, promote collaboration and build an interconnected culinary community.
"Each dinner has different layers and incorporates different artists and musicians," Culbert says.
December's "Southern Forged" Runaway Dish dinner, for instance, combinedchef Collin Cormier of Pop's Poboys of Lafayette with Mike Gulotta of MoPho of New Orleans. University of Louisiana at Lafayette architecture graduate student Nick Arcuri built the temporary dining structure in the open field outside Johnson's Boucaniere in downtown Lafayette.
The Culberts organize four pop-up dinners a year. In the fall they produce the Runaway Boucherie symposium, bringing together culinary professionals from around the world to learn the time-honored tradition of hog butchering and cooking. Next year there will be two large pop-ups along with smaller affairs, Culbert says.
"The original goal of Runaway was to get the chefs working together, and that's been working wel, so now we're on to our next phase," he says.
The Culberts also publish a boutique magazine on South Louisiana titled – appropriately – Runaway Dish.

throughout Acadiana | facebook.com/runawaydishdinners | runawaydish.org
---
Cafe Joie de Vivre

The Joie Muffuletta features pulled pork, country ham,, applewood bacon, Provolone cheeseand olive mix.

Husband-and-wife team Robert Domingue and Nicole Jaubert Domingue run Cafe Joie de Vivre in Breaux Bridge, which customers adore. Part of this is because, in addition to focusing on high-quality food, the couple makes sure to give great service and presentation, along with entertainment, often in the form of live music. Once a month, they host "Dinners by Reservation" a special (and popular!) five-course meal where patrons linger for hours.
The events at Café Joie de Vivre reflect its name, offering Cajun jam sessions, booksignings by local authors, art exhibits by South Louisiana's best and live performances – happenings that bring out the joy in life. In addition, the café serves up breakfast, lunch and coffee specialties with pastries. But owner Robert Domingue, who runs the café with his wife Nicole Jaubert Domingue, wanted to take it one step further.
"We saw a need for an elegant night where a group or a couple can reserve a table by how many hours they wanted to stay, be entertained and knew that they were not rushed," Robert Domingue says. "In other words, we try to focus on taste and presentation and service and entertainment."
Once a month, the café offers Dinners by Reservation, a five-course meal with entertainment where patrons can relax, dine and take all the time they want, Domingue explained. After participants arrive, Domingue "gauges the clientele," determining how fast they want each meal and serves them accordingly. Diners have stayed for an hour and as long as four hours, he says.
The menu is created by the café's chef Chris Erwin. A recent dinner consisted of boiled peanut hummus, bacon shrimp with a pepper jelly sauce, smoked brisket with gouda mac and cheese, red snapper with crabmeat, and, of course, dessert and coffee.
So far, the $50 dinners have been a sell-out and Domingue is considering stretching Dinners by Reservation over three nights. The owners recently purchased a space next door, so there is room to expand.
"After the first dinner, 90 percent of the people signed up that night for the next one," he says. "We're going to get to the point where we have to turn people away."

107 N. Main St. | jdvcafe.com | (337) 442-6354
---
Bistro Ruth

Caramelized onion puff pastry crouton with hearts of romaine lettuce, radish, chives, Parmesan cheese and toasted walnuts
Learning to be a chef in today's multi-faceted, high-profile culinary environment, particularly in food-centric South Louisiana, can be a daunting career choice. That's why the Chef John Folse Culinary Institute at Nicholl's State demands their students to jump several hurdles before completing their bachelor of science degrees. In addition to six labs and two summer internships at restaurants, students must work a semester at Bistro Ruth, an on-campus restaurant where they serve in a variety of positions.
Bistro Ruth, named for New Orleans restaurateur Ruth Fertel and located in the school's new Lanny D. Ledet Building, offers students the chance to create and execute a menu, develop recipes, perform as waitstaff and work various jobs in the kitchen, says chef Don Kasten, Bistro coordinator. On the other side of the table, guests may enjoy the fruits of their wares at 12 spring dining opportunities, from buffet-style meals to a more formal seven-course event paired with wines.
The variety of meal preparation gives students a broad education, preparing them for special events such as wedding banquets and restaurant service, both casual and formal, Kasten says. The a la carte meals, for instance, costs $40 to the public and includes four courses: the same first course, either a soup or appetizer, a salad and dessert course and then a choice of four entrées. The more formal Russian Service dinner pairs seven courses with wine for $70.
Spring dinners at Bistro Ruth start about March 1, Kasten says, and reservations are required. For a list of dinner services, dates and costs, visit the web site, then call between 8 a.m. and 4:30 p.m. Monday through Friday to reserve a space. In addition to dinners at Bistro Ruth, the students will offer a banquet-style French dinner April 28 in the Nicholls ballroom.


Donald E. Kasten, Coordinator of Student Bistro Activities and Chef Instructor at Nicholls State University, poses next to a portrait of Ruth Fertel, the founder of Ruth's Chris Steakhouses (she's the Ruth in Ruth's Bistro). His culinary students are well-rounded, as they are able to create their own menus, develop recipes, perform as waitstaff and work other kitchen jobs. Spring dinners will start March 1.
Nicholls State University, Thibodaux | nicholls.edu/culinary/bistroruth | (985) 493-2700
---