Wedded to Wellness: Eat, Meditate, Love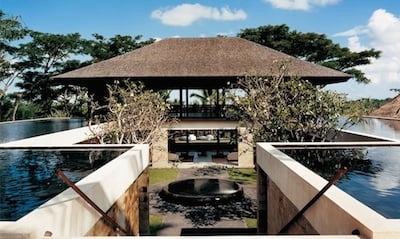 When planning your wedding, the only baggage that should come along is the luggage you've set aside for your honeymoon. Contributing travel editor for New Orleans Bride Becca Hensley believes couples should start their new life off on the right foot – with a perfect and relaxing getaway.
Hopefully you've been traveling along with us, but you can catch up on our previous excursions here: St. Barths, Austria, Say Nameste, Soak Yourself, Wine Time and Ciao Bella.
To continue our trip around the world, Hensley is dropping us off in Bali in "Eat, Meditate, Love."
-Kelly Massicot
---
Eat, Meditate, Love
COMO Shambhala Estate, Bali
Tuck into a sleek Javanese-style abode, surrounded by emerald green rice paddies and an exotic rainforest, near Ubud, a sun-drenched village, art colony and spiritual hot bed. Shadowed by soaring volcanoes, steps from moldering temples, amid a healing landscape peppered with a history of ancient spice traders, COMO Shambhala embraces your curative quest with round-edged infinity pools, floating treatment rooms, healthy menus and concierge-organized forays — such as sunrise hikes or blessing ceremonies. Breathe as one beneath the palm trees or practice your yoga postures beside a coursing river.
Room A Deux: Retreat in a Pool Villa, which delights with beds canopied in white drapes, an outdoor shower, a private pool and a personal assistant.
Prescription: Relinquish your stress to the Javanese Royal Lulur Bath, a treatment originally designed for royalty. Enjoy this multi-step ritual in the couple's pavilion, near the spring pools. comohotels.com/comoshambhalaestate/