Unchartered Waters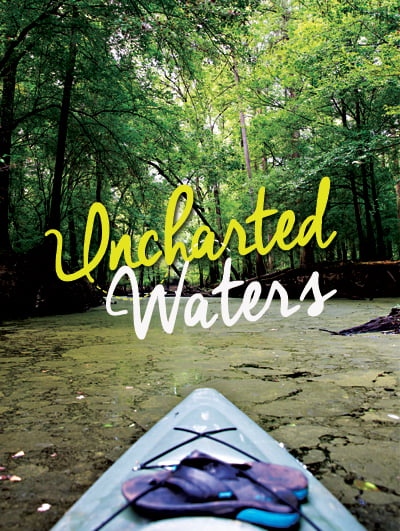 "We have had a revolution. I have been paddling for 50 years, and these are the most kayakers I've ever seen in my entire life."
The eyes of Canoe and Trail Adventures' Byron Almquist reflect what many of you are seeing as well: colorful kayaks of all shapes and sizes are nearly everywhere, being transported on tops of vehicles on Louisiana's highways, to be utilized and enjoyed on our state's waterways. With 8 million kayakers taking part throughout the United States, it makes sense that our state – home of the some of the best recreational waterways anywhere – is being discovered for the first time by kayak enthusiasts and related entrepreneurs.
It wasn't always this way, says the New Orleans-based Almquist. "Three years ago, there was nothing out there. Now? Now there are several outfitters, all part of this tremendous explosion." Almquist has been taking paddling groups on the water in the Greater New Orleans area for most of his life, but never at the current rate. "I am doing more paddling than I ever have."
Kayak outfitters from as far away as Door County, Wisconsin have tapped into Louisiana's waterways as well. "We thought, 'Wow, there is a gap for us to fill'," says David Rack of Gravity Trails, located in both Egg Harbor, Wisconsin and Slidell. "There are so many places to kayak, and we are just scratching the surface. I don't think you can ever paddle all the waterways in Louisiana."
From historic Bayou St. John in the heart of New Orleans to the somewhat remote Lake Martin in Acadiana, the Bayou State's abundance of calm waters and dramatic, evocative landscapes is like a dream come true for dozens of kayakers.
Why have kayaks taken off in terms of popularity? Unlike canoes, kayaks are easy to navigate, more stable and provide few problems as people enter and exit the vessel. A complete novice can learn to master the kayak in a relatively short time, and the cost of a basic kayak is relatively inexpensive.
The kayak itself has evolved:There are variety of comfortable sit-on tops and tandems (two-seaters) available. "Ten years ago, we had really skinny boats with a small hole for one person," recalls John Williams of Pack and Paddle in Lafayette. "Now anyone can jump in and do it, without any lessons."
The sport is an automatic de-stressor, although it can be somewhat addictive: As many glide through still waters of the natural world from their quiet vessels, their souls awaken and they become lost in the romance of discovery. "In a kayak you experience freedom, and for many, it is life-changing, "adds Williams. "That's especially true for people who didn't have a way to enjoy the outdoors before."
Kayak eco-tours have taken off as well, and outfitters are offering paddles geared toward nature, geology, and education. Kayakers are also mixing their new love with their old ones, as they learn to practice nature photography and canvas painting all from the comforts of their vessel. But of all the paddle hobbies, however, kayak fishing is king, and Louisiana's waterways offer some of the best kayak fishing in the nation.
In response to increasing demand, more and more kayak launches and paddle trails are being created in places such as Cajun Country, St. Tammany Parish near Covington and in the surrounding parishes of Monroe, where there are 21 paddle trails alone. But the most ambitious project might be from the Evangeline Council (Acadiana) Boy Scouts, whose Atchafalaya Swamp Base program takes scouts from all across the country on a 60-mile kayak trek.
Here are some recommended spots for kayaking in our state (the list is hardly an inclusive one, but it does include some of Louisiana's finest paddle trails.)

SPECIAL THANKS Special thanks to Stephanie and the D'Arbonne Kayak Club, and to Sara and Sonny of Kayakitiyat
---

Photo by Romero and Romero

Cajun Country
Lake Martin
Breaux Bridge
Lake Martin is cinematic and looks like the quintessential Louisiana swamp. Cypress trees dripping with Spanish moss, plus a legendary bird rookery make Lake Martin a sight to behold. In fact, The Lake Martin Cypress Island preserve has one of the largest concentrations of migratory birds in the world! You will be awed by the massive flock of roseate spoonbills (which are commonly mistaken for flamingos).
With its large population of alligators, and with gators having been around since prehistoric times, Lake Martin might also be earth's best snapshot of The Jurassic Age.
OUTFITTERS:
Pack and Paddle
Prices: Kayak rental $40 per day, guided trips start at $45
packpaddle.com
Champagnes Cajun Swamp Tours
Prices: Kayak rental $10 an hour, tours $20
champagnesswamptours.com
STOP ALONG THE WAY
Lake Martin Paddle: Evangeline Oak, St. Martinville
Thousands make this journey to the fabulous oak made famous in 1847 in Henry Wadsworth Longfellow's Evangeline. The oak was the legendary meeting place for Cajun lovers who reunited after the Acadians' exile.

Lake Fausse Pointe's Virgin Cypress Grove
St. Martinville
Northern California may have the redwood forest, but for an unmatched wonder in South Louisiana, you can paddle among dozens of massive old growth cypress trees. Many of the majestic bell-bottomed cypress trunks measure 15 feet wide and are an estimated 1,200 to 2,000 years old. This virgin grove survived the rampant logging that took place in Acadiana during the early 20th century and is located on the northern edge of Lake Fausse Pointe.
Lake Fausse Point is one of the wildest and most scenic parts of the country. On this wildlife adventure, you may be greeted by bald eagles, owls, and the bright yellow prothonotary warbler (known as the "Cajun Canary)" and yes, alligators.
STOP ALONG THE WAY
Lake Fausse Point Cypress Paddle: Prehistoric Park, Henderson
Dinosaurs are invading Louisiana's swampland! Walk among moving dinosaurs that seem to come to life at this twelve-acre site. Young paleontologists can dig for buried dinosaur bones in the sand.
---

Photo by Berg Photography

Sportsman's Paradise
Corney Creek
Bernice
The descent through Corney Creek is reminiscent of a paddle through an enchanted forest, almost fairy-tale like. This windy creek, located 20 miles from Ruston near the Arkansas state line, is a true whimsical journey, and every bend has a new discovery. It is part of the Kisatchie National Forest, the only national forest in Louisiana. As you begin your journey, you will float under breathtaking tree tunnels; enveloping canopies that look like trees are holding hands.
The stillness of the bronze-colored water makes a near perfect mirror of the skies and trees above. As you glide through the duckweed, you will pass beaver lodges and a scenic hardwood forest of bald cypress, water tupelo and pine trees. Among the crescendo of wildlife sounds are hoot owls, ducks, woodpeckers, osprey and the great blue heron.
OUTFITTERS:
Lester's on the Lake
Price: $7.50 an hour or $30 a day
lestersonthelake.net
STOP ALONG THE WAY
Corney Creek, Bernice and Bayou Bartholomew: Scott's Place Indian Mounds, Farmerville
Explore some of the northern parish's prehistoric mounds above Corney Bayou and Bayou D'Arbonne. There are five mounds, used for ceremonial or burial purposes, spanning the area. The archeological wonders are different heights and sizes and date back to 1200 A.D.

Bayou Bartholomew
Bastrop
When on this bayou in the fall, you could mistake it for New England because of the fall colors and foliage. The hickory and gum trees alone produce stunning gold, crimson, light yellow and purple leaves. At 364 miles, Bayou Bartholomew is the longest bayou in the world, and with 100 aquatic species it's the second-most diverse stream in North America. The bayou begins above Pine Bluff, Arkansas and its bewildering path flows southward through the farm lands of Louisiana's Morehouse Parish.
At water's edge there are also pine, bald cypress and oak trees, and every native species of wildlife you can think of exists here. On this route you will spot woodpeckers, falcons, wild turkeys, and possibly a black bear.
Don't miss pulling your kayak through the hollow of a giant 800-year- old cypress tree in the connecting Chemin-A-Haut Creek.
OUTFITTERS:
Chemin-A-Haut State Park
Price: Kayak rental $5 an hour or $20 per day
lastateparks.com
For more information on kayak trails and paddle clubs go to: paddlelouisiana.org
STOP ALONG THE WAY
Bayou Bartholomew Paddle: Caney Bayou Mound, Bonita
This mound, one of the oldest in Louisiana, is believed to be as old as 3000 B.C. It's an important site because of its antiquity; stone tools and projectile points from the archaic period were found near the mound.
---

Photo by Romero and Romero

Greater New Orleans
Bayou St. John New Orleans
New Orleans
Dip your paddle deep into New Orleans' fascinating history on Bayou Saint John, and you will certainly get a different perspective as you glide across the legendary waters. A major part of the historic success of the Crescent City and its very geographic location is because of this bayou's existence, and Native Americans and early French explorers used this bayou as a portage between the waterway and the Mississippi River.
As you paddle, remnants of this city's historic past can be seen, like the Pitot House, which was owned by a Spanish Colonial official, Edgar Degas' grandmother and St. Frances Xavier Cabrini. You will also glide by iconic City Park, St. Louis Cemetery No. 3 and the New Orleans Fair Grounds. Marie Laveaux, New Orleans' voodoo queen, is said to have performed many rituals along Bayou St. John.
And yes, there's wildlife: nutria, turtles, a myriad of ducks and the ever-present alligator
OUTFITTERS:
Bayou Paddlesports
Prices: 2hour kayak rental $22
bayoupaddlesports.com
Kayakitiyat
Prices: Tours start at $40
Kayakitiyat.com
STOP ALONG THE WAY
Bayou St. John Paddle: Singing Oak, New Orleans
Several unique wind chimes, purposely tuned to the deeply-rooted New Orleans music, drip from this 180-year old oak tree. Stumbling upon these chimes will hit your soul and is an unexpected surprise amid the amazing legendary City Park.

Cane Bayou
Mandeville
The meandering Cane Bayou traverses through a spectacular primal scene once witnessed by Native Americans. This bayou is mostly in its natural state, untouched by man, with a highly diverse ecosystem and several distinct habitats, all within only one mile.
The paddle begins in fresh water and winds its way through pine flatwoods and bald Cypress trees dripping with Spanish moss. Midway, you begin to descend through the lush marsh, and as you near the finish of this circumnavigation, the mouth of the bayou opens to the vast Lake Pontchartrain. Tip: This is a perfect spot to get out of your kayak and wade in the refreshing knee deep sandy bottom water and have a picnic. Also, the sunset on the lake is spectacular.
Cane Bayou is full of wildlife and waterfowl including: bald eagles, white pelicans, ibises, ducks and osprey. On this trek you will most likely see an alligator, or the bubbles marking the passing of one.
OUTFITTERS:
Bayou Adventure
Prices: Eco-tours $55, daily kayak rental $35
bayouadventure.com
Canoe and Trail Adventures
Prices: Eco-tours start at $35
canoeandtrail.com
STOP ALONG THE WAY
Cane Bayou Paddle: Abita Mystery House, Abita Springs
This place, which has a vintage service station and 100-year-old Creole cottage, features 1,000s of eclectic objects and impressive animatronics displays and scenes. Among the oddities: a half-dog, half -alligator.