Twin City Christmas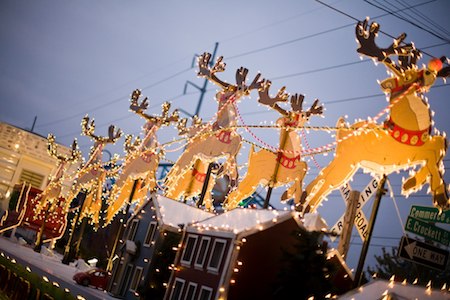 Make your way to the twin cities of Shreveport-Bossier this Christmas season for a truly one-of-a-kind, fun-filled and unforgettable experience for everyone.
Among the myriad of Christmas festivities is the iconic Christmas in Roseland, a tradition in northwest Louisiana for 34 years. This is where America's largest park dedicated to roses is transformed into a magical spectacle, all aglow with thousands of lights and dozens of stunning Christmas displays, including a local favorite, the giant Christmas Cards to the Community. Once you see this grand display, you'll know why Christmas in Roseland—with the American Rose Center as a focal point – is among Louisiana's Holiday Trail of Lights.
You can take in this scene by strolling through the 118 acres of rose gardens or by hopping aboard the Roseland Express Train, but this festive event has plenty more to offer including nightly entertainment featuring performers from all over Shreveport and Bossier. If you love shopping, Roseland Christmas has a fabulous Christmas Market full of local vendors. And when you get hungry, the concession stand serves mouthwatering funnel cakes, hot chocolate and more treats.
From roses to the Red River, Christmas cheer is flowing, so don't miss the Red River Entertainment District. This is in the heart of the riverfront and all decked out for the holidays – it's also where you can experience the amazing Red River Laser Light Show, the Sounds of the Season concert, the Holiday Market and more for free throughout December.
If you really want to rub elbows with the locals, be sure to stroll through downtown Shreveport for the huge December Holiday Downtown Artwalk on Dec. 6. You can begin your artwalk stroll at Artspace, and then walk through three floors of a Winter Wonderland of art and extravagance. There is also an art market where you can purchase one-of-a-kind gives created by northwest Louisiana artists. If you're tired of walking, hop aboard the free shuttle and make artwalk stops at Santa at The Agora Borealis, The Remington Suite Hotel and Spa (for holiday drink specials), and the Shreve Memorial Library's Festival of Lights program.
(Tip: If you are in town Dec. 1 make a stop at Shreveport's Kansas City Southern Yard. That's when the KCS Holiday Express, a six-car train that brings Santa and his elves to cities throughout the U.S., will be making a stop at 4 p.m. You can then visit Santa Claus and walk through three retired rail cars now filled with holiday displays, including the elves' workshop, a miniature village, and a gingerbread boxcar.)
A visit to Shreveport-Bossier does promise snow in the forecast this December. The kids will love Christmas Jubilee at the Jubilee Zoo where they can enjoy the "Sno" pit (thus guaranteeing a white Christmas in north Louisiana). After getting your fill of snow, "carol to the critters" while aboard the zoo's Christmas hayride. If your kids are in need of more physical activity, they can jump away inside several bounce houses at the zoo. Guests can experience more Christmas fun with the zoo's traditional Breakfast with Santa event, a local hit where kids can take photos with Santa and enjoy mouthwatering flapjacks.
One of the most treasured annual events takes place in Shreveport's oldest neighborhoods, and is a charming and fascinating holiday scene. Hop on the holiday trolley for the Highland Christmas Home Tour, which will take you inside some of the most stunning mansions and intriguing homes within the Highland and Fairfield historic districts. The event, which takes place Dec. 7-9, also spotlights the significant artwork of Highland artists and includes holiday libations and treats.
Continue with more Christmas cheer and major shopping at the Bossier Holiday Night Market, which includes 100-thousand Christmas lights and more than 200 vendors selling their unique wares – there are also food trucks, live music, and kids' activities. This annual event is a shopping experience to remember and takes place on Dec. 15-16.
A big part of celebrating Christmas in the twin cities is music, and Shreveport-Bossier has a plethora of concerts and musical shows from which to choose. One of the top concert picks is "A Glorious Christmas Tour" by Casting Crowns and For King & Country, and is held at the Century Link Center in Bossier City on Dec. 7.
Another big hit this year will take place at the gorgeous and historic Strand Theatre – which is where The Shoji Tabuchi Christmas Show from Branson, Missouri is stopping in Shreveport. Talented stars Shoji Tabuchi and his wife Dorothy will delight the audience with their unforgettable family variety show on Dec. 8. Tabuchi plays a wide variety of genres from bluegrass, Broadway, classical and even rock and roll's Led Zeppelin. This year, Tabuchi is adding a grand rhythmic performance on the Japanese Taiko drums that's sure to impress! (Fun Fact: Tabuchi has made several television appearances throughout the years showing off his great talent on CBS's "60 Minutes" and ABC's "Good Morning America.")
While enjoying all of this holiday fun, you will need a home base at which you can get a good night's rest. Our suggestion is to take advantage of one of several holiday hotel discounts in Shreveport-Bossier. Participating hotels and their offers can be viewed here: shreveport-bossier.org/holidays/offers.
For more information on all the above Shreveport-Bossier Christmas events go to:
shreveport-bossier.org/holidays
shreveport-bossier.org/holidays/events
facebook.com/RedRiverEntertainmentDistrict
sbfunguide.com/event/christmas-jubilee-at-jubilee-zoo/3467/
jubileezoo.ourers.com/breakfast_with_santa_info
riverpark.net/christmasatthepark
sbfunguide.com/event/kcs-holiday-express/3670/
sbfunguide.com/event/downtown-holiday-artwalk/3919/