Tricky Conditions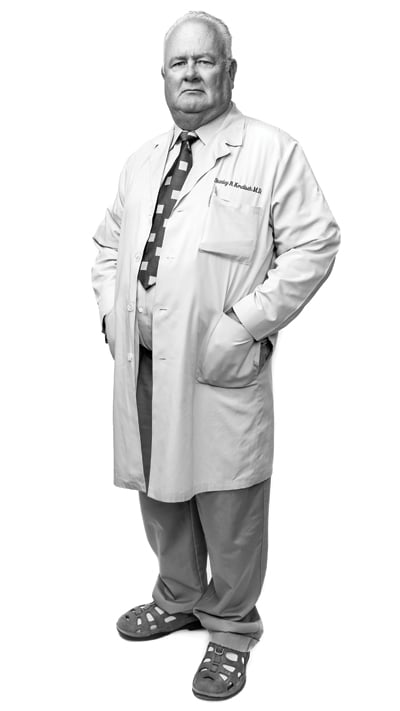 Name: Stanley Ray Kordisch
Location: Lake Charles
Specialty: Gynecology
Education:
• USL (1972)
• LSU Medical School New Orleans (1976)
• Texas Tech (Lubbock) (1980)
One of stanley kordisch's most difficult cases in his medical career involved a woman who was six months pregnant and had a rather tricky medical condition – "a blocked ureter secondary to a large fibroid," meaning that a uterine growth was preventing the movement of urine from her kidney to her bladder. This surgery on a pregnant woman can endanger both mother and child, but Kordisch says that it "turned out real good" with a healthy mother and baby.
While Kordisch no longer practices obstetrics, he works as the sole gynecologist at his practice, seeing an average of 26 patients each day. Additionally, he is a member of the Louisiana State Medical Society and the Calcasieu Medical Society.
A straight shooter who doesn't mince words, Kordisch grew up in New Orleans thinking he'd become a veterinarian like his father. It wasn't until later that he realized he'd rather work with people.
He says that he worked at Charity Hospital in Lake Charles one summer and found that he really enjoyed it. He especially found that he enjoyed working with the patients in obstetrics and, after doing preceptor work under Dr. Syd Dyer, he switched his focus in college to obstetrics and gynecology. Kordisch says his time in medical school at Louisiana State University and his residency at Texas Tech University "challenging," especially the first two years. "It's mainly like an advanced college," he says. "After that, it's more clinical." He says, however, that his time in medical school taught him the important value of hard work. "You're on call every other night when you're an intern and senior resident," he says. "It teaches you how to work hard even when you're tired." These life lessons have been valuable to him throughout his career.
One major concern Kordisch has about the future of medicine is the increased involvement of the government, which he says is turning many medical practices "upside down. Nothing they run has turned out efficient, and they're trying to control medicine. It's going to be a disaster unless we get some changes." In addition, he finds that changing from physical records to electronic medical records can often result in confusion and errors.
In his spare time, Kordisch's interest in boxing has led him to volunteer as a ringside physician at local boxing matches. He is also a backup physician to the high school football team. In addition, he is an avid fisher and frequently travels to Destrehan, where his son, daughter-in-law, and grandchildren have relocated after several years spent in California.