Traveling In & Around Louisiana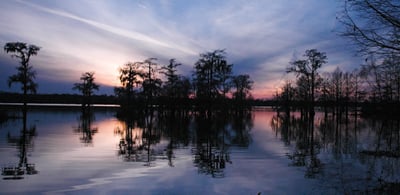 September and October bring an end to the summer season and a return to the activities that make fall one of the busiest times of the year. Seasonal festivals are as abundant as a fall Louisiana harvest and those seeking opportunities to explore the state and region will find it a great time to cruise the back roads for unique sights and sounds. From sea creatures to college football, North Louisiana provides tons of family friendly fun, while cycling, symphonies, and holiday events greet visitors to the central part of the state. South Louisiana boasts diverse cultural events, big city hotels, and small town strolls with scenic views. Take a short drive into Mississippi and Arkansas and experience the best of what our state's neighbors have to offer in shopping, music, outdoors, and more. Go away for a weekend or gear up the RV for an extended tour across the state—there's something for everyone this fall.
Parishes, Cities, & Towns
Tucked between the swamps of the Atchafalaya is Iberville Parish, a place of awe-inspiring beauty, massive live oaks, and meandering bayous and waterways teeming with life. Just outside of Baton Rouge, this area prides itself on a unique culture in which many people still live close to the land and enjoy a way of life passed through generations.
The Iberville Swamp Life Expo, held at the beautiful, shaded Iberville Parish Visitors Center (I-10 at Grosse Tete), will be the kick-off event for Experience Atchafalaya Days, a month-long celebration of the Atchafalaya Heritage Area. The expo will include net-making demonstrations, woodcarving, works from local artists, and relics of the area's long history.
The Iberville Swamp Life Expo will be held Saturday, October 7 from 10:00am until 3:00pm and will feature live music by Terry and the Zydeco Bad Boys, food, and art. Experience Atchafalaya Days runs throughout October. Cultural, food, and art demonstrations will be available free to the public.
St. Mary Parish, also known as the Cajun Coast, is a gem for experiencing the great outdoors in Sportsman's Paradise. Surrounded by the waters of Bayou Teche, Atchafalaya River, and the Atchafalaya Swamp Basin, the Cajun Coast is known for its natural splendor and "road less traveled" atmosphere.
Options for exploration, relaxation, and excitement abound on both water and land.
Find your calm among the serene wilderness of the Atchafalaya National Heritage Area or along the Bayou Teche Scenic Byway. Boaters enjoy the waters of the Atchafalaya Basin, the largest overflow swamp, as well as the scenery and sounds of the Bayou Teche National Wildlife Refuge.
Golfers love the Atchafalaya at Idlewild, which was rated the number one golf course in Louisiana by Golfweek Magazine in 2008 and 2009 and number two by Golf Advisor in 2017.
This fall, experience the Louisiana Shrimp & Petroleum Festival during Labor Day Weekend, September 1-4. On October 7-8, paddle the Tour du Teche or explore the Berwick Lighthouse Festival. The Harvest Moon Fest in Franklin and the Patterson Fall Fest both celebrate the season on October 28. For more information, visit CajunCoast.com.
Lafayette is at the heart of Louisiana's Cajun and Creole Country, an area known for letting the good times roll, or as they say it, laissez les bons temps rouler, and people are starting to notice. The Wall Street Journal's MarketWatch.com recently named Lafayette as the "Happiest City in America," and it's no mystery why. With their distinctive blend of food, music and culture, it's no wonder people from all over are heading down south with a smile on their face.
Lafayette's annual Festivals Acadiens et Créoles (October 13-15) provides the ideal opportunity to discover Lafayette's unique blend of food, music and culture. For over 40 years this free festival has offered locals and visitors alike the opportunity to experience three days of nonstop music, dancing, food as well as crafts and a genuine Cajun and Creole experience like no other.
Visit LafayetteTravel.com/
FestivalAcadiens for performance schedule, lodging, and travel information.
Whether it is football you crave, high-speed drag racing, historic plantation homes, scenic views of the Mighty Mississippi, or a fun festival, West Baton Rouge Parish has it all.
On September 10, don your poodle skirt and bobby socks for the Oldies But Goodies Fest. On October 1, learn all about Sugar Cane and life on a plantation at the Annual Sugar Fest. Honor the men and women of our armed services on November 5 at Veterans on Parade. Finally, look forward to Reflections of the Season, which opens December 7 and features a month of holiday lights, activities, horse drawn wagon rides, snow, ice fishing and more.
Stop in at Exit #151 and visit the 13', 760lb. alligator "Moby" at the West Baton Rouge Tourist Center. Visit WestBatonRouge.net for details and more.
Shreveport-Bossier is making waves! The all-new Shreveport Aquarium is now open in downtown Shreveport. Visitors can view and interact with more than 3,000 animals including sharks, rays, octopus, jellyfish, and more. Shreveport Aquarium is also home to Salt, a contemporary American restaurant that emphasizes sustainable sourcing and offers a unique riverfront dining experience. For more information, visit ShreveportAquarium.com.
There are lots of great reasons to visit Shreveport-Bossier this fall, including some of the biggest festivals in northern Louisiana. The Highland Jazz and Blues Festival returns to Columbia Park on Saturday, September 16 with performances from Marc Broussard, Chris Thomas King, and Maggie Koerner.
The Red River Revel Arts Festival will present four stages of entertainment and more than 100 artist booths in Shreveport's Festival Plaza, September 30-October 7. The Louisiana Film, Music, and Food Prize Festivals will bring live music showcases, film screenings, and more to downtown Shreveport, October 4-8.
For more information, destinations, and events visit Shreveport-Bossier.org.
Football season is in full swing in Louisiana's College Town! Home to Louisiana Tech University and Grambling State University, Ruston & Lincoln Parish welcome fans from across the state to enjoy game day activities and cheer on the home teams.
Loyal Blue Weekends kick off September 1st in Downtown Ruston with live outdoor concerts, pep rallies with LA Tech spirit groups, and your favorite Louisiana food and brews. Bulldogs fans and visiting teams can avoid game day traffic this season by parking downtown. Enjoy shopping and dining options prior to kick-off or get a ride to tailgating activities. Shuttle buses will be running from downtown to the stadium continuously and free of charge!
Historic Downtown Ruston is thriving with boutiques, specialty and gift shops, restaurants, art galleries, and cultural events. Plan a visit this fall for Ruston Makers Fair, a festival featuring the works of local artists, designers, and makers of all kinds, and ARToberfest, a celebration for beer enthusiasts offering craft beers, live music, and food trucks!
For more information and events, or to plan your visit to Ruston & Lincoln Parish, visit ExperienceRuston.com.
The Alexandria/Pineville area, located halfway between I-10 and I-20 along I-49, comes alive in the fall with festivals, fairs, events, and concerts. Cycle your way through Central Louisiana during the Le Tour de Bayou cycling event hosted by Kent Plantation House on Saturday, September 16. Cyclers from across the United States ride up to 101 miles during the event.
Enjoy the sounds of the Rapides Symphony Orchestra during their annual "Pops on the River" concert at the Alexandria Amphitheater on Saturday, September 30. Get ready to get funky on October 7 with the 3rd Annual Funktoberfest, central Louisiana's original outdoor craft beer and music festival featuring a home brew competition. On October 19, come out and enjoy great music and drinks while sampling Cajun and Wild Game dishes at the 17th Annual United Way Wild Cook-Off. Finally, on October 20, search for unique art pieces as the Fall ArtWalk takes over the streets of Alexandria's Cultural Arts District. This annual event features art, music, dance, and art demonstrations, along with an array of craft vendors.
Visit AlexandriaPinevilleLA.com or call 1-800-551-9546 for details on these events and more!
Accommodations & Entertainment
Four Points by Sheraton French Quarter is located in the heart of the French Quarter on world-famous Bourbon Street. They offer 186 comfortable guest rooms, more than 4,000 square feet of market-leading meeting facilities, a recently renovated, tropical courtyard with an outdoor pool, 24-hour fitness center and more.
Café Opera, Four Point's full-service restaurant, features a classic New Orleans menu of Creole and continental cuisine. Guests can also enjoy a wide section of specialty drinks at the Puccini Bar.
Four Points by Sheraton French Quarter is located on the site of the French Opera House (1859-1919), a legendary New Orleans cultural venue. Their performance series, "Opera Returns to Bourbon Street" features local operatic talent from the New Orleans Opera Association and local classical vocalist group Bon Operatit!
Four Points by Sheraton French Quarter is located at 541 Bourbon Street. For reservations and more, call 866-716-8133 visit
FourPoints.com/frenchquarter.
Plan your visit now to Alexandria, Louisiana, for this November 30th through December 2nd. For three days, downtown Alexandria will be magically transformed into a winter wonderland with snow, ice rinks, snow globes, and all the sights and sounds of the winter holiday season. The streets become a holiday village with shops selling unique gifts, cakes and cookies, as well as art, crafts, and jewelry.
Children laugh, Santa visits, sleigh bells ring, and egg nog flows as people mingle, shop, skate and sled to the sounds of street performers delighting the crowds. Stellar music fills the fete at two big bandstands while fireworks light up the night sky, and no one wants the festival to end.
Join friends and family at the LTPA's 2017 Louisiana Festival of the Year, AlexWinterFete. Learn more about the festival and lineup at AlexWinterFete.com.
Regional Travel
Louisiana truly has the best of all worlds. Captivating outdoor environments are accompanied by the unbeatable sounds you'll hear inside its music venues. Its arts scene is rivaled by historic architecture. When you visit and explore what Louisiana has to offer, you enjoy a variety of unique, memory-making experiences that you just can't find anywhere else.
Love the great outdoors? Then Louisiana is a must-visit. Where else can you paddle through cypress forests, camp by a bayou or bike through groves of live oaks, all in the same day? And when enjoying the outdoors in Louisiana, you're never far from delicious food, live music, and the captivating locals welcoming you with open arms.
There's so much to see, do and explore in Louisiana—no matter your passion, follow it here and let Louisiana dazzle you. Visit LouisianaTravel.com for more details on hundreds of outdoor adventures.
Situated high on the bluffs above the Mississippi River, Vicksburg, Mississippi, serves as the "Key to the South" and prides itself on its perfect location as a midway point between Memphis and New Orleans.
If you are in search of the elusive sound of the Mississippi Delta Blues, you will find it in Vicksburg. Live Mississippi music from the Delta Blues to country and rock can be enjoyed at venues throughout the city. Learn American history by visiting the site of the defining battle of America's defining war at the Vicksburg National Military Park. Enjoy the southern charm of Vicksburg by strolling the brick-paved streets of its historic downtown. Visit eclectic boutiques, art galleries, and various eateries featuring Southern specialties. Enjoy sweeping views of the mighty Mississippi River and some of the most beautiful sunsets imaginable.
Relax—it all runs on river time! For more to see and do in Vicksburg, go to VisitVicksburg.com or call 1-800-221-3536.
Arkansas is the perfect fall getaway—it's fun, affordable, and not too far from home. As soon as you spot the "Welcome to Arkansas, The Natural State" sign, you'll notice natural beauty around every turn.
Continue northwest through the Ozarks to experience what Travel + Leisure called one of "America's Best Fall Color Drives." In this region is the world-class Crystal Bridges Museum of American Art in Bentonville. On the way home, stop in Central Arkansas to see the capital city of Little Rock. The Clinton Presidential Center is located downtown, walking distance from shops, restaurants, museums, coffee bars and craft breweries. Rent a bike for a beautiful ride on the Arkansas River Trail, which extends to Pinnacle Mountain State Park. Just an hour away from Little Rock is Hot Springs National Park, famous for its naturally thermal waters on Bathhouse Row.
Visit Arkansas.com, or call 1-800-NATURAL to plan your trip today.