Tops of Acadiana
In our June/July issue and on our website, we included a ballot for you, to cast your votes for your favorite people, public figures, places, activities and shops in Acadiana. We tallied up the votes and can now present you the winners.
FAVORITE LOCAL STATION: KATC
Starring the aforementioned Favorite News Anchor, Favorite Sports Reporter and Favorite Meteorologist, it's not a huge shock that KATC is our readers' Favorite Local Station. The area's ABC affiliate covers the spectacle that is Lafayette and its surrounding towns better anyone. It begins with the popular, "Good Morning Acadiana," – a sometimes serious, sometimes silly kickstart to the day hosted by Tracy Wirtz. From there, Marcelle Fontenot and Jim Hummel anchor the 5 p.m., 6 p.m., and 10 p.m. broadcasts. katc.com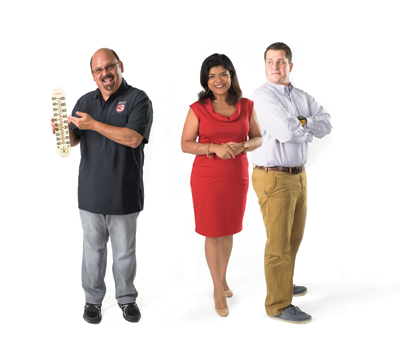 Meteorologist Rob Perillo, News Anchors Marcelle Fontenot, and Sports Reporter Travis Webb
---
FAVORITE METEOROLOGIST: Rob Perillo, KATC
Sure, you could go to the window, pull back the curtain and look outside. OR, you could stay on the couch and watch Acadiana's favorite transplanted son, Rob Perillo, cheerfully entertain you with the day's forecast. Arguably the most trusted, beloved and recognizable Lafayette media personality, Perillo has tracked hundreds of storms and hurricanes during his colorful tenure, including big boys (and girls) Ike, Gustav, Katrina and Rita.
---
FAVORITE NEWS ANCHOR: Marcelle Fontenot
Trustworthy. Accurate. Fair. Informative. Consistent. Talented. Likable. Giving. Charitable. There are a dozen more superlatives worthy of describing KATC's Marcelle Fontenot, but only so much space, so we'll stop. On the scene and screen since 2004, Fontenot's familiar face can be seen on the 5,6, and 10 o'clock newscasts. She's been the local voice of authority for a handful of hurricanes and other events that have gripped the area. Fontenot is also fully entrenched in community betterment, volunteering with groups like the American Cancer Society and Big Brothers Big Sisters.
---
FAVORITE LOCAL SPORTS REPORTER: Travis Webb, KATC
For all things round and bouncy, hit up KATC's Travis Webb. He's so much more than just scores. A native of Crowley and product of sports journalism factory Syracuse University, Webb is a multi-time winner of The Associated Press's "Best Local Sportscast Award" and has been present at every sports moment worthy of hanging on a bar room wall – from UL's New Orleans Bowl dynasty to the New Orleans Saints Super Bowl triumph in 2010
---
FAVORITE GOLF COURSE: Le Triomphe
Golf – the sport of masochists and once referred to as "A Good Walk Spoiled" – becomes a lot more tolerable when played at LeTriomphe Country Club in Broussard. Home to a PGA Tour event, the Robert Trent Jones Jr., designed course features 12 holes in which water comes into play, fairways lined with rolling hills and large greens that play to a Par 72. Both Golf Digest and Golf Week named LeTriomphe as one of the Top 5 courses in Louisiana. letriomphe.com
---
FAVORITE SPA: Spa Mizan
There's a very specific place to go when you're looking to get away from it all – Spa Mizan on Kaliste Saloom Road in Lafayette. With an expansive 8,500 square-foot set up, Spa Mizan offers plenty of room and plenty of ways to treat yourself. On the services menu are more than a dozen massage and body wrap options, including the spa's trademarked Stress-Fix procedure that incorporates the essences of Lavender, Lavandin, Clary Sage, Frankincense and Vetiver into a Swedish deep-tissue massage. There's also a hair salon, nail care and waxing specialists on site. spamizan.com
---
FAVORITE SEAFOOD RESTAURANT: Don's Seafood Hut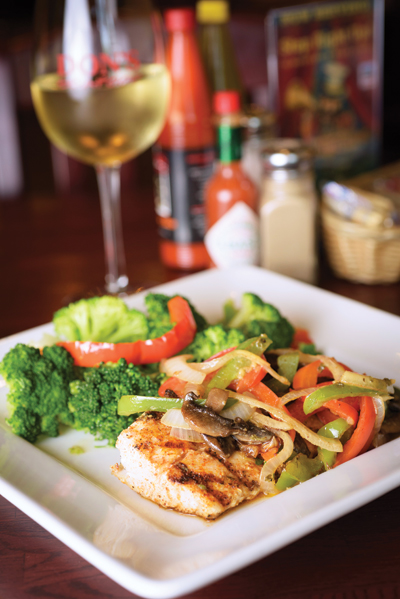 As far as track records and reputations are considered, good luck finding anything rivaling Don's Seafood in Lafayette. The place has been packed since 1934, and doesn't show any signs of slowing down four generations later. The interior is comfortable, matching the décor of the region, but most eyes are focused on the intricate plates and liberal portions. Anything that swims is fried to perfection. For those incapable of making decisions, order the Don's Seafood Platter – it's got crab, shrimp and oysters prepared a couple different ways. donsseafoodonline.com
---
FAVORITE STEAKHOUSE: Ruth's Chris
Carnivores love to congregate at the national chain with Louisiana roots – Ruth's Chris on West Pinhook. All signature steaks – filet, T-bone, ribeye, New York strip and porterhouse – are served on 500-degree plates that signal their arrival with a sizzle. Then, there are the drool-inducing sides: asparagus, mashed potatoes, creamed spinach, broiled tomatoes and sauteed mushrooms. ruthschris.com
---
FAVORITE COFFEE SHOP: The Lab
When your co-worker says, "Don't talk to me until my first cup of coffee," tell them to get out of here with that attitude. Then, tell them to go to The Lab in River Ranch. They take coffee seriously. The Lab – as you might suspect with their name – is always tinkering with blends and temperatures to create the perfect cup of Joe. thelabexperience.com
---
FAVORITE SPOT TO GET BOUDIN: Billy's
Because we love picking a fight, this category was included for a second straight year. And, because opinions on this topic are more heated and spicier than the first bite of these delectable links, we (not surprisingly) have a new winner: Billy's in Scott. According to boudinlink.com – the unofficial boudin bible – Billy's scored a perfect A+ grade thanks to its aroma, flavor and equal meat-to-rice ratio. Oh, it's also got a boudin drive-thru at the store, meaning there's no reason to leave your Lexus for a link, anymore.
---
FAVORITE SANDWICH SHOP: Old Tyme Grocery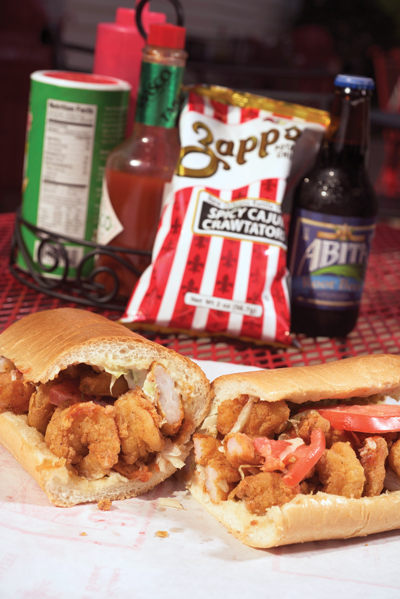 People are particular about their poor boys – from the bread, the meat, how it's dressed, heck, even how it's spelled and pronounced. With that established, many locals and tourists agree the folks at Olde Tyme Grocery do a lot of things right, and have been doing it for more than 30 years. The quaint corner store on W. St. Mary features a menu with the usual suspects: roast beef, shrimp, oyster and ham. For those seeking a variety of tastes per bite, try the Olde Tyme Special: ham, turkey, roast beef and Swiss. oldetymegrocery.com
---
FAVORITE B&B: T-Frere's House
Southern elegance, beautiful décor, lush grounds to walk upon and decompress from the everyday grind. Oh, and fried eggs! What more could a person want?!?!?! It's all at T-Frere's, a historical bed and breakfast that dates back to the 19th century. Equipped to accommodate 20 guests, T-Frere's features six bedrooms in the main house and two more guest rooms in the garconniere. Rumor has it, the place is haunted. tfrereshouse.com
---
FAVORITE ITALIAN RESTAURANT: Marcello's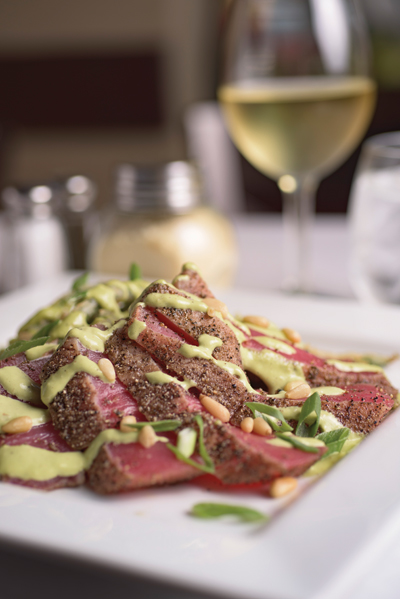 For those seeking quality Italian cuisine, skip the trip to Sicily (and the hurt on your wallet) and travel to South Lafayette, instead. That's where you'll find Marcello's Wine Market Café, a shop-and-sit experience where you can pick out a bottle of wine from the retail section and enjoy it along with an order of pollo arrostito in the restaurant section. As far as recommendations, be sure to start with the mussels and follow that with the lamb ragu. You'll thank us. marcelloscafe.com
---
FAVORITE MUSEUM: Children's Museum of Acadiana
Forget touchscreens, kids. This place is touch everything! The Children's Museum of Acadiana – located in the soul of downtown Lafayette – is the ultimate hands-on edutainment experience for both young and old. Be sure to check out exhibits like "Ami – The Acadian Ambulance," a full-sized ambulance complete with loud sirens and bright lights. Also, take a stroll down Architecture Alley, which consists of enough building blocks to construct anything imaginable, and don't miss out on Le TV des Enfants, a kids-only newsroom sponsored by KLFY. childrensmuseumofacadiana.com
---
FAVORITE PLACE FOR LIVE MUSIC: Downtown Alive!
A Friday-night, new-age Cajun tradition, Downtown Alive! Isn't as much a "place" for live music, but rather a "state of mind" for live music. Split between Parc San Souci and Parc International depending on the date, Downtown Alive! features family-friendly bands that still pack a bit of a punch on stage. That energy usually spills over onto a crowd of hundreds and sometimes thousands. The 2015 fall lineup is punctuated by Zydeco/Cajun music heavyweights The Pine Leaf Boys on Nov. 25.
---
FAVORITE RADIO PERSONALITY: CJ & Debbie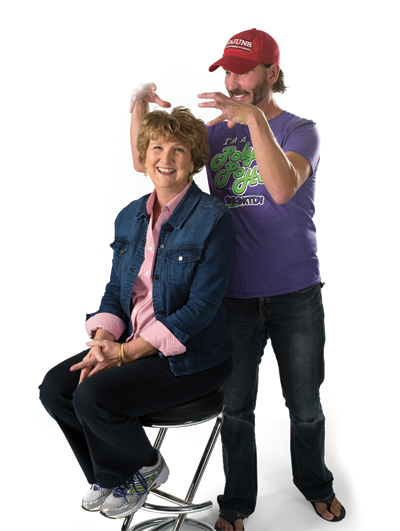 The show is like Red Bull for your ears – an amazing jolt in the morning. Residents have been waking up with CJ & Debbie Ray of 99.9 FM KTDY for two decades. Always equipped with a surplus of spunk despite the early mornings, the dynamic duo really ramps things up at the end of the week, hosting the Polyester Power Hour – a '70s and '80s retro request format that contrary to its name lasts for 3.5 hours. Research shows the streaming version of the Power Hour is heard in 30 countries, as Friday's ratings come close to tripling the Monday-Thursday audience.
---
FAVORITE CHEF: Holly Goetting at Charley G's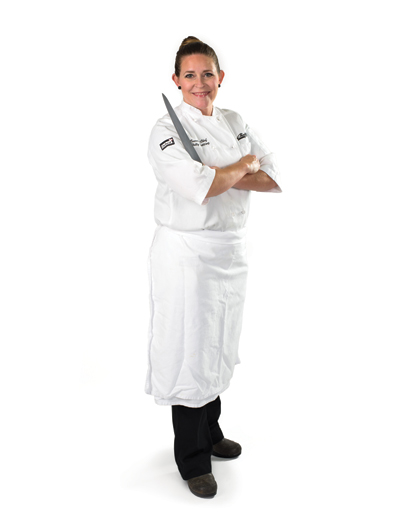 Holly Goetting is proof childhood dreams do come true. As a kid, all she ever wanted to do was cook. And that's what she now does for a living. For more than 10 years, Goetting has served as the executive chef at Charley G's in Lafayette. A graduate of the John Folse Culinary Institute at Nicholls State in Thibodaux, has pushed the boundaries of the menu, exploring and experimenting to keep Charley G's a must-visit dining destination.
---
FAVORITE JEWELER: Paul's
At this Oil Center landmark, all that glitters is gold…or silver, or platinum, or is busting with diamonds, or perhaps enough birthstones to cover the calendar. Point is, Paul's inventory is more blinding than the surface of the sun. Selling shiny things since 1954, Paul's family-run operation is a full-service jewelry store capable of outfitting customers for a night-on-the-town or for the ring to symbolize happily-ever-after.
---
FAVORITE BANK: Iberia Bank
With a litany of locations throughout Acadiana, Iberia Bank is the perfect place to handle all of your financial needs. Whether you need a roll of quarters for laundry or a home equity loan, Iberia Bank has plenty of educated, smiling faces to take care of you.
---
FAVORITE CHARITABLE EVENT: Camellia Crossing
Camellia Crossing's "Gleaux Run" is a run/walk that benefits families across Acadiana who are fighting cancer. A $25 donation helps purchase wigs, nutritional supplements and more, which the Miles Perret Cancer Services provides to families at no charge. It takes place on the evening before Thanksgiving. milesperret.org/camelliacrossing
---