Top 20 Stories in Acadiana Profile (1975-2010)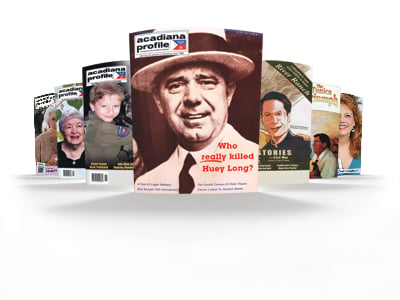 What a flood of memories!
In preparing to write this column as my fifth installment in conjunction with the 45th anniversary of Acadiana Profile, I began going through past issues of the magazine. My goal was to survey the issues published during my tenure as editor and publisher (1975-2010), then identify what I felt were the top 10 most interesting stories.
At the outset, I imagined it would be a simple, straightforward task. But I was mistaken. I couldn't just survey the material; I found myself stopping and reading, and reminiscing and savoring what I was seeing.
My life flashed before my eyes as I made my way through the back issues. That's because for most of my adult life, I ran this magazine. It was more than just a job; it's who I was. One of my constant and dominant thoughts during these 35 years was to put out a high-quality magazine with really interesting stories – to be the Reader's Digest of South Louisiana.
Many of these articles aren't merely about the people, places and things of Acadiana; they're about the very fabric of life here, about the heart and soul of our part of the country.
In going through our archives I rediscovered so many interesting stories that I was unable to hold this column to just the Top 10. So, I divided the material into two groups of 10.
The first group, penned by a wide variety of writers, is presented in this column. I've added the date of publication plus the volume and number, in case anyone would like to look up these articles and read them in their entirety. (Try your local library, and if you can't find these issues drop me a line, and I'll mail you a photocopy of an article or two.)
"The Past Life Memories of James Leininger" (December 2004, 24/3) By Wes Milligan
This 6-year-old Lafayette boy was having recurring nightmares about being shot down and crashing his fighter plane off the Japanese coast in World War II. He recalled the tragic event in great detail. But the amazing thing is that he wasn't born until 53 years after the war. Could he have been the reincarnation of fighter pilot James Huston Jr.?
"The Enchanted World of Mary Alice Fontenot" (October 2003, 23/2) By Julie Fontenot Landry (Mary Alice's daughter)
Mary Alice was surely one of Louisiana's best-known and -loved authors of children's books. The characters she created – especially Clovis Crawfish – live on in the hearts and imaginations of many, many children. Among the most prolific writers in Louisiana history, her career as a journalist and book author spanned more than half a century as she informed and entertained three generations of readers, young and old alike.
"The Ghosts of Vietnam" (June 2003, 22/6) By Joan T. Broussard (widow of Brad Broussard)
Giving one's life for one's country doesn't necessarily mean being killed on the battlefield. For 30 years, Brad Broussard suffered with Post Traumatic Stress Disorder (PTSD) resulting from his tour of duty in Vietnam. He found peace and reconciliation in the last months of his life, thanks in part to his friend, Fr. Louis Lam Vu, pastor of St. Anne's Church in Youngsville. Fr. Vu was a seminarian in Saigon in 1975 and barely escaped with his life shortly before the city fell to the enemy.
"Trapped by Hurricane Audrey" (September/October 1997, 18/4)
By Brent Broussard
In June of 1957, Stephen and Florence Broussard of Pecan Island decided to wait a while before fleeing with their children from Hurricane Audrey. It seemed to them that the storm was headed for the nearby Texas coast. They guessed wrong. (The story's author was 9 years old at the time of the hurricane.)
The Tunica Triumph (September/October 1995, 17/1)
By Jefferson Hennessy
Earl Barbry, chairman of the Tunica-Biloxi Indians of Marksville, was among the leaders in the heroic battle to have the "Tunica Treasure" returned to its rightful owners, the Tunica. The treasure – consisting of some 200,000 artifacts that were buried along with deceased Tunica people, mostly in the 1700s – was dug up in the late 1960s by a Bunkie man who had it shipped to the Peabody Museum in Boston in an attempt to sell it. Many of these grave goods are on display today at the Tunica-Biloxi Museum in Marksville.
The Treasures of Avery Island (4th Quarter 1990, 14/4)
By Diane Moore
One of Louisiana's leading tourist attractions, Avery Island is home of the Tabasco factory that turns out the world-famous Tabasco brand pepper sauce; the exotic Jungle Gardens, with its azaleas, camellias, moss-draped oaks, white-tailed deer, nutria and alligators; and "Bird City" sanctuary with flocks of snowy egrets, herons, ducks and geese.
"Who Really Killed Huey Long?" (First Quarter 1985, 11/6)
By Ed Reed
If Carl Weiss supposedly shot Huey Long with a .32-calibre pistol, why did the "official" investigation cover up the fact that a .38 slug was found in the body? And why wasn't an autopsy allowed?
"God Bless The Illiterate Man Who Taught Me To Read" (July/August 1999, 19/6) By Pierre V. Daigle
In December of 1934, in the depth of the Depression, the author asked his grandpa, Polus Doucet, for $4 to buy a dictionary. The request was granted, The Universal Dictionary of the English Language was bought as a Christmas present via mail order from Chicago, and young Pierre became not only a reader but also a writer and a teacher.
"My Most Unforgettable Character" (First Quarter 1994, 16/1; originally published in Reader's Digest, November 1970)
By George Veazey
Ulysse Veazey of Pecan Island, whose son wrote this article, was a giant of a man who built a two-story house with his own hands and provided for a family of 20 (including 11 children of his own and 7 in-laws he had taken upon himself to raise). Though he was illiterate, he taught his children the value of an education as the ticket to a better life.
"Life After Hurricane Rita" (March/April 2008, 27/4)
By William Kalec
Residents of the forgotten town of Cameron struggled as they rebuilt their community after it was flattened by Hurricane Rita in September 2005. The hope, faith and resiliency of its citizens were evident, though the destruction was nearly unimaginable. (Hurricane Rita hit only a few weeks after the more notorious Hurricane Katrina.)
To be continued…
Coming next: The rest of the Top 20 articles