Tile Style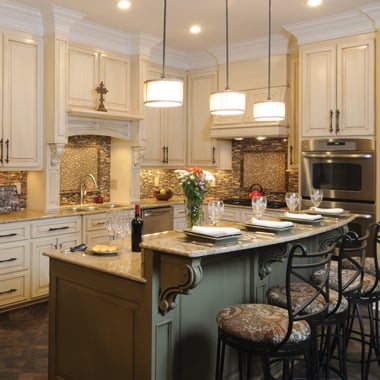 Jared and Carla Bellard
Lafayette
What did you feel was important in the kitchen of your recently built home?
Carla: Our home has an open floor plan, so I felt the color scheme should be neutral, which I did with the cabinets, painted a cream with brown antiquing. To make the island stand out but still remain neutral, I used a sage green that also has an antiqued finish.
How do the tiles work in this scenario?
Carla: There needed to be a pop, so I accomplished this with the rectangular finger tiles that show varying shades of brown. The half-inch tiles set in picture frames in the back of the stove and the sink are seen from the living room, and that looks really nice. United Tile of Lafayette LLC is where the tiles were purchased.
How else did you make your kitchen more attractive when viewed from the living area?
Carla: What shows is the raised part of the island with my bar stools but not the part that is lower in the kitchen area. My microwave is incorporated in this part of the island, so that takes it out of the visual, too. The corbels on the higher side were a nice decorative addition.
What materials are your floors and countertops made from?
Carla: My countertops are granite in coordinating hues while my floors are 24-by-24-inch amber-colored porcelain tiles laid in a 45-degree diamond pattern.
What thought process brought about the cabinet section with the clear glass-paneled doors?
Carla: I wanted to add a piece of furniture there, but my designer, Christi Latour of Latour Interior Design LLC, suggested we just add this instead to show some of the nice decorative items I had. She was a great help in my selection of everything you see in our kitchen.

Iggie and Tia Castille
Lafayette
Were there some features you knew you wanted in your kitchen prior to building your home?
Tia: Although Crissy Greene of Elle Design & Décor LLC in Lafayette helped me in selection of color shades, material textures and more, I was definite about the cabinets being white, having antique pine floors in a dark stain and that there would be a double-freezer fridge.
How did your family size affect your kitchen design?
Tia: My husband and I have four children, so seating around the island was important for daily use. We also offset the round dining table nearby for convenience. Using white fabrics to upholster the chairs seems impractical, but they have all been fiber-sealed. I like the way the white contrasts with the dark flooring.
Was there anything else you incorporated in your kitchen that added to its function or looks?
Tia: Having a pot faucet installed in the back of the stove has been a real help when cooking gumbos and soups. Also the cabinet above the second island that separates the keeping room from the kitchen has glass doors on both sides. It takes the place of a china cabinet in displaying my nice crystal, pewter and porcelain pieces. Another decorative feature involves the bottoms of the cabinets, which have legs like furniture would. I especially like how that looks.
Is there a certain style you feel your kitchen exhibits?
Tia: We're beach-lovers, so I was inspired by years of going to Seaside and Rosemary Beach in Florida, making "coastal" the best way to identify it.

Owen and Melanie Goudelocke
Lafayette
How would you describe your kitchen in terms of style?
Melanie: The best way would be a French kitchen with Louisiana flavor. I have remained true to this look even in former homes, including the use of the same Brunswick wallpaper in all of my kitchens.
Did you use an interior designer to achieve what you wanted?
Melanie: Yes, I chose Rita Durio of Rita Durio & Associates in Lafayette because I felt like she would be the best one as far as interpreting what I wanted.
What is your favorite feature?
Melanie: Having a DCS high-powered commercial range with six burners has made cooking for guests a real pleasure.
What other features are special to you?
Melanie: The old cypress cabinets really bring a warmth to this room as well as the brick floors laid in a basket weave pattern. They both offer a wonderful surface that allows my collection of flow blue china plates and antique teapots to stand out.
Do you eat most meals in the kitchen?
Melanie: [The island] makes a great buffet area for serving guests, [but] I prefer not to eat in the vicinity where I have prepared meals. We have an adjacent keeping room that offers an extended space for easy socializing between both rooms.

Allen and Christi Latour
Lafayette
You say you have renovated your master bath within the past year. How much was involved in the change that took place?
Christi: Our home is seven years old, and our bathroom seemed like it had no personality, that it looked like plain vanilla. We went all the way gutting it to the studs.
As a designer with your own business, Latour Interior Design LLC in Lafayette, did your access and connections help with your choices?
Christi: I am constantly coordinating baths for my clients, so I am up with the latest in the market. At the time, I came across a new concept, penny round tiles in a blend of aquamarine, sand and green hues. The variations of color and the finish, shiny and matte at the same time, are a really great combination with the custom cabinets built by Cabinets Plus LLC in Youngsville of sapele wood. As an alternative to Brazilian mahogany, this wood has a beautiful grain with a rich warm appeal. The mosaic also matches perfectly with the blue in the double vanity mirrors.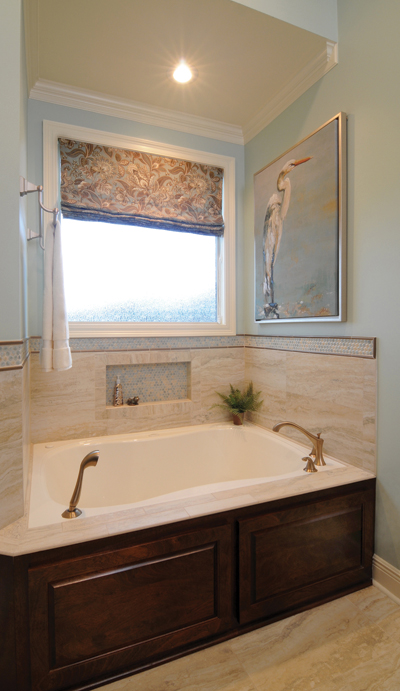 What are some other selections that helped you finish your renovation?
Christi: Well, granite was too busy for my countertop, so I used a 100 percent recycled material manufactured by IceStone, which consists of glass, Portland cement and pigment. Again, I wanted a lighter look this time in the flooring, shower walls and tub surround, so I chose 12-by-24-inch porcelain tiles in a sand tone that are designed with the veins in a linear direction. I finished by adding champagne-colored plumbing fixtures in a brushed bronze that I found at LCR The Plumbing Warehouse in Lafayette.
How would you best describe the style that you wanted to achieve?
Christi: "Transitional" is a new term that has become popular as it describes a mix of contemporary and traditional. I think it can be considered classic for the long term.

Tim and Karen Bearb
Lafayette
What made you choose Crissy Greene of Elle Design & Décor LLC in Lafayette as your interior designer?
Karen: At the time my husband and I were working on our house plans, we attended the Parade of Homes in Lafayette. It was 2011, and Crissy's personal home was one of them. I fell in love with the country French style she had done for herself.
What specific feeling did you want your own master bathroom to convey?
Karen: I wanted mine to visually lean to the formal but
to still generate a comfortable atmosphere.
What features were incorporated to achieve this?
Karen: Above the granite counter hangs an elegant and rather ornate oversize European-style mirror flanked by sconces with attached crystals. Another is the travertine 4-by-18-inch stone floors set in a herringbone pattern.
Were there any unique custom innovations that you particularly enjoy?
Karen: The taller cabinets in my bathroom have antique mirrored glass at the top overlaid with mullions set in a diamond-shaped design. With the addition of an antiqued blue finish, the look is very rich. A favorite of mine is the corner cabinet offset from the vanity that not only houses my curling iron and rollers but also has outlets for connecting them. Another great idea was the [addition of] cabinet panels alongside the garden tub that store small bath-related items.
Anything else you would like to add?
Karen: Other than the garden tub, we also enjoy our walk-in shower walled with granite that sports a granite bench, too. Our plumbing fixtures have an oil-rubbed bronze finish.

Iggie and Tia Castille
Lafayette
How did you envision your master bath when planning your home?
Tia: As in my kitchen, I knew that white would dominate the bathroom color scheme. That would include the cabinets, floors and walls. To provide a break and a nice contrast, [for] the countertop, walls of the shower and a mosaic floor inset, Carrara marble in light gray tones was used.
What about your hardware and plumbing fixtures?
Tia: I was certainly consistent with that, too. Chrome was my choice for everything, including the feet on my old-fashioned tub. These we got from Southern Bath & Kitchen in Lafayette.
What were some special features that you added?
Tia: The shaded wall lighting that matches the ceiling fixture brings an elegant feel to my bath as well as the glass knobs on our closet and bathroom doors. Add to this the teak wood of the double-door opening from bedroom to bath, which was used throughout our home. Another is the rich detailed crown molding that is also repeated in all of the rooms.
What else do your closet and bathroom doors exhibit?
Tia: They were custom-designed to show an architectural sort of embossment that certainly enhances them.
Who helped with your bathroom design?
Tia: We're a busy family like most, so I relied heavily on Crissy Greene to scout for the things that I knew I wanted. She provided the choices that I selected from.