The Writer's Assistant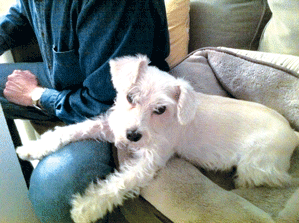 For 20 or 25 years now, I've been writing and editing with the assistance of my dogs – miniature schnauzers. First, there was Pepper; now there's Campbell.
Their mere presence, curled up in their daybed a few feet from my desk, has helped to bring about a sense of peace and quiet and calm – a condition I need in order to concentrate and to do my best work.
I think of Campbell not only as a dog but as a "fellow being," a term I picked up some years ago while watching a National Geographic piece on the tube. (St. Francis of Assisi would like the term; he often referred to his fellow beings as "brother" or "sister" – brother wolf, sister bird, brother sun, sister moon. He expressed his reverence for all God's creatures in The Canticle of the Creatures, also known as The Canticle of the Sun.)
When we're working, Campbell and I, she's generally quiet and still, content in the knowledge that she's doing her job. Now, she does like to take breaks from time to time, to play with her squeak-toys and to play chase with the squirrels. Sometimes, while I'm bent over my desk editing, I'll feel a paw on my shoe. I'll look down and see her toy skunk or bear dropped at my feet. I'll admit, I am unable to resist a few minutes of playtime. After all, Campbell doesn't ask for much.
Then there's the game we call squirrel-chase. When she spots a squirrel digging in the potted plants on our patio, she feels compelled to respond. So I open the door, and she tears out of the house, and the chase is on! She'll chase the squirrel – or three or four at a time on a good day – up the tree and then circle the tree, barking as if to say, "And stay out of my mama's flowers, you nasty little things!" After the chase, she tends to linger outdoors, so I bribe her with the word "treat," at which point she flies back into the house.
After enjoying the treat – she never met a treat she didn't like! – she prances back into our study, hops into her daybed and licks her paws a while. Then we resume our respective jobs – I as writer and editor-in-chief, she as my special assistant and No. 1 fan.
My attachment to my dog is not so unusual. Over the years I've read about other writers – far better known than I – who worked best with their dogs at their sides.
Ernest Hemingway, for instance, had a dog named Black Dog. A springer spaniel mix, Black Dog just wandered into Hemingway's ski cabin at Sun Valley, Idaho, one day. The poor thing was frightened, starving and very cold, according to biographer A.E. Hotchner.
"Ernest … patiently and lovingly built up his weight, confidence and affection to the point, Ernest said, that Black Dog believed he was an accomplished writer himself," Hotchner reports.
Describing his dog's fidelity, Hemingway wrote: "He needs 10 hours' sleep but is always exhausted because he faithfully follows my schedule. When I'm between books, he is happy, but when I'm working, he takes it very hard. … He thinks he has to get up and stick with me from first light on. He keeps his eyes open loyally. But he doesn't like it."
Og Mandino, author of several inspirational books, including The Greatest Salesman in the World, had a basset hound named Slippers, who assisted him for 12 years.
"Very often, late in the evening, he would doze off as I labored over my noisy typewriter, but his eyelids never quite closed shut … as if he were still standing watch in case I needed him," Og wrote in the dedication to one of his books.
"I talked out hundreds of writing problems with him over the years, and he always listened with great patience and understanding. So many character and plot twists came about as a result of my bouncing ideas off him that I'm not certain how I'm ever going to function without him.
"… If this book ever gets published … it will only be because I know you're up there on your little heavenly sofa, still cheering and barking for your old buddy."
Which brings me to the subject of dogs and the afterlife. I plan to explore this enchanting possibility – no, probability – in an upcoming column. I'll delve into two profound theological questions related to our canine companions:
1. Could it be that dogs are actually angels sent down from heaven to build our sense of self-esteem and help us to slow down and live at a more human pace?
And 2. Will we see our dogs in heaven?