The Missing Missionary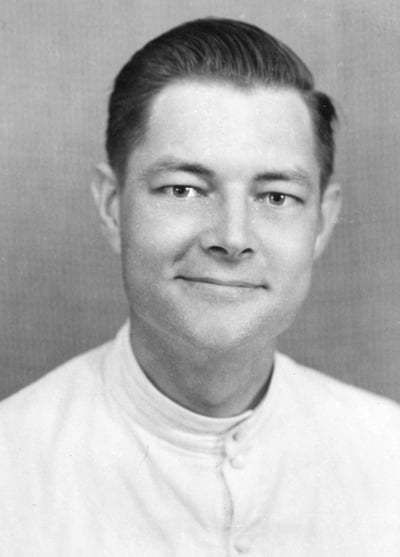 The disappearance of a Jesuit missionary, a South Louisiana native, remains a mystery today, nearly 25 years after he seems to have vanished from the face of the earth.
Fr. Eugene John Hebert, S.J., was born in Jennings on Oct. 9, 1923, and educated in Lake Charles and Lafayette before entering the Jesuit novitiate at Grand Coteau in 1941.
He was a missionary to Ceylon (now called Sri Lanka), an island-nation off the coast of India. He was assigned to one of the schools built there by the New Orleans Province of the Jesuit order.
While in Ceylon he established a technical institute, a trade school, and taught what we Americans used to call "shop." He also taught various other subjects in the classroom, coached basketball, and even established a performing band – which was quite a sensation in a place that had never before seen or heard such a thing.
Fr. Hebert was well-liked by his students and by his fellow Jesuits. He was considered a peacemaker among the island's various religious and ethnic factions – who were suspicious of and often hostile toward one another.
On Aug. 15, 1990, Fr. Hebert was informed of a conflict among the Tamils, Muslims, and Hindus in a village 25 miles from where he was stationed. He hopped on his motorcycle and drove to the village to try to make the peace. His efforts were fruitful and the potential violence was averted.
But on his way back to his home base, he disappeared and has not been seen or heard from since. He is presumed dead and now viewed as a martyr for the cause of peace.
A priest who worked with him, Fr. Claude Daly, S.J., wrote of Fr. Hebert:
"He was a peacemaker. Gene never tired of telling the soldiers and police, many of whom were his good friends and who had played basketball in the schools, that only understanding and simple justice towards the families and the children not involved in the conflict could bring peace…. All three priests who died in the past two years were victims of their efforts to bring peace between all the groups."
Fr. Hebert's story is one of about 220 brief biographies of Jesuits of the New Orleans Province that will appear in an intriguing, new book this fall. Tentatively titled Southern Jesuit Chronicles, it can be ordered in advance online at www.acadianhouse.com.
By the way, Fr. Hebert's sister, Gertrude and her husband "Red" Dumesnil, live in Lafayette. They remain very proud of Fr. Hebert's peacemaking efforts while still missing this warm, benevolent man.

E.J.'s last act of courage
In recent years we've heard that World War II veterans were dying at a rate of about 1,500 per day and that before too long that entire generation would be gone.
The meaning of that statistic really hit home for me on August 9, when my father-in-law, E.J. Champagne Jr., passed away at age 90. As a young man, he was a soldier who fought in the Pacific Theater under Gen. Douglas MacArthur.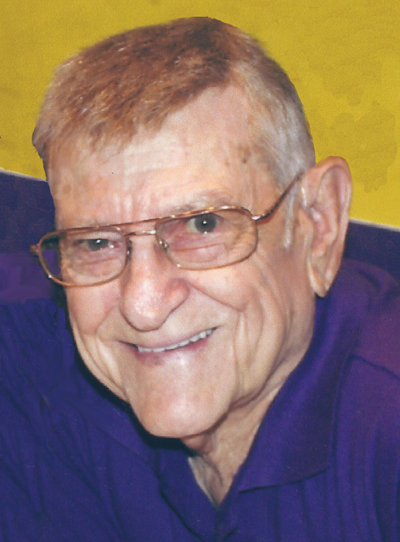 I'm going to miss talking with E.J. He had a great sense of humor, and we shared a strong interest in LSU sports and New Orleans Saints football. He was always there for me with understanding, empathy and even a little advice from time to time.
E.J. was a welcoming father-figure and was a lot like my own father, whom I also miss being able to talk with. The notable difference between the two was that E.J. gave advice when asked, while my dad, who has been gone since 1988, gave frequent advice to me and my seven siblings whether we asked for it or not!
Just a few weeks before E.J. died, I witnessed an act of courage and faith on his part that I won't soon forget. It was a Sunday morning, and E.J. was bound and determined to go to Mass.
Now, he had no business even leaving the house. He was so weak and sick that he could barely stand, even with the assistance of others. Old age, leukemia and COPD had ravaged his body and depleted his strength.
Yet, there he was, seated on his walker as his grandson, Kaz Baczinskas, was buttoning his shirt, helping him to get dressed for Mass. I was afraid, as was his daughters – Cindi, Denise, Michelle and Jany – that E.J. would collapse while trying to walk to the car.
But he did walk. He walked three or four steps, then he had to sit down on his walker to catch his breath. Then another three or four steps, and he sat. Finally, he got to the car, and we helped him in.
We arrived at church, helped him out of the car and assisted him, a few steps at a time, as we made our way into the building.
E.J. sat up straight, almost like a soldier at attention, followed the Mass closely and received Communion, as was his custom. Denise, his second-born, sat next to him and held his hand throughout the service, sensing the uniqueness of the moment: that this may be the last time her dad would be able to go to church.
Turns out, that Mass was being celebrated for E.J.'s late wife, Paddy Richard Champagne, who had died four years earlier. The other special incentive for E.J. to make it to the church, I think, was that he saw the opportunity to set a good example, one last time, for his children and grandchildren. His heroic action spoke louder than any words could have: Going to church, spending time in a place of worship, regardless of adverse circumstances, is a good thing. It is more than worth the effort it sometimes takes to get there.
E.J. always was a prayerful man, a leader and an upstanding citizen. He was a businessman who worked in real estate and insurance, a longtime city clerk of Franklin (1949-66), and for four years (1970-74) the mayor of Franklin. He was also kind and gentle and understanding, and many in the younger generations came to him for fatherly advice.
He was, in every respect, a good man. And this world is a better place because he passed this way.
---
Questions or comments about this column can be addressed to tcangers@cox.net