The Latest News from Acadiana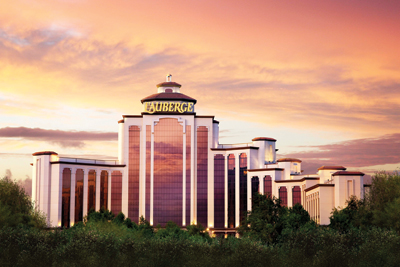 Business is Booming in Lake Charles
LSU economist Loren Scott has outlined a positive economic forecast with new data derived from his collaboration with the College of Business. According to the 2014-2015 Louisiana State Economic Outlook, Lake Charles should be the "shining light" of the state's economy in the coming year.
Industrial expansions led by the Magnolia LNG export facilities in the Port of Lake Charles, as well as the expanding tourism sector that includes the opening of a new casino, are driving investments. "I've never seen numbers like these," Scott commented. He predicts that the Lake Charles metro area will add 3,300 jobs in 2014 and 4,500 more jobs in 2015. The number of workers needed in the area is expected to rise to 14,000 by 2017. Greenfield Logistics Solutions is building a $70 million "man camp" on 200 acres to accommodate the job growth.
The new Golden Nugget Hotel and Casino resort, which is situated adjacent to L'Auberge Casino Resort, will be the fourth casino in Calcasieu Parish and will feature 715 guest rooms and suites, an 18-hole championship golf course, a spa and restaurants such as Landry's Seafood, Grotto Italian Ristorante, Saltgrass Steakhouse and Vic & Anthony's Steakhouse.
"The new developments and tourism products coming to Southwest Louisiana in the near future are just further examples of how the region has established itself as the premier resort destination in the Gulf Coast," said Megan Monsour Hartman, senior marketing manager for the Lake Charles/Southwest Louisiana Convention and Visitors Bureau. "It's exciting to be able to showcase our culture, festivals, culinary heritage, outdoor adventures and high-end casino entertainment to the new folks moving here and guests who continue to visit. The future is bright!"
---
Houma Seeing Job Growth
According to Loren Scott's economic forecast for 2014-2015, the Houma-Thibodaux region is projected to finish third among Louisiana's eight metro areas in total job growth. Predictions included the addition of 5,200 jobs over the next two years in the region at a rate of 2.6 percent, coming in behind the Lake Charles and Baton Rouge areas. The economic forecast includes expansion in offshore oil production that will continue to drive Louisiana's growth. Four new rigs are expected by 2014 with 10 additional rigs surfacing by 2017.
---
Youngsville Developments Underway
The long-awaited new 70-acre Sports Complex and Activities Center in Youngsville will open in January 2014. Tournaments for 2014 and 2015 have already been booked, and a boost in tourism is anticipated.
Developer Robert Daigle, who brought Sugar Mill Pond to Youngsville and River Ranch to Lafayette, is adding to the fast-growing Youngsville area with Fairfax Farms and Waterview. Phase One of Fairfax Farms, a residential and commercial development that will be built on 235 acres near Foster Park, is currently underway. Waterview continues the expansion of Sugar Mill Pond with a 160-unit new apartment complex located at the intersection of Waterview Road and Prescott Boulevard. Two new fast-food outlets, Rotolo's Pizzeria and Taco Bell, are also slated for the Sugar Mill Pond property.
---
St. Martinville Featured in French Travel Series
Patrick de Carolis, host of the popular French television travel series "Le Grand Tour" spent part of November filming in St. Martinville. The segments are slated to air in two episodes titled "Amérique Française" (French America). French-speaking residents of St. Martinville and Arnaudville were interviewed for the show. The crew is also filming in Terrebonne Parish. To learn more about the series, visit www.legrandtour.fr.
---
Rewriting Cajun History in Loreauville
A growing number of Cajuns wants to set the record straight about misconceptions regarding the original Acadian settlers with the New Acadie Project. Spearheaded by ULL archaeologist Dr. Mark Rees, the group aims to locate the original mid-18th-century settlement of the first group of Acadian exiles led by Joseph Broussard (known as Beausoleil), along the Teche Ridge in Loreauville. The project will include a search for artifacts that date back as far as 1765 within the first few months of arriving in Louisiana from Nova Scotia.
"We could correct a lot of false assumptions and misinformation about Acadian history," Rees points out. Loreauville Mayor Al Broussard adds, "The New Acadie Project is a positive thing for the village, and also for the culture and tourism of the entire state."
---
Hot Off the Press
French cultural activist Warren Perrin, who is the founder of the Acadian Museum in Erath and the author of books about Vermilion and Iberville parishes, announced that he is at work on a new book about the history of St. Landry Parish, slated for a release in early 2014. "We have over 230 photographs, many which have never been previously published, including photos of Clifton Chenier," he notes. Perrin and his wife, Mary, are collaborating on another book, Acadia of the 21st Century, which will make its debut (in French and in English) at the Acadian World Congress in New Brunswick, Canada, in August 2014. "We hope to focus on at least 40 different Acadian communities," Perrin says. "The last part of the book will be a compilation of various articles from Acadians throughout the world."

---
En Francais, Enfin!
Rayne native Jo-El Sonnier, the 67-year-old Cajun musician who has four Grammy nominations under his belt and has starred in several movies, anounced that he will be releasing a new album, The Legacy, featuring original songs that will be recorded entirely in French. Sonnier's 30 other albums have been recorded mostly in English. His accordion can be heard on the albums of such great legends as Hank Williams, Johnny Cash, Robert Cray, Neil Diamond, Elvis Costello, Merle Haggard and Dolly Parton, among others.
---
Lafayette Ladies Afloat
The Acadiana Symphony Women's League is presenting a glitzy, floating fundraiser with a multi-course feast and live music to benefit the orchestra on Jan. 19, 2014, on the "largest privately owned residential yacht on earth" to be docked at the Port of Orleans. For information, contact Judy Dunn at (337) 288-8826.
---