The Great Lakes of Acadiana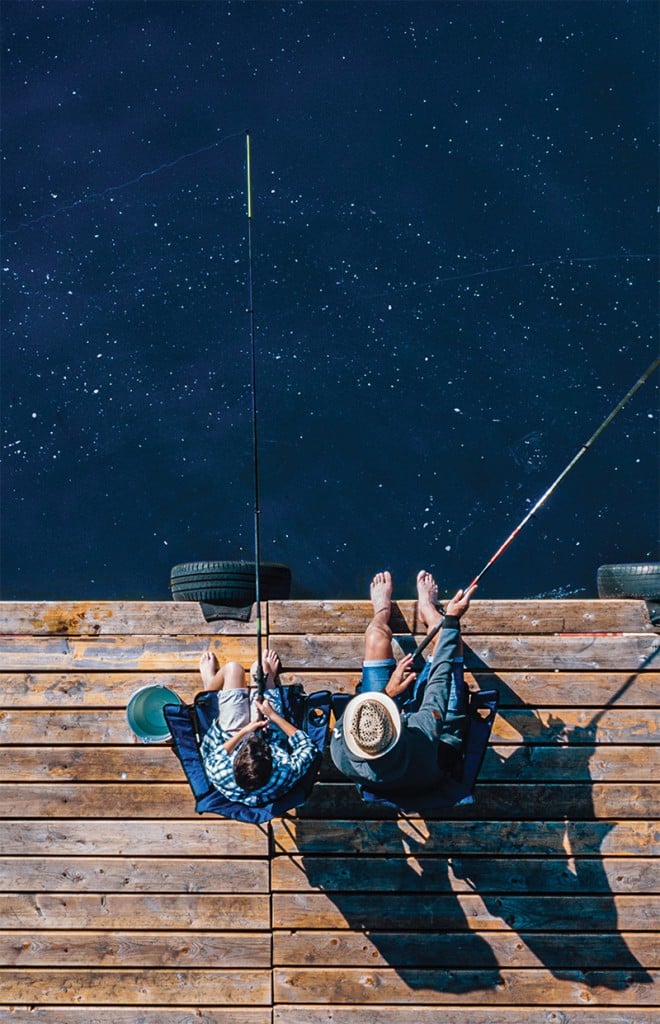 Thank goodness for the endless outdoor opportunities located throughout South Louisiana. Take lakes, for instance, great bodies of water that provide excellent fishing, boating, swimming and birding. Not to mention they're cool and refreshing should you wish to dive in.
South Louisiana is swimming in lakes, pun intended, from the bass fishing heaven of Toledo Bend to sailing at Cypremort Point, from the egret and spoonbill rookeries of Lake Martin to the music festival at Lake Arthur.
Scott Hanchey knows the lure of water. He has been getting people on lakes for 12 years as owner of Hippie Outfitters in Hackberry. He picks up visitors at Lake Charles casinos and shows them the beauty of Cypremort Southwest Louisiana, delivering them back to their accommodations with ice chests full of trout, redfish and flounder.
"My favorites are Calcasieu Lake, Sabine Lake and Prien Lake," Hanchey said.
What's your ideal lake experience? Check out our list of South Louisiana waterways to discover it.
---

Lake Martin
Located only 15 minutes from the hubbub of Lafayette, Lake Martin allows visitors to leave stress behind and immerse into nature. There are boat launches for paddlers and fishermen, plus there is a hiking path around the lake's perimeter. The Nature Conservancy operates a portion of the lake that contains a bird rookery and nature center and has installed a boardwalk where visitors can safety view wildlife.
Boat Rentals Yes, both at the lake and through Pack & Paddle outfitters of Lafayette.
Swimming No, there are gators about.
Fishing Yes, but boaters must not venture into the bird rookeries.
---
Lake Palourde
To the northeast of Morgan City lies the massive Lake Palourde. It stretches into three parishes by waters from Lake Verret and Grassy Lake. There are two excellent ways to access the lake — Victor Guarisco Lake End Park and Brownell Memorial Park.
Swimming, bank or pier fishing, boating and RV and tent camping are available at Lake End Park, along with a marina that offers monthly and yearly rental rates for 47 slips.
More of a lakeside retreat in nature, the 9.5-acre Brownell Memorial Park includes a selection of flowering and native plants and the 106-foot carillon with 61 bronze bells that ring out melodies.
Boat Rentals No, but a boat ramp is available at Lake End Park.
Swimming A sandy beach gets people in the water at Lake End Park.
Fishing Fishing is allowed from the Lake End wharf.
---
Birding-Wildlife
Year-round, Louisiana boasts of numerous bird species and unique wildlife such as alligators and black bears. In the spring and fall migratory birds fly through, stopping at lakes and other water sources for nourishment after a long haul from Central and South America.
Lake Arthur, for instance, skirts the Lacassine National Wildlife Refuge, which attracts many colorful bird species, in addition to waterfowl in the fall.
"We connect the Flyway-Byway with the Creole Nature Trail," said Marion Fox, president and CEO of Jeff Davis Parish Tourist Commission. "The animals and wildlife are phenomenal."
Places to spot migratory bird species include:
Lake Martin with its bird rookeries overseen by the Nature Conservancy;
The Creole Nature Trail and the lakes nearby, which include Calcasieu Lake, Prien Lake and Grand Lake;
Bald eagles nesting along Lake Verret, Toledo Bend and Lake Palourde; and
Cypremort Point State Park with its unique bird species and waterfowl, plus deer, black bear and red foxes.
---

Lake Charles/North Beach
Likely the most accessible lake and beach in the state, Lake Charles can be enjoyed right off Interstate 10 in the town of the same name. Sailing with the Lake Charles Yacht Club, paddle boarding, swimming off the sandy beach, volleyball and boating are some of the many activities enjoyed here. For racing enthusiasts, the Pro Watercross National Championships will take place Aug. 8-9 on Lake Charles.
Boat Rentals Lake Area Adventures offers kayak and boat rentals and River Rat Rental rents jet skis. Bord du Lac Marina on the eastern shore offers slips.
Swimming A sandy beach is located at North Beach, just off I-10.
Fishing Accessible via boat ramp.
---
Prien Lake
It appears one waterway south of the 210 Bridge in Lake Charles but Prien Lake includes Indian Bay on its eastern shore, which is where visitors will find Prien Lake Park. Whether you enjoy the waters or simply relax beneath the trees while watching boats slip by, the 29-acre park is a great way to spend an afternoon. There are walking paths, picnic areas, SprayGround water park and an amphitheater where Movies Under the Stars are shown during non-pandemic times. Stay for dusk, for the sun sets immediately across the lake.
Boat Rentals No, but the park offers a boat and canoe ramp. Paddle boarding is popular here.
Swimming There's a good size beach within the park.
Fishing Look for croaker, redfish, specks, flounder and black drum.
---
Calcasieu Lake (Big Lake)
Further south of Lake Charles in Cameron Parish is Calcasieu Lake, known to locals as Big Lake. The brackish waters produce great fishing, including catching brown and white shrimp. A rare pink bottlenose dolphin has been spotted in its waters as well, lovingly named "Pinky" by residents.
On its western shore lies the Creole Nature Trail All-American Road, one of the top places in the country for birding and fishing.
Boat Rentals Davis Hebert's Marina will get you and your boat or canoe on the water.
Swimming Head southwest to Holly Beach for white sand beaches on the Gulf.
Fishing In addition to the kind with fins (redfish, speckled trout and flounder), visitors will nab crabs and shrimp.
---
Lake Fausse Pointe
Head south from Henderson down the Levee Road that holds the Atchafalaya Basin in place during high waters and visitors will discover Lake Fausse Pointe State Park. Swimming and boating happens on Dauterive Lake just before the state park gates but Lake Fausse Point State Park assembles cabins, hiking trails, fishing spots and a splash playground for a lakefront getaway.
Boat Rentals Flat-bottomed boats, canoes and kayaks may be rented at the park visitors' center, which includes a boat launch.
Swimming Not recommended since it's marshland with gators and snakes, but visitors swim on Dauterive Lake.
Fishing Yes.
---

Toledo Bend State Parks
Two state parks bookend Toledo Bend lake and offer cabins, cottages, RV spots and campsites.
South Toledo Bend State Park includes bald eagle spotting on its numerous nature trails, an Interpretive Center and a two-lane boat ramp area to get you on the water. North Toledo Bend State Park incorporates hiking trails in its 900-plus acres, plus a boat launch with a double ramp and a fish cleaning station.
Boat Rentals No.
Swimming South Toledo Bend State Park has beaches and North Toledo Bend State Park a swimming pool that's open through Labor Day.
Fishing Yes!
---
Beaches Most people think Gulf of Mexico when mentioning beaches, but there are several sandy entrances to water at South Louisiana lakes.
In central Louisiana, Indian Creek Recreation Area inside Alexander State Forest offers three beach areas on the 2,250-acre, clear water Indian Creek Lake and South Toledo Bend State Park has established a beach on Toledo Bend Lake.
Cypremort Point State Park includes a man-made beach on Vermilion Bay.
---

Cypremort Point
Cypremort Point rests along the shores of Vermilion Bay, which is technically not a lake.
But the massive waterway that links to the Gulf of Mexico offers the same amenities — fishing, beaches and boating. Cabins allow for overnight stays so fire up the grill with your fresh catch. Vermilion Bay is also one of the few places to sail in Acadiana.
Boat Rentals No, but boat launches for motor boats and sailboats available.
Swimming There's a man-made beach on Vermilion Bay, just don't expect Destin quality sand.
Fishing 100-foot fishing pier and a fish cleaning station on site.
---
Ecotours Grosse Savanne owns 50,000 acres for hunting and fishing outside Lake Charles but guides lead nature enthusiasts through restored wetlands where a wide variety of birds and wildlife can be found. Nesting birds such as white-faced ibis and egrets, alligators and waterfowl are in abundance here.
Pack & Paddle outfitters in Lafayette offers guided kayak tours of Lake Martin, plus a Kayak 101 instruction class on the lake.
---
Toledo Bend
There's a reason Bassmaster Magazine named Toledo Bend Lake the number one bass fishing lake in the nation for two years in a row. In June, fishermen brought in 35 lunker bass over 10 pounds and more than 1,000 in the Toledo Bend program ranging from 10 pounds to 15.33 pounds, said Linda Curtis-Sparks, executive director of the Sabine Parish Tourist Commission. Accommodations run the gamut, from Cypress Bend Golf Resort and Wildwood Resort to rugged cabins.
"Guides are busy, fishing is good," Curtis-Sparks said.
Boat Rentals Yes, visit toledobendlakecountry.com for information.
Swimming Public beaches are located at Cypress Bend Park, San Miguel Park, Pleasure Point, the Sabine River Authority Tourist Center and South Toledo Bend State Park.
Fishing Of course! Look for catfish, bream and white perch in addition to largemouth bass.
---
Grand Lake, Lacassine National Wildlife Refuge
Another body of water connected to the Creole Nature Trail is Grand Lake, a massive lake close to Lake Arthur with its northwestern section part of the Lacassine National Wildlife Refuge.
Boat Rentals No.
Swimming No.
Fishing Boat and bank fishing in Lacassine Pool, Streeter's Area and refuge waters are permitted March 15 through Oct. 15.
---
Lake Arthur
The Mermentau River flows southward and forms the 1-mile-wide Lake Arthur that extends 9 miles long. A small town borders the lake but nearby are acres of marshlands and the Lacassine National Wildlife Refuge where duck hunting and birding are the rage.
Boats can dock at the marina behind the Regatta Louisiana Seafood and Steakhouse restaurant. The wharf not only connects to the restaurant and downtown but a walkway that leads to Lake Arthur Park and Boardwalk.
The Saturday before Labor Day (this year only; normally scheduled for Memorial Day Weekend), everyone moves offshore for the Rock the Dock festival where folks tie up their boats and party. "We'll have everything on the water," said Marion Fox, president and CEO of Jeff Davis Parish Tourist Commission. "You can walk the lake on boats."
Boat Rentals No, but public boat ramps are located under the Highway 14 bridge and on the Monlezun Canal.
Swimming Lake Arthur Park and Boardwalk in the center of town offers a small beach and picnic tables.
Fishing Bass and perch can be found in the lake but catfish prefer the deeper waters of the Mermentau.
---
Lake Verret
Locals know it for great fishing, America recognizes Lake Verret for its role in the History Channel's "Swamp People." Many of the "Swamp People" cast hail from its northern town of Pierre Part, a launching post for those who want to get on the water. But it's not just for alligator hunting and sac-a-lait. Bald eagles are known to nest in the cypress trees surrounding the lake.
Boat Rentals Miss Sandy Houseboat Rental offers guided daytime tours of both Lake Verret and Lake Palourde.
Swimming Not unless you want to swim with gators.
Fishing Largemouth bass, catfish and crappie are popular fish caught here.
---