THE GRAND PIGS-PERIMENT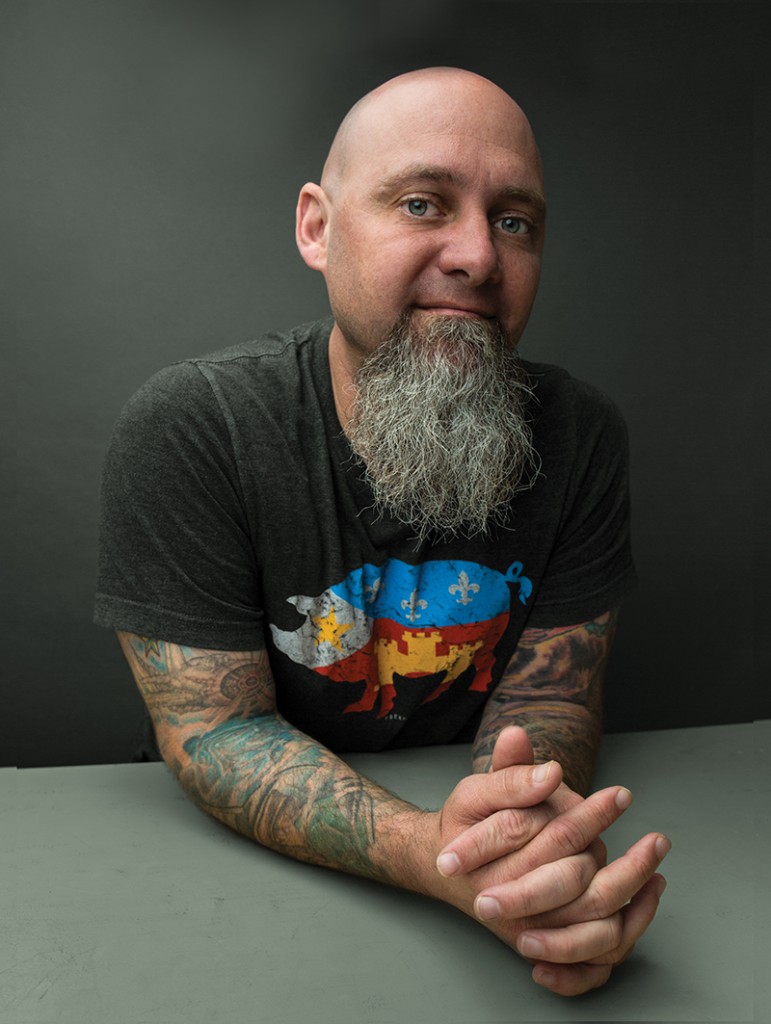 If a restaurant opens in Lafayette, but there are no patrons in the dining room clanking forks against plates, no co-workers on their lunch break complaining about Rick in HR, or no first dates going on and on about how cute their Boston Terrier looks in a sweater, does it make a sound?
The heck if chef Paul Ayo knows.
Frankly, as the eccentric (and bearded) engine powering Lafayette's newest arrival into a crowded and competitive food scene, he doesn't really have time to answer such ridiculous philosophical riddles. Ayo has bacon to make.
The popular chef and former face of E's Kitchen has taken Acadiana's passion for all things pork to the next level, opening Avec Bacon Café in the middle of March 2018. The entire menu is bacon-infused. There are the predictable BLT as well as bacon breakfast biscuits, but there's also mad scientist creations like bacon cinnamon rolls — a seemingly simple recipe Ayo spent months perfecting. To clarify, this isn't the bacon you pick up in a vacuum-sealed pouch. No, the bacon at Avec Bacon Café takes five days to make, according to Ayo.
"The flavor of this bacon stays with you longer," Ayo says. "Our bacon doesn't get hidden when you put it with other things. For some people, it's like tasting bacon for the first time."
Speaking of first times, Avec Bacon Café marks the first time a Lafayette eatery is operating as a virtual restaurant, meaning the only way to order items from Ayo's bacon bounty is through the WAITR app. There are no tables or bar area. There's no takeout window. You simply order online, and a third-party delivery person literally brings home the bacon.
"It's both scary and exciting at the same time," Ayo says of this new virtual restaurant frontier. "It's exciting to know you don't have the 10-year lease and all the overhead you would normally have in a brick-and-mortar. But yeah, it's scary, because no one has ever done it here. And so you wonder and hope that people are going to understand it. Doing a virtual restaurant, the food is all you are. So it has to be good."
Trying something a little bit different isn't anything new for Ayo. Like many males growing up in South Louisiana, he was taught to cook at a young age.
Except Ayo didn't cut his culinary teeth on Cajun staples like rice and gravy or an etouffee. Instead, he'd plop down in front of the TV and watch "Great Chefs of the World," mimicking their kitchen moves the same way other kids his age tried to dunk on their Nerf hoops like Michael Jordan. To encourage his budding passion, Ayo's parents bought him an electric wok for his 10th birthday, a gift Ayo called, "the greatest thing."
As a grown-up, though, Ayo spent roughly a decade managing a motorcycle and ATV dealership before venturing into the food world by opening E's Kitchen in Parc Lafayette in 2012. Despite the name, it wasn't a restaurant as much as it was a kitchen supply store that featured cooking classes and demonstrations. It was at E's Kitchen that Ayo began toying around with making his own bacon.
"The first try was not great," Ayo says. "Way, way too salty."
Thankfully, Ayo kept at it. Now, he feels the formula is perfected. The process starts with covering a pork belly with a sweet/salty/spicy rub and letting the meat cool in a refrigerator for three days. Then, Ayo thoroughly rinses the rub off the pork belly before smoking it overnight. Pull it the next morning and slice it. Initially, Ayo sold this homemade bacon at local farmers' markets throughout Acadiana and was somewhat taken aback by how quickly it became a hit.
Every slab he brought, he sold.
After E's Kitchen closed in the summer of 2017, Ayo immediately got the wheels spinning on the Avec Bacon concept. Initially, the restaurant was going to be located on Bertrand Street, but that plan fell through, opening the way to do something that hadn't been done before (at least here) — create a virtual restaurant.
"The way I try to describe it to people, is it's like a Food Truck without wheels," Ayo says. "But with us, you don't have to find where we are. You just go online and order it. So that's what we're going to do.
"When we told people we were going to do this bacon restaurant in a regular way, I got so much positive feedback that I didn't want to let that momentum go. And if the virtual restaurant does well enough, many someday we could have an actual restaurant."
---
Q&A
Paul Ayo
1. What is a virtual restaurant? A virtual restaurant, aka a ghost restaurant, is a booming trend in the food-service industry that originally gained popularity in large metro areas such as San Francisco, Los Angeles, New York City and Washington D.C. — places where commercial rent is astronomically expensive. A virtual restaurant is essentially a kitchen. There's no dining room. There are no waiters or busboys. There's no storefront. But there is a menu and a chef.
2. So how do I get my food? Do I go pick it up? No. Again, there's no storefront. So the way to order from a virtual restaurant like Avec Bacon is through a third-party delivery app, in this case WAITR, or waitrapp.com. Download the app, find Avec Bacon and place your order. Within a short time, an independent delivery driver picks up your order and brings it to you.
3. What are the advantages of a virtual restaurant? Beyond making the start-up more economical for the restaurateur, virtual restaurants afford the chef a lot more flexibility and creativity. Without a hard menu to print out, the menu can be changed daily. Also, theoretically, a chef could run two virtual restaurants out of the same kitchen space.