The 41st Annual Original Southwest Louisiana Zydeco Festival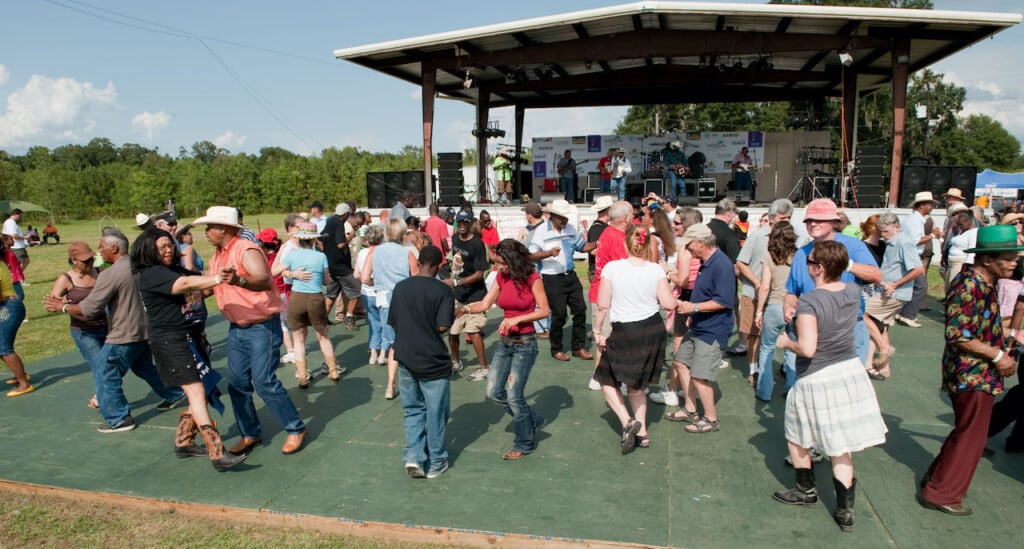 OPELOUSAS, La (press release) – The 41st Original Southwest Louisiana Zydeco Festival is live! Organizers are preparing, trying to satisfy the demand for Creole Culture and Zydeco Music. Festival executive director Lena Charles says that locally and nationwide, music fans are eager to return to Southwest Louisiana to experience firsthand the original "keepers of the culture, the tellers of the stories."  The festival takes place on September 2 at the Yambilee Festival Grounds with multiple activities leading up to that date. This year the festival pays tribute to Pioneers, the ones who help the original organization of "The Original Southwest Louisiana Zydeco Music Festival."
The lineup includes hit-makers such as Grammy winner Chubby Carrier & the Bayou Swamp Band, Grammy nominees Geno Delafose & French Rockin' Boogie and Nathan Williams & the Zydeco Cha Cha's, Jeremy Frugé & The Zydeco Hot Boyz, Rusty Metoyer & Zydeco Krush and Special Guest, "The Legend Chris Ardoin & NuStep Zydeco."
 The Treasures of Opelousas, a group of concerned citizens, feared that Zydeco and Creole music were dying; in response, they organized the first festival in 1982. Forty-one years later, we are still celebrating and promoting the best of creole culture, traditional food and of course, The Best of Zydeco Music.
The schedule begins with a pre-party on September 1 and ends with a day jam pack-full of Zydeco celebrations on September 2, —check out the Schedule of Events for more details. www.zydeco.org
Find more information about the 41st Annual Original Southwest Louisiana Zydeco Festival atwww.zydeco.org or on Facebook at SWLA Zydeco Music Festival.
"Alon Danse' Zariko ye pa Sale'! Se Peyi de' Zydeco"
FESTIVAL EVENTS SCHEDULE
THURSDAY AUGUST 10, 2023: PRE-PARTY
Join us for a pre-party – Media Day-at the Opelousas Museum and Interpretive Center. With refreshments, music and celebration, "Big Opening of 2023 Zydeco Season." The event takes place from 12 noon to 1:30 p.m. at the Opelousas Museum, 315 N Main St, Opelousas, LA 70570.
FRIDAY, SEPTEMBER 1, 2023: KICKOFF DANCE
We will get this party started the night before at Evangeline Downs at 9 p.m. with the explosive L'Argent man himself, "Lil Nate & The Zydeco Big Timers". 2235 Creswell Lane Extension, Opelousas, LA 70570
SATURDAY, SEPTEMBER 2, 2023: ZYDECO PARADE
At Landry and Wallior Street, the ZYDECO PARADE The Zydeco parade lines up at 8:30 a.m. with scores of zydeco fans, businesses, social clubs, dance groups, trail riders. The colorful group rolls out at 10 a.m., passing by the Zydeco Breakfast Court House Square on Landry Street, as they head towards the Zydeco Festival Grounds.
SATURDAY, SEPTEMBER 2, 2023: ZYDECO BREAKFAST
Join us for the annual Zydeco Breakfast in downtown Opelousas. From 9-11 am, under the oak trees on the Courthouse Square, you can listen to the foot tapping sounds of "LeRoy Thomas & Zydeco RoadRunners." Local downtown eateries will feature an assortment of breakfast items for sale. Opelousas Tourism, with support from Opelousas Main Street, Inc., the City of Opelousas, and St. Landry Parish Government, hosts the free event each year to get people excited about the Labor Day festival music and activities, as well as to bring awareness of the downtown district.
SATURDAY, SEPTEMBER 2, 2023: THE ORIGINAL SOUTHWEST ZYDECO FESTIVAL
This year's celebration takes place on the Yambilee Festival Grounds beginning at 12 noon and winding down in the wee hours of the night. Gather your friends and family for a full day and night of music, traditional Creole food by vendors and food trucks, and arts and crafts. Enjoy the Best of Creole Culture and Music. Bring your lawn chairs and plan to stay for all events, "I promise you will have a good time." 
Plan your family reunions, gather your social groups for a good time with your favorite bands: Chubby Carrier & the Bayou Swamp Band, Geno Delafose & French Rockin' Boogie and Nathan Williams & the Zydeco Cha Cha's, Jeremy Fruge & The Zydeco Hot Boyz, Rusty Metoyer & Zydeco Krush and Special Guest, "The Legend Chris Ardoin & NuStep Zydeco." All on the main stage Yambilee Festival Grounds, 1939 W. Landry St. Opelousas, LA 70570. www, zydeco.org