Tango Fire Sizzles onto the Heymann Stage Feb. 8 with Argentina's Champion Tango Dancers and Talented Musicians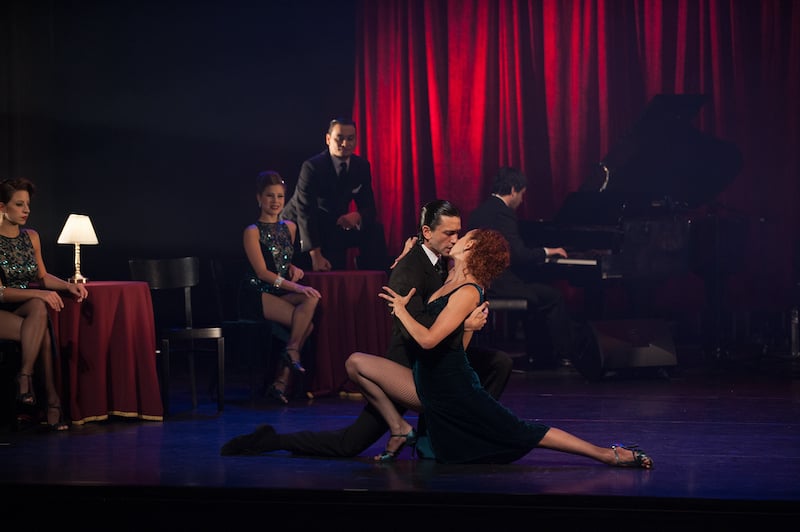 LAFAYETTE, La (press release) – International tango superstar German Cornejo's dance troupe The Tango Fire Company of Buenos Aires—a true global phenomenon and the world's leading tango company–arrives on stage at 7:30 p.m. on February 8 at the Heymann Performing Arts Center. The performance is part of Performing Arts Serving Acadiana's (PASA's) 21-22 schedule.
Tango icons Cornejo and his partner Gisela Galeassi will be joined by a cast of extraordinary couples, including several World Tango Champions and the best dancers from Buenos Aires' famous tango houses. Each couple in the company is chosen for their individual style and interpretation of tango. Tango Fire encompasses dancing which sizzles with sensuality, accompanied by the unforgettable music of the great tango masters, including Piazzolla, Pugliese and Gardel, evoking the intoxicating passion of late night Buenos Aires.
With multiple sell-out performances around the globe over the past 11 years and a YouTube audience in excess of 20 million people worldwide, German Cornejo's extraordinary choreography and vision has captured the world's imagination.
Joining the dancers will be an ensemble of four of Argentina's finest young musicians. All virtuosos in their own right, the quartet powerhouse is an emotive element in an intricate and symbiotic relationship between music, sensuality of dance and the poetry of song, which is Argentine tango.
"We have all seen tango from time to time in movies and on television. Morticia and Gomez tangoed in the Addams Family. Many have seen tango in Scent of a Woman, starring Al Pacino; in the movie and Broadway show Chicago; in a Chase bank commercial, and in the "Tango Maureen" scene in Rent," says PASA executive director Jacqueline Lyle. "Now, we can see tango in its own starring role. There is nothing quite like tango dance, unless it is tango with live music, which will all be on stage together for Tango Fire,"
Tango Fire is sponsored by Lee Michael's.
As one of the world's most popular dance forms, this exhilarating show combines the rawness and sophistication, with the seductive and sultry side of Tango, evoking the intoxicating passion of late-night Buenos Aires.
The outstanding cast including World Tango Champions and dancers from the greatest tango houses in Buenos Aires joins tango master, German Cornejo and his amazingly sensuous and passionate partner Gisela Galeassi. All of this coupled with German Cornejo's sublime choreography, makes Tango Fire a show not to be missed.
The Tango Fire Company of Buenos Aires was conceived in 2005 and premiered in Singapore at The Esplanade. In that same year, the show was presented at the Edinburgh Fringe Festival where it received rave reviews, resulting in engagements in the world's most prestigious venues and has toured the globally over the past 11 years.
Tickets for Tango Fire are available at www.pasaonline.org.  A Family & Friends 4-Pack, priced at $100, is available in every seating area, from the first row to the last. Additional ticket fees and other charges will apply and will vary, based on the method of purchase. The most economical ticket fees are available through in-person purchase at the Heymann Center Box Office. Box office hours are 9 a.m. – 4 p.m. Tuesday through Friday, 9 a.m. – 1 p.m. on Mondays. The box office is closed on Saturdays and Sundays.
Tickets are also available by phone at the Heymann Performing Arts Center box office (337) 291-5555, at other TicketMaster outlets, as well as at ticketmaster.com or by phone at TicketMaster's 24-hour line (337) 262-7597.
COVID protections will be in place at the performance of Tango Fire. Proof of vaccine and/or masks worn properly may be required. Failure to comply may result in no entry and no refund.
For more information about PASA or any of the performances, call PASA at (337) 781-1273 or email jackie@pasaonline.org.