Sur le menu: Spicy Adventure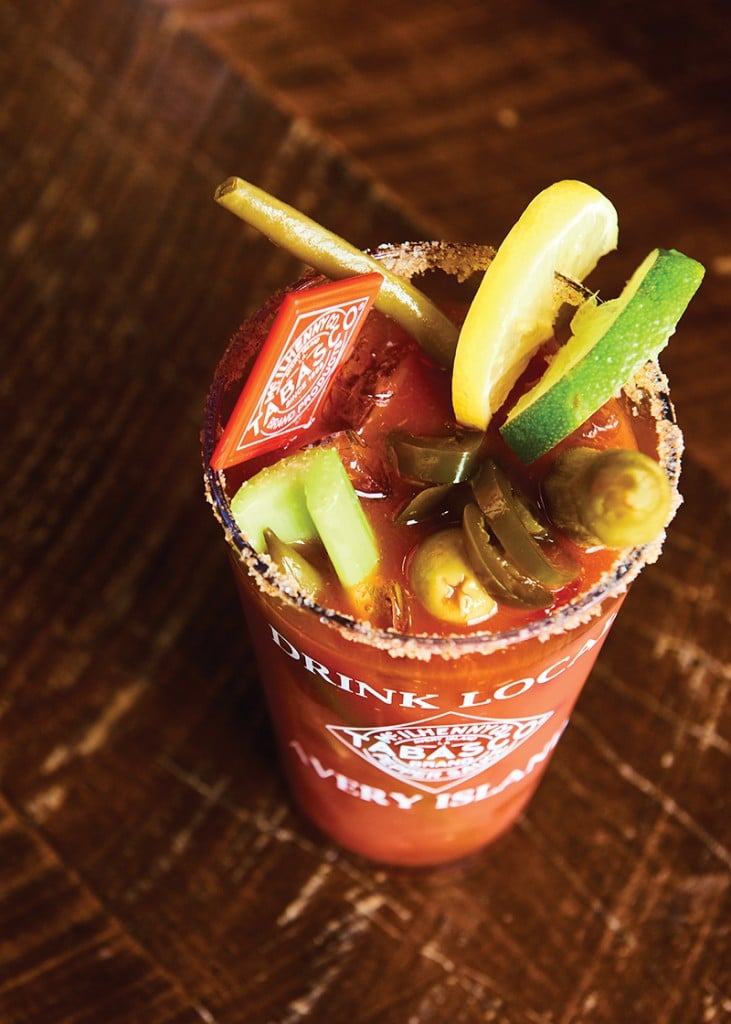 Located 10 miles south of New Iberia, Avery Island is a 2,200-acre salt dome packed hundreds of feet thick with the mineral and mined since the 18th century. It is also home to Tabasco hot pepper sauce, founded by Edmund McIlhenny in the 1860s. The island is lush with subtropical plants thriving adjacent to centuries-old live oaks, heavy with Spanish moss. A gardening enthusiast, E.A. McIlhenny, Edmund's son, planted 176 acres of gardens, which he opened to the public in 1935 as Jungle Gardens.
Today his collection of mature azaleas bursts into vibrant bloom at the height of spring, creating a brilliant environment for the wildlife — alligators, bears, bobcats and deer — guests may happen upon while walking or driving along the lagoons that trail Bayou Petite Anse. A prominent statue of Buddha, reported to be over 900 years old, is visible in a temple within a habitat that is home to thousands of birds, egrets and herons among them.
Also open to the public, exhibits throughout the Tabasco factory reveal the lengthy process through which the capsicum frutescens peppers travel from the bushes upon which they grow to become the sauce — now available in eight different varieties — that sits atop dinner tables worldwide.
Tabasco sauce is featured prominently on the menu at the complex's Restaurant 1868, a casual, rustic space with a deep wrap-around porch that beckons when the weather is fine. Leave any pretense for fine dining at the door when you enter this cafeteria-style joint, complete with disposable serveware. There is not a frill to be found but it is a solid backdrop for hearty Louisiana flavors at bargain prices and the Bloody Mary bar is stocked with everything you could want to adorn your booze-infused salad in a keepsake glass for $10
---
Restaurant 1868
/
LA-329. Avery Island. 337-369-4226. tabasco.com
---
BONUS BITE
Picturesque Arnaudville's Étouffée Festival began as a fundraiser for the Little Flower School in 1985, and was initially established by the Knights of Columbus. Since that time, the school has closed, but the church parish continues the tradition of the festival to help offset the costs of insuring the school buildings, which are still used by the parish for other purposes. This year the annual spring festival will be held April 24-26. The Mayor's Cook-off features a variety of étouffées, including crawfish, seafood, vegetable, and wild game. The cook-off will take place on Saturday and judging begins at 11:30 a.m. Festival activities also include carnival rides, live music, dancing, bingo, shopping at the St. Therese Boutique and an auto show. The boutique will be open from 1-5 p.m. on Saturday and Sunday with antique and vintage items for sale. The auto show will be held Sunday, from 8 a.m. to 12 p.m.
---
MENU
Try this
❶ Pepper Jelly Boudin
A hunk of the familiar pork and rice "sausage" the size of a baby's leg arrives drizzled with a mildly spicy pepper jelly. This alone should be enough to fill most people up. It will set you back $3.50.
❷ Cajun Crawfish Nachos
Tortilla chips topped with Pepper Barrel Crawfish Étouffée and garnished with a choice of nacho cheese, shredded cheddar cheese, jalapeños and sour cream. $9
❸ Cajun Pirogue Sampler
A trio of generous samples of red beans and sausage, crawfish étouffée and a sausage gumbo made with a sturdy roux. $13.50
❹ Messy Mac
Smoked pulled pork sandwich infused with Tabasco Chipotle Pepper Sauce served with coleslaw and a side of chips. $8.50
❺ Tabasco Cake Slice
Ooey gooey-style cake infused with classic Tabasco sauce. $4.25
---