Step by Step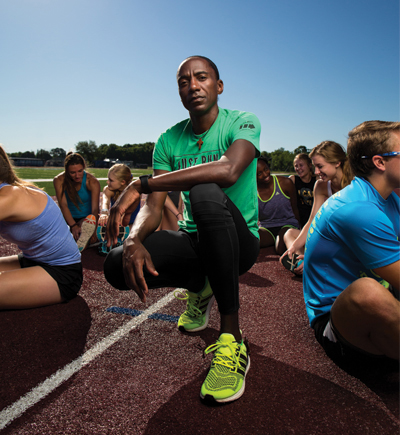 The race begins before the world is set in motion, an "old" man running on a short track pushing hard to stay the hell away from a finish line experts believe he should have crossed years ago.
It's 4:30 a.m., inside Red Lerille's Lafayette massive gympire. The blue hairs won't be here for another hour. The youngsters seeking to sweat out Saturday's mistakes in the sauna are sound asleep. Even the lazy sun is still snoozing. Kevin Castille, at 44 years old an Edsel in a sport full of Teslas, is already three miles into his "warm-up," circling a track just slightly bigger than a basketball court. Before he's done, he'll make more left turns than a stock car covered in Tide detergent stickers.
A top-level distance runner, Castille has set the U.S. Masters record in the 10,000 meters, won numerous sanctioned races of various lengths, was named the U.S. Track and Field Association's Athlete of the Week in 2014 and qualified for two U.S. Olympic Trials an astonishing 12 years apart from each other – the first in 2004, the latest this past February.
And he's done this (and is still doing it) at an age when most runner's soul – and soles – wear thin. A late bloomer because of choices and circumstances he's graciously shared publicly so it can be absorbed as equal parts cautionary and inspirational, Castille credits the time put in during the dark as the main reason he's able to keep up with those two decades his junior when it's light out.
"You just tend to let your mind drift off," Castille says. "Where I'm at, you have to be able to stand the test of time and if you start thinking too far ahead, you lose focus on what's in front of you. So you don't think. Or if you do think, it's about what's in front of you, which is the next stride. That's it. People have said, 'Oh, at this age, he won't be doing this next year.' Well, when that didn't happen, they said it the next year and the next year and the next year to the point where I'm sure they're like, 'What the heck?! This is not normal!'
"To answer that, I don't know," Castille continues. "At this point, I don't really want to question it."
Just as unorthodox as the delayed trajectory of Castille's competitive running career is the main source of inspiration fueling the trip – the St. Thomas More High School Cross Country team. For the past couple years, Castille has coached the squad, instilling the same core principles – accountability, dedication and the pursuit of achievement – on every runner regardless of their talent level. For some kids, the goal is to win a state championship. For others, it's to shave a couple seconds off a pedestrian pace.
"They show up every…single…day," Castille says. "No excuses. No shortcuts. And yeah, some of them know they aren't going to be super lightning speed, but they still work their tails off. They don't quit. So what's my excuse then? Those kids, whether they know it or not, are my motivation. Coaching them gave my competitive running life CPR."
Finding peace with his past has also helped Castille breathe a little easier. From the early '90s to the end of the century – a swath of time that would have been Castille's prime years as a runner – he sold narcotics in Lafayette. After a couple of arrests and some jail time, Castille eventually left that life behind. But it never truly disappeared. Because with each racing triumph came attention, and the inevitable question: Just who is this guy? After much internal debate, Castille shared his story – ups and downs – with a reporter from Kentucky while he was training up north in 2010. From there, his tale has appeared in countless magazines and newspapers.
"If I didn't take ownership of the story," Castille says, "I'd allow another person to stand up on a chair and say, 'See that guy there? Well, this is who he is.' I wasn't going to let a stranger tell people who I was as a person. I was going to do it myself. Because I know me. So if anyone is going to say anything, let it be me. I needed to stop hiding, needed to stop being ashamed of it.
"But I don't want to sugarcoat it," Castille says. "(Sharing that story) was the hardest thing I've ever done. Because it lets people in your life and lets a story no longer be swept and kept under the rug."
Partly because of his past and partly because of his ancient age (in racing circles, anyway) Castille found himself in the spotlight again this past February when he qualified for the U.S. Olympic Marathon Trials in Los Angeles after posting a 1:04:33 time at a half marathon in Jacksonville, Florida less than a month earlier.
Castille was the oldest Olympic hopeful in the entire field. Several families of the STM runners he coaches made the trip out west.
During the third mile of the race, Castille felt slight discomfort in his foot. He soldiered on for another 10 miles. By then, though, the pain became debilitating. He bowed out halfway through because of plantar fasciitis. In running, he lectures, you take the bitter with the sweetness. "I decided to fight another day at the worst possible time," he says now.
Just how many days are left to fight, well, Castille isn't quite sure.
"I'm not a spring chicken, so this better still be fun or else why go to bed at midnight and wake up at 4 a.m. to run?" Castille says. "I know that the window is closing, so it's something I think about, maybe the only thing I think about when it comes to running. But, like I said, you never want to think too far ahead."