Soothing Summer Sanctuaries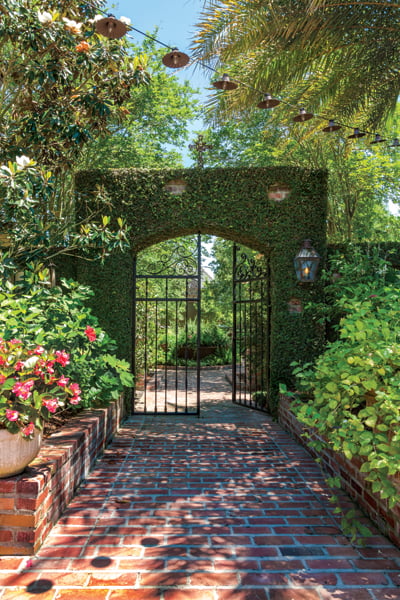 WHEN TEMPERATURES SOAR TO UNBEARABLE heights, the sounds of splashing water near a cool, sparkling pool and the enticing aromas of hickory smoke bring a resort vibe to the Cajun prairie. Swaying palms and waterfalls, fire fountains and winding paths that lead to hidden courtyards and water gardens are among the many alluring elements that grace Robert and Faye Feucht's tropical backyard paradise in Eunice.
Guests relax on underwater benches and tanning ledges near a raised spa with weir waterfalls beside the dining terrace accented with an outdoor fireplace. A few feet away, the luxurious pool house was designed for comfortably entertaining up to 100 party-goers. Barbecue abounds as the sky lights up during July 4th firework celebrations and relaxing summer soirées.
Being able to enjoy a dreamy tropical oasis while at home was the Feucht's ultimate goal after building their sprawling A. Hays Town-style residence. Several outdoor living spaces were designed by acclaimed landscape architect Richard Hymel, ASLA of Ferris Land Designs, LLC.
"When the owners contacted me, they had an extensive wish list," he remarks. This included a pool and pool house, an A. Hays Town-style pigeonnier, a walled courtyard garden with a fire fountain off the back patio, a formal water garden, a new patio off the master bedroom and a new garage with Doric columns near a centerpiece cast iron sugar kettle that was transformed into a goldfish pond.

---

The Feucht estate gardens, designed by Richard Hymel, include several outdoor rooms. The walled courtyard garden features a raised fire fountain. The cast stone cherub on top can be removed at night to light a fire via a natural gas bubbler device that's situated just below the water, for a dramatic effect. Bevelo gas lanterns, reclaimed old St. Louis Brick and custom wrought iron reflect the Hays Town-inspired design aesthetic.
---
"Their back yard was a blank slate and we had plenty enough room to fit in everything they wanted," Hymel states. "Arranging the spaces in scale with each other was the challenge. But once we broke the area down into different zones representing outdoor rooms, the pieces fell into place."
The first outdoor room that Hymel created was the New Orleans-style courtyard. "It's surrounded by a brick wall with wrought iron panels and windows to give us peeks into the spaces beyond. From here, it leads into the water garden, with a view down an oak-lined alley to the pigeonnier in the far distance."
"The fire fountain and an outdoor brick fireplace brought in a warmth and coziness at night," Hymel adds. "Overall, the setting is quite serene and very relaxing, like having a resort paradise in your own back yard."
Many homeowners want to create the ultimate tropical oasis that includes an exceptional outdoor kitchen. Broussard residents Tim and Donna Vincent, whose fabulous Southern home is located in Le Triomphe's elegant golf community, contacted Kyle Braniff of Braniff Construction and Backyard Builders, LLC to create their new "backyard oasis." It was designed to complement the Vincent's soothing poolscape, enhanced with palm trees and a pair of picturesque pergolas.
"The Vincents brought us a set of plans by architect Natalie Fraychineaud. They chose us as the builders," says Braniff, who has been creating amazing outdoor kitchens for 19 years. "We helped them with all of their flooring, equipment and counter top selections," he says modestly.

---

The pigeonnier is set back away from the house, framed by an allee of oak trees near rustic fencing. The multi-tiered gardens contain a variety of indigenous plants and colorful blooms for year-round interest. The pool house has a full kitchen, a wet bar and media system. Durable quartzite stone paving accents the pool decking. An outdoor fireplace enlivens a raised dining terrace near the raised spa with trickling weir waterfalls.
---
The innovative outdoor living area he orchestrated includes such amenities as motorized screen access panels that produce retractable mosquito screens which automatically roll down to seal all openings via remote controls. Braniff designed a large custom island, built out of antique cypress, that doubles as a dining table.
"The family likes to entertain, with children in high school," he notes. So a convenient open bar area that's connected to the outdoor kitchen was created. Myriad appliances include a gas grill, a double burner and a 60,000 BTU power burner "for cooking gumbos and boiling seafood" plus a warming drawer. Braniff seamlessly incorporated a built-in refrigerator. "We faux-finished the center match siding to look like an antique paint job with multiple colors," he explains.
Braniff also installed energy-smart ceiling fans, produced by the Big Ass Fans company (featuring unmatched air flow and smart phone apps). "They push around five times more air than most ceiling fans," he adds.
Other clever design details included a stainless steel hood wrapped in antique cypress for architectural interest. "All of the ceilings and beams are a combination of new and antique materials," Braniff explains. "I like cypress ceilings because the wood has more knots in it, and consequently, it looks more rustic."
Both the Feuchts and the Vincents are enjoying their vastly different, yet equally alluring tropical retreats during the languorous south Louisiana summertime, when the living is easy.

---