Sleek Southern Comfort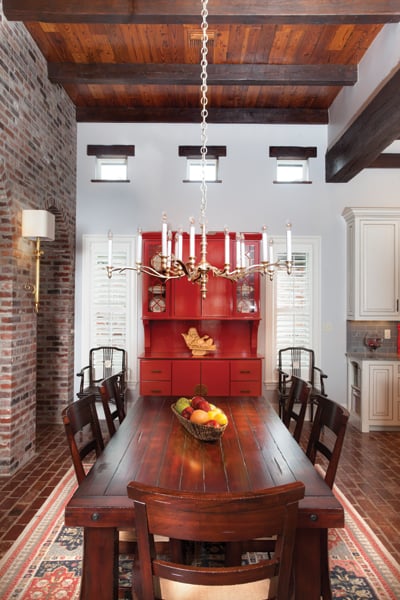 On any given weekend, the stylish new Lafayette home of Patrick and Virginia Stokes is filled with the laughter of 17-year-old pianist Anne-Marie, and 14-year-old Leigh, an aspiring chef, and their dozens of friends. Both girls designed their own bedrooms in the 8,300-square-foot, four-bedroom residence overlooking the Vermilion River in the center of town.
"The house is always teeming with teenagers on the weekends," says Virginia. "We built our new home last year, and we still haven't put in the pool and pool house. It's a work in progress. My sister, Cathy Miller, had so many great ideas. She helped the girls with their rooms and also orchestrated the interior design, color schemes and furnishings for the house. She even designed some of the furniture. We have many pieces from her shop."
While the Stokes' younger daughter wanted a decidedly "urban" flair for her bedroom, the eldest went for a feminine look in soft pinks and grays. They both collaborated on their shared den. "Cathy went out and got their furniture for them. They wanted the den to look like a Victoria's Secret bag!" The wide pink stripes in the den add a playful nuance to the upstairs suite, while the furniture and lighting are casual with a touch of whimsy.
"Virginia likes a dressy style, while Pat prefers rustic, so we managed to incorporate both preferences in the design of the house. But there's definitely an elegant feel to everything," says Miller, a highly sought-after interior designer who has been creating elegant interiors for Acadiana homeowners for the past 25 years.
Formerly of Abbeville, she opened a new, expanded shop in the Parc Lafayette Center last year. Cathy Miller Interiors features design services in addition to fine furnishings, home and office accessories and also serves as a designer and gift boutique.

---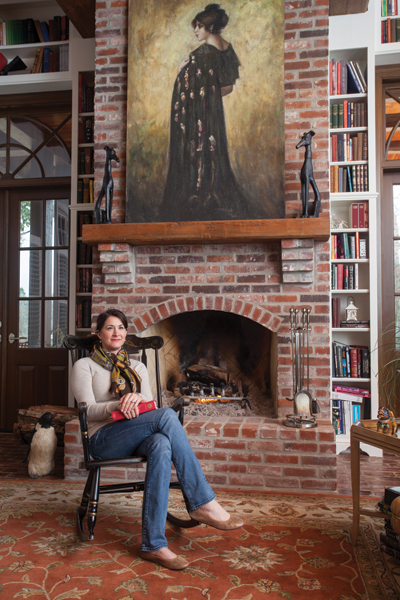 Virginia Stokes relaxes near the hearth in the great room designed with built-in floor-to-ceiling bookcases, contiguous archways leading to the breakfast area and kitchen and a sweeping view of the Vermilion River.
---
Lafayette architect Les Gomez, who is known for designing "Southern homes in Southern places," helped conceptualize the layout and architectural elements of the home. He has created more than 100 residences in Lafayette's River Ranch. Gomez was instrumental in designing the Stokes' L-shaped residence with a wrap-around porch, patio and a large outdoor kitchen area overlooking the river. Water features and landscaping are currently in the works. David Prejean of Abbeville was the builder. "He was great. David paid a great deal attention to detail, from the crown moldings to painting the girls' den upstairs," Virginia says.
"My husband Pat did get one main thing he wanted, hardwood floors, but I also wanted brick so we have both. We had a ball building the house," Virginia adds. "He loves fireplaces, so if it's 60 degrees or below, he has the two big wood-burning fireplaces going back to back, both outside and also inside the great room. I just love the smell."
The wood-burning fireplace in the great room, which is illuminated by a dazzling chandelier that "looks like a hot air balloon" according to Virginia, is surrounded by floor-to-ceiling bookshelves. A lovely view of the river through a series of French doors creates an air of openness while bringing the outdoors in.
"We're in the center of Lafayette, but Pat and I love the fact that we are surrounded by trees, so it feels like we're out in the country," Virginia says. "This is our third house. Before, we were in Abbeville. For three years, I was driving back and forth to school. This is so much more convenient."
---

Red Dupioni silk light fixtures and red bar stools that Virginia found online add a contemporary touch to the kitchen, while the old cypress beams lend a rustic feel. Designed with entertaining in mind, the Stokes installed a 10-foot custom island adorned with a vegetable sink and a six-burner gas Thermador range.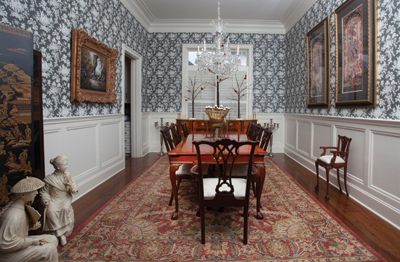 The cherished Waterford crystal chandelier in the dining room came from the Stokes' former residences.
---
Among the many design challenges that the Stokes family faced when building their new home was the preservation of a beautiful live oak on the property. "We wanted our great room to face the river, but we also wanted to keep the big tree, which is why it took a long time to get the plans nailed down," Virginia explains. "We finally decided on an L-shaped house. It's modeled somewhat after the A. Hays Town style but with a European flair."
The handsome interior strikes a balance between luxurious and relaxed with its rich, warm colors, sumptuous fabrics and a diversity of lighting elements and furnishings that range from rustic to refined. Throughout the home, Miller took classic accents and brought forth the underlying drama with rich new colors and contemporary flourishes. She employed her well-trained eye and a collector's perspective to evoke an amalgamation of traditional and contemporary styles.
"Virginia loves red, so we added pops of red and gray to the color scheme in the kitchen," Miller says. "She also loves koi fish, which we incorporated in a backsplash behind the six-burner stove and throughout the kitchen. The entire house had great potential."

---

Sisters Anne-Marie and Leigh Stokes enjoy hanging out with friends in their shared den, which was designed with the help of their aunt Cathy, owner of Cathy Miller Interiors. Wide pink strikes inspired by Victoria's Secret shopping bags create a playful ambience in the upstairs den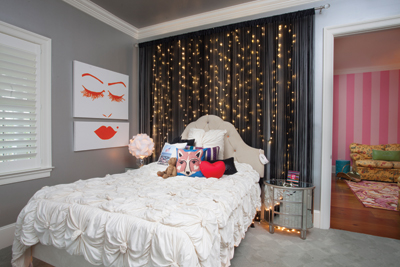 Leigh designed her bedroom with a sophisticated, urban flair.
---

"We do a lot of entertaining, so there were several important points to cover in the kitchen," Virginia says. "I told the architect that he had to find a place for an appliance garage in the kitchen, because I don't like all that clutter. We keep the coffee pot and toaster in the appliance garage, which looks like a cabinet. I also wanted a large, custom island with a vegetable sink," she adds. "And I wanted granite that looks like marble, so we selected white fantasy granite for the counters.
For the island, we selected black leather finish granite. I didn't want to use marble for the counters and island because it's too porous."
In the adjoining breakfast area, Miller designed a red built-in hutch that reflects the red bursts of color in the kitchen, from the dupioni silk light fixtures to the bar stools.
The Stokes' inviting entrance that leads to the kitchen area and great room features a long breezeway lined with stately columns and flickering glass lanterns. The brick loggia leads up to a wide door framed with a graceful arch that welcomes visitors into the residence. Upon entering through the front door, the master suite is to the right and the open living area is to the left.
A full palette of gray shows its star quality throughout the home, and serves as a serene backdrop from the sleek kitchen to the master suite. Benjamin Moore Oystershell blue with soft gray undertones was selected for the romantic master suite and adjoining sitting room that connects to his-and-her master baths.
"Instead of bedside lamps, Cathy brought us two beautiful chandeliers from her shop. They are made entirely of sea shells, and they hang over the silver leaf bedside chests, also from her shop. We each have dimmers for our chandeliers on both sides of the bed," Virginia says. "On the shelves, all the books have been painted the color of the walls. We tried putting just regular books on it, and they didn't go with the soft color scheme of the room. It was Cathy's idea. It's so serene and beautiful, and music flows from the sitting area into our bathrooms."
While Pat's master bath is contemporary and masculine, Virginia's bath is a feminine haven of comfort and beauty, complete with a Parisian-style boudoir chair, chandelier and a relaxing air jet tub.
"We did something rather special to the bookcase in the master suite. I wanted something different," Virginia says. "The entire bookcase actually slides open like a sliding door and connects to a guest bedroom next door. When it's closed, you can't tell it's anything but a bookcase. We built it for the future, with our children in mind. Hopefully, one day, we'll be having our grandchildren in that room! I know we have many great years ahead in this house."

---

Anne-Marie Stokes' serene bedroom reflects a delicate, feminine touch with soft pastels and a mirrored chest provided by Cathy Miller.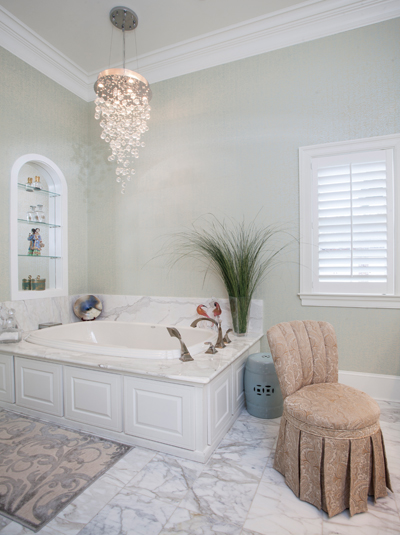 The Stokes enjoys separate his-and-her master baths. Virginia's elegant bath, designed to resemble "a Parisian boudoir" is adorned with a delicate crystal chandelier, a Parisian-style vanity chair and a Kohler BubbleMessage tub that produces air bath hydrotherapy.
---
For more information
Cathy Miller Interiors: cathymillerinteriors.com
Les Gomez: gomezdesigngroup.com
David Prejean: acadianabuilder.com